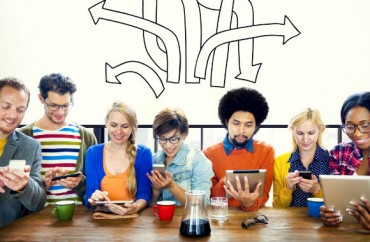 'Serious challenges to our constitutional freedoms' on campus
WASHINGTON – College administrators are squarely to blame for the rise of student activism that tries to suppress the free expression of ideas, one such administrator said at a Saturday conference on campus free speech sponsored by the Newseum Institute and Knight Foundation.
American University's Fanta Aw, assistant vice president of campus life and a sociologist by training, said students are coopting phrases like "safe spaces" and "trigger warnings" without understanding their psychological origins.
"Most of our students really don't understand free speech," and officials are to blame for not teaching them, Aw told the room of students who had applied to participate in the conference, the first event in a "joint initiative" on campus free speech.
With a portfolio that includes the Center for Diversity and Inclusion, the student newspaper The Eagle and the Spiritual Life Center, Aw sees "real misunderstanding" about the difference between diversity and inclusion, she said. Campuses have emphasized the former, and "there's a lot of work to be done around the paradigm of inclusion … writ large," particularly ideological inclusion.
Students also don't realize their own narrow views of diversity, Aw said: She related conversations with students who told her they had trouble fitting in at American University became their previous institutions were more diverse, but what they actually meant was more people looked like them before they came to American.
Aw blames a consumer mindset among students for eschewing debate, reinforced by administrators. Students are simply not being challenged "in rethinking and reexamining their ideas," she said, and administrators need to help them handle the "conflictual and productive tensions" in dealing with offensive ideas.
And we're live! You can watch the #CampusFreeSpeech conference https://t.co/U1ldtMJ72C pic.twitter.com/ZbVjtsqpiB

— Newseum Institute (@NewseumInst) April 2, 2016
Avoid becoming 'enclaves of totalitarianism'
This has been a "formative period in the conscience of the American campus," said Peter Bonilla, director of the Individual Rights Defense Program at the Foundation for Individual Rights in Education.
Students' concerns about racial justice and hate speech, on top of feeling helpless in campus governance, are "not going to be over any time soon, and I welcome that," Bonilla said. But they are learning terrible lessons from administrators who try to shelter them from offensive views, such as Williams College President Adam Falk, he said.
Falk canceled a student group's event featuring the conservative writer John Derbyshire because of his racial views, and it was a "tactical error" on Falk's part, Bonilla said: The president not only has to answer for every speaker that comes to Williams now, but he came across as "extremely condescending" to the student organizers who sought to challenge Derbyshire's views.
If colleges are not "enclaves of totalitarianism," as the Supreme Court has said, then American society has "serious challenges to our constitutional freedoms" with the rise of free speech zones, safe spaces and "the right not to be offended" on campus, said David Hudson, the Newseum Institute's First Amendment ombudsman and Vanderbilt University law professor.
David Hudson: schools are enclaves of freedom #CampusFreeSpeech pic.twitter.com/fBDgVf8oEk

— Newseum Institute (@NewseumInst) April 2, 2016
To make the students aware of the danger of limiting the speech of others, Hudson noted that Supreme Court precedent eroding some speech protections for public employees has been applied at public universities, endangering the academic freedom of professors.
Students are basically doing the same thing when they demand the disinvitation of speakers that offend them, or create such a stifling environment that controversial speakers don't get invited, Hudson said: Both the conservative Federalist Society and the liberal American Constitution Society should have a place on campus.
Asked to distinguish between bullying and free speech, Hudson said the bullying and cyberbullying policies that school districts have been ordered to create are rife with overbreadth and vagueness – some say that "annoying" speech is bullying. That concept should be narrowly defined so that it only applies to speech that is a "direct, targeted assault on your very being and dignity," he said.
Your reporting is 'implicit activism'
On another panel, University of Missouri student journalist Tim Tai shared his experience of becoming the story when his physical interaction with Mizzou protesters went viral last fall.
While his elevated profile has given him a platform for issues important to him and more sources who will talk to him, "people are keeping a really close eye on you" when student journalists become the story, Tai said. Asked how journalists can be unbiased and yet promote important issues, Tai pointed to his own paper's report on Mizzou's trouble retaining black faculty, which he called "implicit activism."
Tim Tai @nonorganical & Mark Schierbecker @Schierbecker who both covered the #Mizzou unrest #CampusFreeSpeech pic.twitter.com/peuiUF9pxl

— Newseum Institute (@NewseumInst) April 2, 2016
If students think today's campuses are unsafe, they should look at what happened at Kent State University during the Vietnam War, said College of Communication Dean Amy Reynolds – the campus ROTC office got burned down before the National Guard came in and started shooting student protesters.
That history has made the Kent State administration more sensitive to the First Amendment, Reynolds said: When the student paper broke the story of a professor under FBI investigation for suspected ISIS recruiting, "they were left alone" rather than the administration trying to stop further reporting that could hurt Kent State's image.
Social media has fundamentally changed how students advocate for their causes, said Jennifer Grygiel, social media specialist at Syracuse University's school of public communications.
Even though the Black Lives Matter movement started on Twitter, Grygiel said, "we need to have conversations in real life" to make social progress. She suggested that protesters use the "Chatham House Rule," under which participants can cite the information that is shared but not the identity or affiliation of each person sharing it, as a way to lessen the reputational harm of everyone participating.
Like The College Fix on Facebook / Follow us on Twitter
IMAGE: Shutterstock