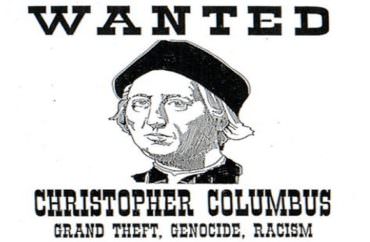 A growing number of universities are swapping Columbus Day observances for ones denouncing colonialism, calling Christopher Columbus a murderous tyrant to be rejected, not celebrated.
Universities marking "indigenous peoples" over the explorer for the first time this year include Fredonia College and the University of Texas El Paso, as well as the University of Alaska Fairbanks. This year, Harvard also added "Indigenous Peoples' Day" to its calendar.
Boise State University, which launched its process to switch from Columbus Day to Indigenous Peoples' Day last year, cites "violent oppression and economic exploitation" in a student resolution explaining its reasoning.
"Celebrating this legacy of colonization and conquest dishonors the indigenous people of Idaho by eclipsing their status as the original inhabitants of this country and valorizing the traumatic impact of the arrival of Columbus," it adds.
Fredonia College, in explaining its decision, states that the "suggestion that the U.S. celebrate Indigenous Peoples Day rather than Columbus Day emerged in 1977 at a United Nations-sponsored conference where the issue of discrimination against indigenous populations in the U.S. was confronted."
"By changing the focus of the day, the shift is from recollecting and prioritizing the violence associated with colonization to a day which emphasizes indigenous peoples' cultural traditions, resilience, and resistance."
MORE: Brown students stage 'die-in' to protest Columbus Day
It's a theme that resonates at many campuses that have long since abandoned marking Columbus Day. Instead, they plant trees, host open mics to condemn colonialism, provide guest lectures on various Native American grievances, and much more.
At Columbia University, its Native American Council's daylong observance is promoted under the hashtag "Take Back Manhattan."
MORE: Columbia U. dedicates campus plaque lamenting Manhattan's 'colonization'
At Vanderbilt University, a lecture from political activist and attorney of Indian Law Albert Bender, who spent months protesting the Dakota Access Pipeline, will speak as a way of "reclaiming Columbus Day as Indigenous Peoples' Day," according to the event's description.
Brandeis College will host their second-annual Indigenous Peoples Day Teach-In this year, with multiple lectures on the oppression of Native American people as well as a presentation from their "Climate Justice" group, according to their events page.
At the University of Florida, its Indigenous Peoples Day observance will include Navajo Fry Bread, Zuni Blue Corn Pancakes and Native music. The festivities will be peppered with talks on how climate change effects "Native Peoples" and concerns over the Sabal Trail pipeline, its event description states.
Dennis Zack, coordinator of American Indian Student Services at the University of Wisconsin Oshkosh, said the campus will host an Indigenous Peoples' Day to re-imagine Columbus Day.
"In reality, the arrival of Christopher Columbus in 1492 created colonialism, enslavement and the forced removals of the tribes that followed the 'discovery of America,'" Zack told the Advance-Titan.
The notion of Christopher Columbus as offensive has grown stronger on campuses in recent years, and the explorer was even caught up in the recent movement to remove statues and monuments some find offensive.
At Pepperdine University, its officials removed a large statue of Columbus earlier this year after repeated complaints that it represented white supremacy and genocide. Although campus leaders said it would be moved to their campus in Italy, the statue remains mothballed in an undisclosed location.
In addition to universities, several cities have also renamed Columbus Day as Indigenous People's Day.
Other schools celebrating Indigenous People's Day include Bennington College, Beacon College, Grand Valley State, Montana State, UCLA, University of Nevada Las Vegas, Whittier College, College of the Redwoods, Goucher College, Palo Alto College, Brown University, Yale, Cornell University, and Sacramento State.
MORE: Columbus is not a villain — Professor says explorer has been seriously maligned
MORE: Despite leftists and the academy, most Americans support Columbus Day
Like The College Fix on Facebook / Follow us on Twitter