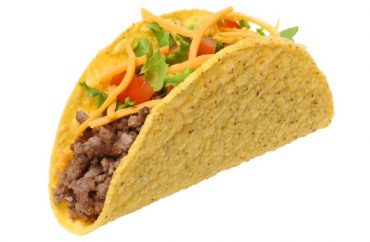 BYU suggests 'foreign foods and flags are offensive'
If you want to draw attention to your "Taco Tuesday" promotion on an overwhelmingly white campus, you might dress up a couple white guys as American-style hard-shell tacos.
That's what Brigham Young University's Ballard Center did before caving to outrage from internet users, though it's not clear everyone is outraged for the same reason.
In a since-deleted Instagram post last week preserved by Campus Reform, the anthropomorphic tacos are wearing sombreros and holding mini-flags of Bolivia, Argentina and the United States. The post does not attempt to reconcile why it was associating South American cultures (and Mexican hats) with an American culinary invention.
It was evidently taken down almost as soon as it was put up, judging by the offense shown by a Twitter user and a response an hour later indicating the post was gone.
Some critics pointed at the conflation of all cultures south of the U.S. border, which they found especially confusing at a university owned by the Church of Jesus Christ of Latter-Day Saints.
Male Mormon students generally go on missions to foreign countries, and one user theorized the taco guys were holding Argentine and Bolivian flags because that's where they did missions.
MORE: Women called racist for eating tacos on Tuesday wearing sombreros
the post has been deleted, and I hope @BallardCenter and @BYU will examine their actions and issue an apology for being culturally insensitive, especially as an institution that does work around the globe and with different cultures

— olivia✨ (@livvidiaz) January 8, 2019
But these dudes probably served their missions there which OBVIOUSLY means they know more about Hispanic/Latino cultures than us, actual Hispanics and Latinas

— Ashley (@ashleynicoo) January 8, 2019
sure. and if it doesn't bother someone that's their business. but as someone whose family is from Argentina, I really hate them lumping different Latino cultures together like this. and I'm glad they examined their actions and apologized for it

— olivia✨ (@livvidiaz) January 9, 2019
The Ballard Center, whose mission is pursuing "pattern-breaking social innovations," didn't simply apologize for conflating culinary cultures. In posts on Twitter and Instagram, it said an unidentified post was "insensitive" and thanked critics for showing "the compassion you have for others." The center is "very sorry" but grateful for the "learning opportunity."
The apology backfired for some online users. A self-identified Mexican responded on Instagram that "the post was funny for me," though an Asian student responded with indignity on behalf of Argentines.
This response provoked another user to recommend the center "serve kelp soup on Falkland Fridays" if there was actually "some angry, twisted, vengeful Argentine out there who waged this crusade." The Asian student claimed "there were multiple people of multiple ethnicities who voiced concern about it."
"As an American with immigrant family, I'm offended they took it down. They are saying foreign foods and flags are offensive," read another comment. The user shared the original photo in another post, saying it was "perfectly fine" and that the "real disappointment is seeing BYU follow the same path that has ruined every other college."
A Twitter user warned the center it was inviting more second-guessing of its social media choices.
MORE: Campus Hispanic group offended by study-break taco bar
You don't owe an apology at all. You shouldn't have apologized. This wasn't offensive. The people that claimed to have been offended need to grow up. If you apologize for something as silly and inoffensive as this, you're going to let the world control you.

— robert bishop (@robertgrimace) January 14, 2019
A former student at BYU's Idaho campus, Andrew Wolfe, told Campus Reform he did a mission in Argentina and wondered "how people would have reacted if the photo depicted empanadas, which are part of Argentinian culture."
Read BYU's apology and the Campus Reform report, which includes more student reactions. The BYU student newspaper has yet to report on the controversy.
MORE: All-you-can-eat taco bars deemed offensive, face campus extinction
IMAGE: Shutterstock
Like The College Fix on Facebook / Follow us on Twitter