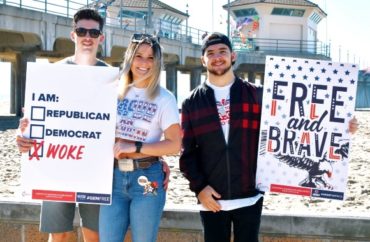 Student activists accuse it of giving 'institutional support' to 'white supremacy'
Student activists at a public university in Wisconsin appeared to have failed to convince university officials to revoke its recognition of a conservative group on campus.
Evan Peterson, a student at the University of Wisconsin-Eau Claire, started a Change.org petition several weeks ago "calling on the university administration to revoke their support for the newly-formed UWEC chapter of Turning Point USA."
Peterson's petition said that "the organization has officially documented connections to white supremacy" and the "institutional support for TPUSA" gives support to "white supremacy" by extension.
But Peterson and his more than 1,000 signers could not convince the university to revoke official status for the free-market student group.
University officials approved the TPUSA chapter because it "followed all processes and procedures and remains in good standing at this time," Michael Knuth, a university spokesperson, told The College Fix via email. Knuth said "the university does not have any comment to offer regarding the online student petition."
Students originally started the group and gained university recognition in 2019, but new student leaders restarted the group recently after it fell apart.
Knuth did not comment any further on the petition.
Peterson did not respond to several Facebook messages in the past week from The Fix, asking him for an update on the petition and if the university had responded.
Turning Point denies connections to white supremacy
"Organizations on campus get to express their beliefs, we too have the right to express ours," TPUSA at UWEC told The Fix via an unsigned Facebook message. "We are not looking for chaos, rather we are open to all and are excited to plant the seed here at UW-Eau Claire."
A spokesperson for the national conservative group criticized the petition's claims of white supremacy.
"The examples cited by this silly petition are either complete fabrications or lack so much context as to render them outright lies," TPUSA's spokesperson Andew Kolvet told The Fix. "Sadly, this is the main tactic of woke progressives on college campuses: They resort to personal smears to silence voices on the right by calling everyone racists."
Kolvet said that the organization "stands unequivocally against hate in all its forms and has a zero tolerance policy for such behavior" as laid out in the petition.
"TPUSA is a positive and uplifting mainstream conservative organization that promotes the ideas of limited government, free markets, and the Constitution," Kolvet said.
Petition cites Anti-Defamation League report
The petition cites a report from the Anti-Defamation League as evidence of racism and white supremacy within the national organization and by its members. Many of the examples reference student activist leaders or former employees and incidents that happened several years ago.
For example, the Change.org petition criticizes comments made by "communications director, Candace Owens" but Owens has not worked at TPUSA in almost two full years.
It also cites the "presence" of white supremacists at TPUSA's events that are open to the public.
"Frequent white supremacist presence at public events," is one of the listed reasons for opposing the group.
"The group must no longer be endorsed by the University of Wisconsin-Eau Claire and all privileges afforded by this endorsement must be rescinded," the petition said. "TPUSA must not be allowed to use university spaces, funding, or any other resources."
Students explain their opposition, support
One student critic of the the conservative group explained to The Fix why she supported the petition.
"I chose to support the petition because in light of the racism on campus at UWEC, I believe there is no room for an organization with ties to white supremacy on campus," Lexi Kane told The Fix via Facebook messaging. "I hope the petition shows that there isn't room for white supremacy and racism on campus."
Kane also told The Fix that she doesn't know Peterson personally, but she supports everything that he has laid out in his petition.
Kane also posted a meme in a Facebook page called "UWEC Memes for Trend-Setting Teens" and said "Turning Point USA is weird." It's on this Facebook post that Peterson first proposed and promoted his petition.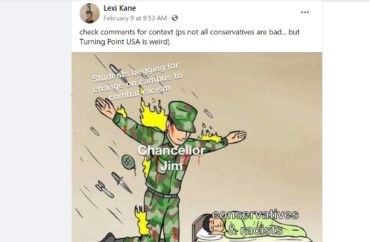 The image (left) shows the university's chancellor, James "Jim" Schmidt, defending "conservatives and racists."
"Is there any way we can like. [sic] Protest them being on campus or something because I'm very uncomfortable with the idea of alt right conspiracy theorists," Maddy Lunde, a student at the university, wrote on Kane's post.
"Like this is fucked up," Lunde said, after she listed a number of views she believes TPUSA holds, including "college is liberal mind control" and "masks are a tool from the left to control us."
Another member of the group, who did not appear to be a student, defended TPUSA's right to exist on campus.
"The chancellor approving an Org to visit, is not the same thing as fully supporting it and everything they do," David Poytner wrote on the Facebook post.
"Until turning point itself has actually done something legally wrong, hateful, racist, or what have you at UWEC, they have every right to tour universities," Poytner said.
Schmidt had congratulated Annie Schneider, the campus TPUSA chapter president, for her new role via his LinkedIn page, according to the student newspaper The Spectator.
The paper said that Schneider told them Schmidt could have been congratulating her for a new role as the president of a different student group.
MORE: Student gets approval for TPUSA group after initial denial from administration
IMAGES: Turning Point USA/Twitter; UWEC Memes for Trend-Setting Teens/Facebook
Like The College Fix on Facebook / Follow us on Twitter