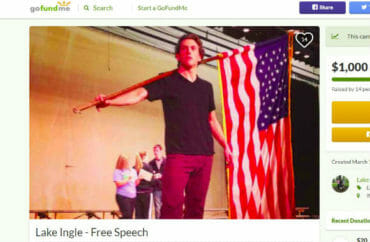 Does shared governance exist in name only?
Last week we told you about the strange saga of Lake Ingle, a student at Indiana University of Pennsylvania who is facing discipline for saying wholly unremarkable things in class.
These include claims that two genders are biologically embedded in humanity and the gender wage gap is not as straightforward as it's often portrayed. He was responding directly to the course material presented that day.
Maybe Ingle was reported because he spoke up in a female-first discussion without waiting for permission from his professor, Alison Downie.
Whatever the case, Ingle now has a brief reprieve – but the situation is just as puzzling as when it started at the public university.
According to screenshots Ingle posted Monday night, President Michael Driscoll emailed students and faculty to deny that "IUP is in some sort of crisis" because of recent events surrounding free speech.
The message from Driscoll does not appear to be on any IUP social media, which have largely focused on its women's basketball team, or any university news page.
On to the FINAL FOUR! This is the first time in school history that @IUP_WBB has advanced to the Final Four. IUP will face Ashland on Wednesday at 9:30p ET. #TalonsUp #NoLimits @IUPCrimsonHawk pic.twitter.com/UbSCDv1DXi

— Indiana Univ of Pa. (@IUPedu) March 20, 2018
In the email, Driscoll discusses another recent controversy – students demanding that IUP shut down an event by the pro-capitalism student group Turning Point USA – before alluding to Ingle's disciplinary process.
He specified that Ingle was "temporarily" removed for behavior that was "viewed as disruptive," and went on to basically accuse Ingle of subverting the disciplinary process by taking "his version of events to the media."
Driscoll claimed that "as you probably know," the university isn't allowed to share "the entirety of the matter" because of Ingle's privacy rights. He didn't say whether IUP offered Ingle a FERPA waiver so it could actually respond to his allegations.
Without assigning individual blame – except apparently to Ingle for trusting in public outrage more than his disciplinary process – Driscoll said "we have fallen short" by not thoughtfully applying "the IUP Way," a sort of civility code.
"As a result of how things have played, I am afraid that the thoughtful, dispassionate review of the matter is impossible," Driscoll wrote. This requires what appears to be a newly invented process for dealing with Ingle's situation:
Based on a review of governing policies [not specified], last week the student [Ingle] was informed that he is allowed to attend class. … To help ensure that a positive learning environment is maintained, I have asked a senior faculty member with significant experience in the First Amendment and a long career as a successful classroom teacher to join the class as a monitor and a mentor to all.
There's no explanation of how this decision on Ingle's return to class was reached. The administration unilaterally inserting its own "monitor" in a classroom would also seem to undermine the academic freedom of faculty.
Driscoll then admits he hasn't seen either the "decision" or the "reasoning" of the Academic Integrity Board that is reviewing Ingle's case. Nonetheless:
I have decided to indefinitely pause the formal university process without a resolution. To foster behaviors leading to a constructive learning environment, I have asked Assistant to the President for Social Equity, Dr. Pablo Mendoza, to facilitate discussions among members of the class. If these steps do not yield positive results, I reserve the option to restart the university's formal processes.
Major question: Does Driscoll have the authority to interfere in an investigation by another IUP entity? Related to the earlier question: Does he have the authority to insert a member of his administration into a classroom? Does IUP recognize any such thing as shared governance?
I looked in vain for a university webpage listing IUP's legal counsel. After reading Driscoll's next section, I wasn't surprised that I couldn't find anyone whose job it is to legally advise the president of a taxpayer-funded university:
Following this course opens me to charges of not following agreed upon processes and policies, and perhaps to grievances and lawsuits [!]. In this instance, however, I believe that the exceptional importance of the fundamental issues therein represented require exceptional measures. In matters that involve the fundamental values of IUP such as open discussion, civil dialogue, and reasoned disagreement in the service of learning, I will take the risks rather than rest on the safe but "foolish consistency that is the hobgoblin of little minds."
The quote includes an unknown hyperlinked citation, probably to the Ralph Waldo Emerson essay "Self-Reliance." Driscoll surely gets points for the most creative excuse for ignoring shared governance.
The president suggests there will be a "thorough review and revision" of relevant university policies "in the weeks ahead," without providing more detail.
According to CBS Pittsburgh, Driscoll held a news conference Monday where he apparently read from the same statement he used in his email to the community.
Ingle seems to think he's out of the woods, not worried about how the stalled case could affect his transcript or whether Driscoll will unilaterally restart the proceeding and cause him post-graduation headaches:
Though I am curious how the Academic Integrity Board would have ruled, I am thankful I can continue the course and graduate on time. So, I am considering this a victory.

Thank you, everyone, for their support and prayers.
He'll probably still need their support and prayers going forward. IUP has done little more than hit pause on his proceeding until public attention wanes, at which point the administration could take its preferred action with little outside scrutiny.
MORE: IUP warned it can't punish student for saying 2 genders exist
IMAGE: GoFundMe screenshot
Like The College Fix on Facebook / Follow us on Twitter