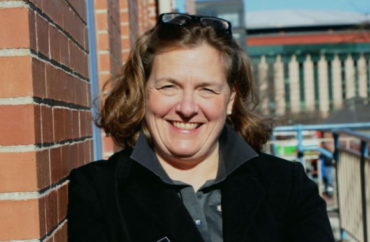 'The courts have been very careful to say that you don't get an exception from the Constitution just because of COVID,' attorney says
An award-winning Colorado educator has filed a federal lawsuit against the University of Colorado Denver, alleging her due process rights were violated and she faced emotional distress when administrators briefly banned her from campus in response to an allegation she had COVID.
In the lawsuit, Celeste Archer, executive director of the National History Day in Colorado program at CU Denver, argues administrators not only denied her the opportunity to refute the false allegation before banning her from campus, they also facilitated her accuser's efforts to "harass and intimidate her."
Archer, who is vaccinated, said in an interview with The College Fix she believes the false report was malicious and part of the motivation for the lawsuit is to determine who filed it against her.
Archer's Sept. 3 exclusion from campus came "only a week before National History Day's signature showcase of the year … for which 500 invitations had been mailed, and 23,000 e-mails had been circulated," according to the lawsuit.
Archer told The Fix she hopes the case is "setting a precedent" so something similar does not happen to others.
"[T]he school, like the nameless and faceless Authority in Kafka's novel 'The Trial,' didn't make any effort to respect or even recognize Archer's due process rights, before rushing to judgment and barring her from campus, effectively punishing her based on an unverified allegation," states a news release from Mountain States Legal Foundation, which represents her.
CU Denver Public Relations Manager Sarah Erickson said in an email to The College Fix that "Our No. 1 goal throughout the pandemic has been to keep our campus community safe. We followed our safety protocols and responded with good intent, as we would with any reported positive case of COVID-19 on campus."
"In less than two hours, we sorted out any misunderstandings and invited the employee back to campus," Erickson said.
Mountain States Legal Foundation's Will Trachman, who represents Archer pro bono, filed the complaint September 29. While it does request damages for emotional distress and attorneys fees, Trachman said the lawsuit is about "more than just the number of hours she was excluded."
Her ban from campus took place "a week before her signature event of the year," Trachman told The College Fix.
"[Archer's exclusion from campus] implicated, obviously, the most critical aspects of her work and there are ongoing problems," he said. "They still haven't given us the name [of the person who reported Archer and] they still haven't told us their change of policies."
He said that while he can understand why the university would want to protect the identity of an anonymous reporting system, "when everybody agrees 'Hey, this was false, and it was intentionally false' … why would you protect the identity in order to encourage other people to do the exact same thing?"
Archer has won multiple awards throughout her 25-year teaching career and is also the founder and executive director of the Colorado Student Leaders Institute, an affiliate of the National Conference of Governor's Schools.
She told The College Fix she was distressed when she learned she was banned from campus through a phone call from a supervisor. Her supervisor had received an email notice from the university saying Archer would not be able to return until she had been cleared for COVID.
"It was so shocking to me," Archer said, claiming she had yet to see the email notice, no one at the university had called her, and the notice her supervisor received had already reached five of her colleagues.
The lawsuit alleges that the email the university sent directly to Archer provided her no "opportunity to challenge the report or notify the school that she was the subject of a harassment campaign, or privately discuss the fact that the report was part of a harassment campaign before it had been transmitted to her colleagues."
Instead, it "summarily demanded that she 'remain off campus' until she was cleared by a contact tracer," it alleges.
The complaint points out, however, that because Archer is a public employee of CU, the public university owed her a "certain level of process—at the very least, a right to a hearing."
"Defendants, acting under color of state law in their individual capacities, deprived Ms. Archer of her due process rights by banning her from entering campus under the false assumption that she had COVID-19, and providing no avenue for her to defend herself," it argues.
Archer said when she called the signatory on the university notice, she was told by a university employee that they "had heard that someone said that I had tested positive and was showing symptoms for COVID and so I was barred from campus."
"Did you hear what you just said? You're basing all of this on hearsay and gossip," Archer said she told the public health employee.
"That's absolutely not true. I am perfectly fine. I'm vaccinated. I've taken all the precautions you've demanded," she said.
Archer told The College Fix the report was false and "clearly malicious" as she was not even in the state of Colorado on the dates her accuser claimed they had contact.
"There's no way somebody could have had seen me or had contact with me. I was actually delivering three rescue animals to their new home in a different state," Archer said.
Archer said one of the aims of the lawsuit is "to find out who did this because they did it purposefully."
"Do I need to file a police report? I mean, is there somebody trying to do harm to me?" she said.
According to the lawsuit, "the harassment efforts against Ms. Archer succeeded only because of the COVID-19 alert system in place at CU Denver."
The lawsuit also claims that the "stress and confusion surrounding Ms. Archer's exclusion from campus and the refusal of the Defendants to identify her harasser caused her to miss a deadline related to her own class enrollment, the fee for which is $1,774.64."
Archer said that if the university would have just taken the time to call her to verify whether the report was true, she could have quickly told them that it was "not at all true."
Included in the lawsuit is an email to Archer in which CU Denver Attorney Chris Puckett states "No one should have said you were excluded from campus. They were moving way too fast."
"I'm sorry that it moved so quickly, we need to slow that down," he wrote. "No one should be excluding folks from campus without a clear level of verification and information."
Trachman, however, noted that while "it's nice to have someone say, 'Wow, we acted too quickly. We're going to have to rethink our policy.' It's another thing to actually do it and show it to us. As a part of our case, we want the university to demonstrate that this can't happen again tomorrow. Whether it's Celeste or someone else."
Archer said that one of her larger concerns is that what happened to her could easily happen to others.
"I'm a director of two programs for the university that work with high school students, and I have 25,000 students across the state, and they right now are in the most vulnerable of all positions," she said.
"What if this had happened to one of them—or even one of the students on campus—what if this had happened to them and they don't have the wherewithal to have it taken care of? And they don't have the credibility with an institution where I could say 'This is the stupidest thing I ever heard' and it's cleared up. I mean, how's it going to affect them?"
Trachman said that because the university has tens of thousands of students, "the likelihood is that this policy has been applied in other places. It's just that you haven't heard of it because very few people are willing to bring a federal lawsuit and find an attorney and actually complain about it."
"We are seeing a number of government actions that implicate either due process or other rights," he said. "[B]ut it isn't as though there's a COVID exception to the Constitution… the courts have been very careful to say that you don't get an exception from the Constitution just because of COVID."
Archer said the lawsuit has not been easy as "every time, now, or every place I go or everything I do, I feel like there's this giant elephant in the room and it's just bizarre that nobody's talking to me about it."
ALERT: Check out our Campus Cancel Culture Database
IMAGE: Costudentleaders.org/governance
Like The College Fix on Facebook / Follow us on Twitter