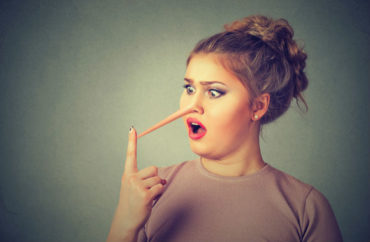 It cost him a spot in graduate school, but 'the university doesn't care'
George Washington University is refusing to grant an appeal to a student it found responsible for sexual assault, choosing to ignore the revelation that his accuser fabricated a key piece of evidence and likely mischaracterized her inebriation.
"John Doe" filed a motion for partial summary judgment in his lawsuit against the private university last week, asking a federal judge to force it to hear his appeal, which GWU deemed not "viable."
The litigation has grown more heated in the two months since it was filed. Doe's accuser leaked his name on social media (below), calling him a "rapist," hours before he received phone records showing that she didn't call a friend while allegedly incapacitated with him.
The university's failure to promptly investigate Doe's retaliation claim against "Jane Roe" has also prevented him from starting graduate school on schedule, he claimed. Last month Judge Rosemary Collyer refused to block Doe's suspension, saying that a "gap" year did not constitute "irreparable harm."
In a filing last week that lays out his case for summary judgment, Doe urges Collyer to give the university "the cover of a court order" so it won't look "soft" on alleged rapists by hearing Doe's appeal. Doe cites a press conference that another student held a month ago to publicize her Title IX lawsuit against GWU, whose sexual assault allegations track Roe's "in remarkable detail."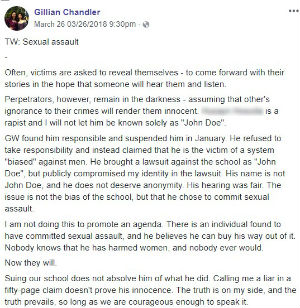 Unusually in a Title IX case, the accuser has voluntarily outed herself. Gillian Chandler told The GW Hatchet in March that she was the unnamed Roe in Doe's lawsuit. She called the suit "relentlessly cruel" because it was "focused on undermining my credibility."
Though there have been worse abuses of Title IX in litigation he's chronicled, Brooklyn College Prof. KC Johnson told The College Fix this was a particularly egregious one.
"The worst aspect: GW now knows the accuser (and the university's star witness) weren't telling the truth, and know[s] that its decision is robbing the accused student of a chance of attend[ing] grad school, and the university doesn't care," the co-author of The Campus Rape Frenzy wrote in an email.
'Extremely unlikely' that someone who had 'over ten drinks' could have done this
In January the university found Doe responsible for sexually assaulting Roe on September 13, 2015, and suspended him for one year.
Doe and Roe met at a party the previous night and used Uber to return to Doe's room, though Roe testified that she was in a "blackout state" during this time and had no memory of the ride, according to the filing. She said she woke up face down on Doe's dorm bed during sex.
Roe told the Title IX hearing board that she tried to push him away, verbalized a "no" and tried to pull herself away, but Doe ignored her. When he had finished, Roe got dressed, fell once while heading down the stairs and walked home, where she told her roommate and boyfriend what had happened.
The key evidence that Roe was too intoxicated to consent was an alleged phone call between her and a friend, "E.E.," while Roe and Doe were returning to his room. E.E. claimed that Roe slurred her words and was clearly incapacitated.
It was the only testimony out of six before the hearing board that claimed Roe was visibly drunk and spoke "incoherently," according to the filing.
MORE: Title IX official can be personally liable for helping accuser lie
The discovery of the invented phone call between Roe and E.E. came nearly two months after Doe filed his appeal.
At that time he submitted a report by a toxicology expert, Harry Milman, that concluded Roe's testimony that she consumed "over ten drinks" was probably false. Her blood alcohol content after consuming 10 drinks would be at least 0.26, which would make it "unlikely" that she would have "any memory" of the Uber ride, according to Milman.
It was also "extremely unlikely" that Roe could have "dressed herself, run down eight flights of stairs, run one block to her home," and been "coherent enough to be able to explain to her roommate" what allegedly occurred, according to the expert.
Doe also included statements from a new witness, "Q.W.," who claimed to have held a "normal, lucid conversation" with Roe and Doe at the party. But Robert Snyder, GWU's executive director of planning and outreach, wrote Doe on Feb. 15 that he had "not met the requirements for an appeal."
Weeks before retaliation claim was heard – too late for Doe
Hours after Chandler outed him in a March 26 Facebook post that remains public as of Wednesday, Doe obtained E.E.'s phone records, showing there was no call in the Uber ride between his accuser and her friend.
Doe filed a complaint against Roe two days later for retaliation and breach of confidentiality, as well as for fabricating the phone call with E.E. The next day he emailed Rory Muhammad (right), Title IX coordinator, who finally responded April 2 that the Office of General Counsel would be in touch with him.
That meeting did not occur until April 25, two days before Doe had to "assure" the graduate program that had provisionally accepted him that he would receive his GWU diploma in May, in Collyer's words. By May 14, Doe had still not received word from the university on the status of his complaint.
On May 16, shortly before Doe filed his motion seeking to force GWU to hear his appeal, Muhammad responded that Doe's complaint would be forwarded to the Office of Students Rights and Responsibility "for consideration."
MORE: Accuser changes story, adjudicator bases ruling on original claims
"At some point, the truth has to matter," the filing says:
Jane Roe and E.E. lied about the most important evidence in the entire disciplinary proceeding, and that fact is now out in the open. … They did so spectacularly, fabricating from whole cloth an entire phone call that had Ms. Roe speaking incoherently just feet away from Mr. Doe as they were going to his place to have sex evidence that, if true, would indisputably show that Mr. Doe knew Ms. Roe was incapacitated at the precise time they had sex. …

GW should care about that. It should care that it was lied to. It should care that dramatic false testimony was given against one of its students. It should care that it may wrongly be suspending him and damaging his entire future. It should care that on March 26 just hours before Mr. Doe obtained E.E.'s phone records—Ms. Roe publicly outed Mr. Doe as her alleged assailant in connection with this lawsuit. Yet GW refused for weeks to act on the retaliation complaint Mr. Doe filed with GW against Ms. Roe on March 28th, right after she outed him, despite its knowing by then that she had fabricated the phone call testimony.
Neither GWU media relations nor the department's executive director, Lindsay Hamilton, responded to Fix emails Monday through Wednesday. Media relations did not respond to a phone call Tuesday.
An even lower evidence standard than 'preponderance'
Doe's May 16 filing argues that the university's hesitancy to investigate his claims against Roe stems from public pressure on GWU to punish men accused of assaulting women on campus.
It contends that this latest social push came in large part from the press surrounding GWU student Aniqa Raihan (below). She sued the university April 27 for violation of Title IX and common law negligence, based on how it handled her sexual assault complaint. That day she also held a press conference.
Tomorrow: GW is getting sued for violating Title IX and refusing to suspend, expel, or fire a student they found to be a rapist. #RaiseHigh #MeToo #GWProtectsRapists pic.twitter.com/V1llBW1gwl

— Eve Zhurbinskiy (@ezhurb) April 26, 2018
"Now more than ever, GW cannot appear soft in a case that resembles Ms. Raihan's," the filing tells Judge Collyer. "It needs to be able to say to its students and alumni, 'We did everything we could for Ms. Roe. … We fought until the very end, until we were ordered to do otherwise.' GW can't say it, but it needs the cover of a court order for the truth to matter here."
On this basis, Doe's motion asks for a court order that requires the university to rule on the merits of his appeal within 20 calendar days, including E.E.'s phone records. This would make the appeal "viable" under GWU rules but not guarantee that Doe's appeal would be accepted.
The summary judgment hearing will be held on June 13.
Though Collyer's April ruling against a preliminary injunction was "more equivocal" on some claims, it put the university on notice that it had "likely" breached its contractual obligations by "not giving Doe's evidence a fair-minded look in the appeal," Prof. Johnson told The Fix.
He said the case is "an unusually good demonstration of the way in which [Title IX] disciplinary processes fail to adhere even to the preponderance [evidence] standard," which judges whether an accusation is more likely than not:
The accuser's story was that–while incapacitated from alcohol–she ran home from the male student's room, including down eight flights of steps. Is that possible? Of course. Is it more likely than not that it occurred? Of course not. It seems as if GW used not the preponderance standard but instead a far lower threshold in testing the accuser's veracity.
MORE: GWU promises to keep using low evidence standard for rape
IMAGES: pathdoc/Shutterstock, Gillian Chandler/Facebook, George Washington University, Aniqa Raihan/Twitter
Like The College Fix on Facebook / Follow us on Twitter