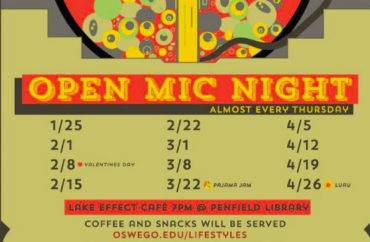 'A few of our students were deeply hurt' by your remarks
Advice for administrators: Don't put your censorship demands in writing if you don't want to see them in the media.
A staffer at the State University of New York-Oswego went beyond clamping down on future "open mic" events because a conservative female student shared her campus experience.
Trisha DeWolf, "alcohol and other drugs" program coordinator at the Lifestyles Center, also criticized the student for misleading her peers into thinking that she's speaking for the Lifestyles Center.
Campus Reform reports that student Nicole Miller read a letter at a Lifestyles Center-sponsored open-mic event April 26, saying that "people preach tolerance and acceptance of all people" at SUNY-Oswego but are "so openly against us" conservatives. The events happen "almost every Thursday":
I've heard horror stories from other conservatives on this campus about the brutal mental and emotional attacks on them. I've had them myself. …

People had their personal property destroyed, their own lives threatened, and administration has done nothing because [we're] "Trump lovers."

It sickens me to know that administration here cares so little about us being attacked for what we believe in but will praise any decisions the other side makes and send emails about that.
On May 3 DeWolf emailed Miller and "Kevin" – a current or former Lifestyle Center staffer who has asked Miller to fill in for him when he's not available – to say that DeWolf would start imposing "written guidelines for performers" because of the content of Miller's performance.
DeWolf said "more than one student" asked her to reach out to Miller because "students were uncomfortable" with her reading: "A few of our students were deeply hurt by some of your remarks (their words, not mine)."
The administrator admitted that there's no written policy about how to handle complaints about performances at open-mic nights. She said past practice has been that performers get a "verbal warning" after one complaint (which DeWolf twice miswrote as "compliant") and any further complaint may result in them being blocked from performing.
Because Miller has filled in for staffer Kevin before, students may think that Miller's performance about bias against conservatives means she's speaking for the Lifestyles Center itself, according to DeWolf: "I don't want situations like this to negatively impact the LSC or Open Mic."
DeWolf also criticized Miller for ruining the "fun" vibe at the final open mic of the semester: "We do our best to provide a safe and inviting environment for everyone."
In an email also posted by Campus Reform, Miller wrote back to DeWolf that she's "not going to apologize" for her views or for not giving a disclaimer that she's not speaking for the Lifestyles Center, which should have been obvious to the audience:
I wrote this due to the fact of other poets all year long bashing my views and any other views that wasn't theirs. I wanted to speak out and voice my opinion for once since we're always put down. This wasn't mean to hurt anyone but after all of year of [sic] having liberal views screamed at me, I felt that it was time to stand up.
Read the article, which includes screenshots of both emails.
IMAGE: Lifestyles Center/SUNY-Oswego
Like The College Fix on Facebook / Follow us on Twitter