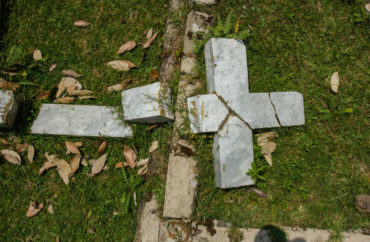 Rip the cross off the roof, too
The Kathryn P. Boswell Memorial Chapel at East Central University has always provided a worship space for a variety of religious groups, Christian and otherwise, and has served secular gatherings as well.
But because it had some items associated with Christianity in the building, a powerful advocacy group that seeks to ban all religious expression in public threatened to sue the Oklahoma school.
The Ada News reports that Americans United for Separation of Church and State sent a litigation threat to East Central, saying it had received a "complaint" (which it refused to detail) about the "permanent religious iconography" in the chapel:
These displays include Latin crosses on the top of and inside the building, Bibles, and a Christian altar. While it is legal for a public university to have a space that can be used by students for religious worship so long as that space is not dedicated solely to that purpose, it is a violation of the Establishment Clause of the First Amendment to the U.S. Constitution to display religious iconography on government property.
MORE: University of Tennessee stands firm against atheist bullying
Barry Lynn will soon step down from @americansunited. Here, he looks back on 25 years of separating church and state https://t.co/HQZzCjK7qU pic.twitter.com/WBMKWHX8pr

— Religion NewsService (@RNS) June 14, 2017
The university is caving without a fight, citing the "strict separationist" interpretation of the Establishment Clause favored by Americans United. President Katricia Pierson said the university is studying "the feasibility of removing the cross on the steeple" as well.
The First Liberty Institute, which defends against attacks on religious freedom in court, told Todd Starnes of Fox News that Americans United is probably testing Oklahoma's new attorney general:
"They want to see if he backs down or stands up to their ridiculous claims and I predict Mike Hunter will fight hard to preserve this historic chapel," [Director of Litigation Hiram] Sasser said.
MORE: Religion haters go after public university sports chaplains
Americans United's view is legally problematic, not least because permanent chapels exist in airports (government property) and the U.S. Capitol itself, Sasser said.
Starnes compared Americans United to "Islamic radicals" who seek to destroy Christianity, except the lawyers are "waging their cultural jihad not with bombs – but with lawsuits."
He urged ECU alumni to contact Attorney General Mike Hunter and threaten the university financially by withholding donations.
Read the news report and Starnes' column.
MORE: Anti-religion zealots harass university for Bible verse on building
IMAGE: Denis Shevyakov/Shutterstock
Like The College Fix on Facebook / Follow us on Twitter