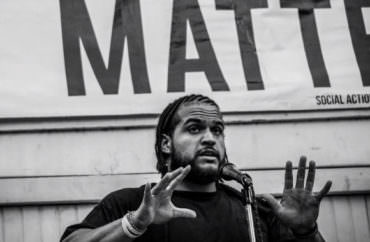 Do it again and 'you may be subject to arrest'
Caleb Stephens wears many hats in Lawrence, Kansas.
He's a licensed social worker. He's an activist with the local Black Lives Matter chapter. He was banned from the School of Social Welfare building at the University of Kansas.
And his latest hat: University of Kansas employee.
The Lawrence Journal-World reports that the public university hired Stephens "as a graduate teaching assistant in the department of theater, where he is also a doctoral student."
Stephens made himself persona non grata in Twente Hall two years ago when he cornered the social work dean in his office "unannounced and without an appointment" and ordered him to send a message that Stephens would dictate, according to a December 2015 letter to Stephens from the Office of the Provost:
You then began shouting at the Dean, from the doorway, and your voice could be heard up and down the halls. Your shouting — captured on video that I reviewed — disrupted classrooms, and caused instructors and other students to fear for their personal safety. …

Please note that if you engage in a similar disruptive and threatening conduct in other University buildings, you may be subject to arrest for disorderly conduct, and this ban may be expanded to include the entire campus.
The Journal-World describes Stephens' interaction with the dean as a "profanity-laced tirade." A university spokesman confirmed he's banned from the hall until 2019 but wouldn't say if the 2015 incident was considered in Stephens' hiring.
MORE: Trump Scare reaches KU with pro-candidate chalkings
Caleb Stephens: Black Lives Matter Activist from Savannah Rodgers on Vimeo.
The newspaper said it got word of Stephens' hiring from a tipster who also contacted the chancellor's office:
The anonymous sender was concerned about Stephens' language on Facebook, in which he wrote — seemingly in response to an issue of racial injustice — that "yt (white) people are such pieces of (expletive)," with "no accountability and responsibility."
Stephens explained his interaction with Dean Paul Smokowski, who has since left KU, to the University Daily Kansan last year.
It happened in the context of Smokowski's discussions with the black student activist group Rock Chalk Invisible Hawk. Stephens was apparently with the student activists when they crashed the dean's office to demand he "write an email showing solidarity" with the group and encouraging students to attend their protest.
The 100 supposedly invisible hawks then occupied the chancellor's office to complain about the "small responses" by the administration to perceived racial grievances on campus.
Stephens admitted he used the word "fuck" throughout his tirade against Smokowski because the dean "didn't fucking care about" people of color and was ignoring the requirements of his Behavioral Science Regulatory Board licensure.
But the activist said he did not "threaten him in any way" and remained "at least three to four feet away from him" in the office.
Rock Chalk Invisible Hawk activists later criticized the university for not being more concerned when pro-Donald Trump chalkings appeared on campus during the Republican presidential primaries.
MORE: Rock Chalk Invisible Hawk mad at sorority for cancer fundraiser
MORE: KU student leaders buy off race activists with $90K for their own government
IMAGE: Savannah Rodgers/Vimeo
Like The College Fix on Facebook / Follow us on Twitter