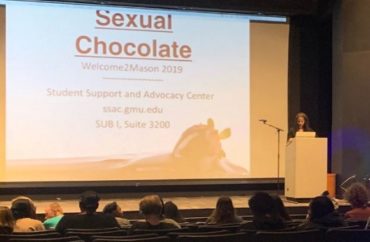 George Mason University event encourages students to use 'chocolate in sex play'
FAIRFAX, Va. — "Use chocolate in sex play. Chocolate body paint and chocolate syrup can improve your sex life by bringing more fun into the bedroom."
That was some of the free sex advice doled out to freshmen at George Mason University on Tuesday night at this year's "Sexual Chocolate" event, promoted as part of "Welcome2Mason 2019" freshman orientation programming.
According to a group of four first-year students in attendance that spoke to The College Fix, they were required to attend the event by their resident assistant on their dorm floor. But two organizers denied this, telling The Fix it was just "highly encouraged for all freshmen to attend," but not mandatory.
Nearly 100 students piled into a dark auditorium on the main GMU campus to hear the first of the two identical "Sexual Chocolate" presentations Tuesday night organized by the Student Support and Advocacy Center.
Guest speaker Stefanie Rhodes presented the information, informing students via slideshow that "Sexual Chocolate" as defined by George Mason University is "a hot conversation about safer sex enjoyed with some safety chocolate treats."
Rhodes also made sure to point out that there's "sexual vanilla and sexual caramel, which are the same things, just different flavors."
But Rhodes, who is black, added: "Although in reality sex white chocolate is not the same as dark chocolate, but okay."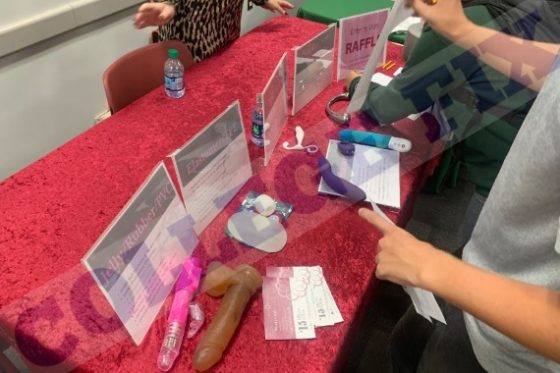 The slide presentation also discussed ways to prevent STDs, affirmative consent, how to put on a condom, and resources for students who are in need of medical clinics, among other related tips and information.
Suggestions for safer sex included holding hands, dry humping, making out, eating lots of chocolate together ("the darker the better"), and pouring chocolate syrup on each other, according to the slides. Students were also informed chocolate is considered an aphrodisiac. They were also warned to keep in mind the dangers of integrating food with "sex play," as oil and chocolate can break down latex.
"Enjoy chocolate shortly before having sex…eating some chocolate may help boost your sex drive," one slide read. In keeping with the theme of "Sexual Chocolate," facts about how using chocolate may improve one's sex life, as well as its health benefits in general, were peppered throughout the presentation.
John Cicchetti, associate director of the Student Support and Advocacy Center, told The Fix "that the event is geared towards teaching students how to have safe and healthy sex."
The "Sexual Chocolate" post-party included complimentary chocolate cake, a tutorial on how to use dildos, and take away prizes of squeeze toys modeled as eggplant and peaches.
MORE: University's Sex Week Includes 'Negotiating Successful Threesomes'
IMAGES and VIDEO: Zachary Petrizzo / For The College Fix
Like The College Fix on Facebook / Follow us on Twitter