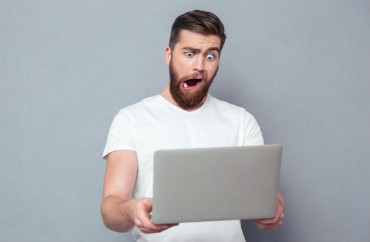 Did you know that by refusing to meet with a grad student you have offended, you have "intimidated her in an attempt to take away her freedom of speech"?
The University of Wisconsin-Superior's Debbie Cheslock filed a "formal grievance" against her school paper, the Promethean, after it ran an April Fools' edition that included "demeaning language," the Duluth News Tribune reports.
Now the school is investigating the paper for "unethical and unprofessional journalism" that shows "disrespectful and offensive language," according to a since-scrubbed Facebook post by the administration.
This comes our way via the Foundation for Individual Rights in Education (FIRE), which notes a few things:
The editor-in-chief who wrote the parody article mocking Jewish stereotypes is Jewish

The April Fools' edition is paid for with advertising revenue, not student fees

The paper warned readers on its Facebook page that they might be offended by the satire
Nonetheless, because the print edition "didn't have a disclaimer," it offended people "in protected classes" and the editors refused to meet with her, student Cheslock demanded the administration punish the Promethean.
Did we mention she's staff in the Gender Equity Resource Center?
FIRE wrote to UW-Superior Chancellor Renée Wachter on Wednesday, warning that its "active investigation" of the Promethean, whose April Fools' edition is immediately identifiable by its above-the-fold cover,
is a chilling and unacceptable infringement upon the students' rights to free expression guaranteed by the First Amendment and an unacceptable suggestion to UWS students and faculty that protected speech may be subject to disciplinary action.
Judicial precedent suggests the university could be successfully sued for no other action beyond opening an investigation into unambiguously protected speech, FIRE says.
It reprints this hilarious email by Cheslock to the Promethean – copied to the dean of students – when the editors deny her request for a meeting:
So, just to clarify, you are also unwilling to meet with me to discuss this matter? It is unfortunate, indeed, since that would be the very censorship you claim is deadly. The right to free speech also includes a continued dialogue and I am extremely displeased in the lack of regard for others' opinions.
The administration kept digging itself in a hole when it criticized the paper on Facebook and argued with commenters:
If you had seen the paper you'd know there were grammar mistakes, punctuation mistakes, quoting individuals they never spoke with, and complete unprofessionalism on many levels …
Keep in mind, this is the April Fools' edition. Also, the university misspelled "censor" among other mistakes in its criticism of the paper.
FIRE says that Cheslock's claim that she was "intimidated" by the paper is "perplexing":
A review of the emails between the Cheslock and the Promethean's editor and advisor reveals nothing more than polite disagreement. Indeed, Cheslock thanks the Promethean's advisor and editors for being "willing to talk" and attending the forum she organized.
The paper punched back on Facebook Thursday with a defense of satire for its social importance – and a threat to sue the university for violating its First Amendment rights:
To be inclusive means to respect the opinion and speech of others, regardless of its nature or source. This is a liberal arts university, not a safe zone for people to have their ideas censored because others disagree with them. Some opinions offend us, others make us cringe, but in an inclusive environment these opinions are still respected. …

This investigation sends a clear message, not only to current but prospective students as well, that their opinions do not matter if they are contrary to the university's. This is a public institution, funded not only by our tuition, but also by taxpayer money. And that money comes backed by the full faith of the law that the constitution is upheld and that students are free to express themselves in a manner that is true to who they are as individuals regardless of whether or not their opinions fit the mold of a university mission statement.
Editor-in-Chief Marcus White was scheduled to meet with Allison Garver, assistant director of student involvement, on Thursday afternoon, according to FIRE's letter.
Read the News Tribune, FIRE's letter to the chancellor and the Promethean response.
Like The College Fix on Facebook / Follow us on Twitter
IMAGE: Dean Drobot/Shutterstock