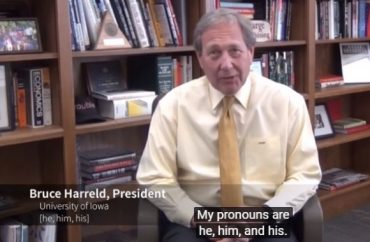 He looks like a guy. Dresses like a guy. He even has an Adam's apple. But don't you dare assume he's a guy, or you may be guilty of one of the most evil acts you can commit in the secular-progressive world of the modern college campus: You might have misgendered someone!
Starting at the University of Iowa this fall, a massive campaign will be launched that asks all students and professors to ask for and use each other's preferred gender pronouns.
The university even launched an instructional video, complete with a chart listing pronouns such as ze, zem, zirs, hirs, they, them and theirs along with the traditional he and she. One suggestion even includes having students use "name cards in class."
"The university hopes this will help facilitate respect and inclusiveness on campus," the video description states.
The instructional video, published earlier this month, points out that in 2013 the university became the first public university to allow students to identify as transgender on applications, and this fall it joins the growing list of universities to ask for students' preferred gender pronouns.
"The UI community is advised to 'just ask' about an individual's 'preferred pronoun' if they are uncertain which one to use," CNS News reports.
Even UI president Bruce Harreld gets in on the action, saying in the video that his pronouns are he, him and his, and adds: "Don't make assumptions. Help us make the University of Iowa as inclusive and affirming as possible."
MORE: Some not-so-surprising reasons tuition is being hiked at UI
Like The College Fix on Facebook / Follow us on Twitter
IMAGE: YouTube screenshot