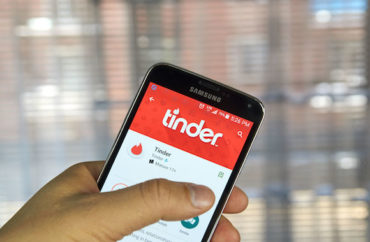 School's hookup app profile will feature 'messages for healthy relationships'
Utah State University joined the dating and hookup app Tinder earlier this month in hopes of promoting healthy relationships and minimizing sexual assault on campus, a goal it hopes to accomplish in part by featuring "message for healthy relationships" on the school's account.
Tinder is a social dating app in which participants are able to scroll through profiles of other users and indicate the people who they find attractive. Popularly known as a facilitator for casual sex encounters, users can "swipe left" if they dislike a potential match, and "swipe right" if they are interested. There is evidence that dating and hookup apps like Tinder have led to a spike in sexually transmitted infections.
"Our profile is a little bit different than most people's normal profiles," the school's Sexual Assault and Anti-Violence Information Office Outreach and Prevention Coordinator, Felicia Gallegos, told Fox 13. "We do have Instagram, Facebook and Twitter, but Tinder is kind of the more recent dating app that we might be able to reach more students in."
The university's page will feature "messages for healthy relationships and contact information for services," Gallegos told the news outlet. Gallegos did not respond to multiple requests for comment from The College Fix, including two emails and a voicemail left at the school's Sexual Assault and Anti-Violence Information office. Tindr also did not respond to requests for comment from The Fix.
Gallegos also told The Herald Journal that the school's Tinder account has "received matches with individuals, which means they have 'swiped right on' or 'liked' our profile. But we have not received any direct messages from individuals at this time."
The university's entrance onto Tinder comes as one of the school's former football players, Torrey Green, is being charged with six sexual assaults on campus from 2013 to 2015 of women he met using the app, according to The Salt Lake Tribune. According to the school's 2017 Annual Campus Security & Fire Safety Report, there were 12 sexual assaults on campus in 2016.
Sexual Misconduct Coordinator Amanda DeRito told Fox 13 one of those other additions is additional new hirings to the school's Title IX office.
"For the Fall we're really focusing on consent," she said. "What that means and that it has to be clear; it has to be freely given, it has to be coherent. Both parties have to be able to freely give it or else there is no consent."
The school recently fired its Title IX coordinator, Stacey Sturgeon, this past April. She was fired because she had "done little to address a 'pervasive culture of sexism' and multiple assault allegations against faculty in the piano department", according to The Salt Lake Tribune.
MORE: Beyond hookups: Sexually conservative students teach their peers how to date
MORE: Consider Jesus Christ's plan for sex and marriage
IMAGE: dennizn / Shutterstock.com
Like The College Fix on Facebook / Follow us on Twitter