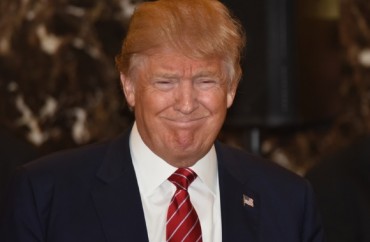 This week, students at Savannah State University will begin to study the rise of Donald Trump as the next possible president of the United States in a political science summer school course titled "The Trump Factor in American Politics."
The course will require students to read a Trump biography, examine excerpts from his novel "The Art of the Deal," and investigate some of his most controversial proposals, the Associated Press reports.
The class is taught by political science Professor Robert Smith, who told The College Fix via email that he was inspired to dedicate a class to the study of Trump based on classroom conversations with students in his American Government classes.
Although those discussions were "mostly critical" of Trump, they "inspired important discussions and other connections to understanding American electoral politics," Smith said.
He also noted that he wanted to teach students about "the more general impact on how candidates for president navigate the nominating process and what may be a fundamental redirection for the Republican Party and perhaps presidential campaigns overall."
"My Dean and Chair and colleagues have all been supportive of advancing a class that looks at this development in American politics (positives and negatives)," Smith told The Fix.
RELATED: Professor at Catholic university asks students on final exam: Is Trump the Anti-Christ?
So far, only eight students have enrolled, the university website states. Smith is not fazed.
"Low enrollments at present, but it is a summer course in a one month concentrated format," he told The Fix. "I anticipate about 15 students. But from my vantage point, that makes for a great size class to inspire discussion and dialogue."
As for whether the class will turn into a Trump-bashing session, Smith told Connect Savannah "I don't want so sugarcoat anything. But I'd like my students to reach their own conclusions through a more objective analysis."
"Certainly students will have a very strong opinion one way or another, and my goal is to offer some objectivity," he added. "We will look through a scholarly lens to examine the Trump phenomenon, and what are some ramifications if he moves on into the general election."
The class is about two hours long, two days per week for four weeks, according to Savannah State's website.
It is considered a "special topics" course, which means it's a temporary class created by faculty members or a result of student requests. If the given topic is offered more than once per two-year period, the class will be submitted for formal approval through regular university procedures.
RELATED: Public university chancellor condemns Trump in email to entire campus
Like The College Fix on Facebook / Follow us on Twitter
IMAGE: A. Katz / Shutterstock