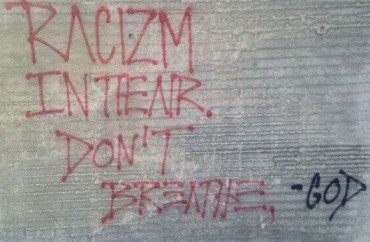 ANALYSIS
"Racizm in the air." "Don't breathe, God." "White supremacy iz a disease." "Fuck the Police." "The devil iz a white man."
Those are some of the spraypainted messages that have greeted students at the University of Wisconsin-Madison over the last six months. Recently, campus police arrested the student suspected of the vandalism. The 21-year-old has yet to be formally charged.
Police said they had trouble apprehending the black, male suspect — so they had nabbed him during his black visual culture class last week. A University of Wisconsin Police Department officer entered his classroom and asked him into the hallway, according to Chancellor Rebecca Blank.
"The student was subsequently arrested on 11 counts of vandalism to university buildings and a charge of disorderly conduct," Blank added in an online statement.
That — a police officer arresting a suspect on campus — had caused a chain reaction among students and professors at the university, who have accused the institution, its police, and many others of hate and racism, the institutional kind as well as garden-variety racism.
'Police murder people'
Yesterday, a massive walkout took place on campus called "We Are GOD: A Day of Disrupting white Supremacy & Anti-Black Racism at UW-Madison." Hundreds took part, mostly students along with some faculty.
Facebook posts show they held signs saying "Art iz not a crime," "Black Lives Matter" and "Education not incarceration." One protester wore a sweatshirt stating: "Police murder people."
A large statue of Abraham Lincoln — similar to the one at the mall in Washington D.C. — that sits in the campus quad was covered with a black tarp and a list of demands. Demonstrators want the probe against the suspect, who uses the alias "King Shabazz," to be completely dismissed, and that he be allowed to graduate. They also demand that any officer or administrator involved in the "King Shabazz" arrest to resign.
"UW-Madison has 48 hours to comply with our demands or further action will be taken," their demand list states.
Photos from protest on @UWMadison campus over arrest of African-American student #TheRealUW https://t.co/okJ17wamXm pic.twitter.com/2NjBOq8i9n

— Jason Joyce (@jjoyce) April 21, 2016
Meanwhile, faculty have called on the university to direct funds to the counseling offices, saying black students have "post-traumatic stress" over the incident and need "emergency mental health support."
The entire campus is facing something of a meltdown, one student told The College Fix.
"There's a full-on race war brewing here, and it's all been enthusiastically stirred up by the administration," said Jason Morgan, a PhD candidate in the History Department and a contributor to The College Fix. "Their America-hating masochism is coming home to roost. The atmosphere here is tense. All the worst elements are crawling out of the woodwork. No telling which groups are behind the protesting and disruptions."
'Racial Climate Nears Boiling Point'
WORT-Madison, in a report titled "Racial Climate Nears Boiling Point As UW Students Walk Out, Faculty Receive Threats," states that: "Student protesters say the arrest underscores a broader climate of racism and white supremacy on campus, while some faculty have urged the administration to take more concrete action to address what they call a deepening 'mental health crisis' among students of color."
In March, Blank told the campus community "we've seen a troubling string of incidents reported through our hate & bias reporting system that have directly affected and hurt members of our diverse community."
"Students who engage in hate or bias acts that violate our codes of conduct will be disciplined. When we learn of these incidents, we investigate, take disciplinary action against those students who have engaged in inappropriate conduct and provide support for the victims," she added.
Whether administrators will cave to the "King Shabazz" demands is unclear. Blank on Thursday issued a statement that indicated the demands are unreasonable and cannot be met.
"[S]tudents have asked for criminal charges against the student to be dropped; for the resignation of university officials involved in this incident; and for the Dean of Students to forgo its student conduct process. In addition, the list requests that the university return any of the student's personal property being held as evidence and seeks community control or oversight over the UWPD," Blank stated.
Blank continued:
As it relates to the recent arrest of the student, it is my belief that UW–Madison has taken appropriate steps to respond to our community's concerns.

Chief Sue Riseling has apologized for UWPD entering the student's classroom, commenced a review of departmental procedures and shared available footage of the incident to ensure transparency. The results of the investigation will be shared, when available.

Embedded in the student demands are requests for actions that I do not believe are reasonable, or even lawful, for me to take. In fact, several of the demands seek to apply authority that the university does not have under state law or UW System policies and procedures.

I intend to continue to address campus climate and race issues through the series of concrete steps that I outlined earlier this semester. We have not sat idly by as these problems have grown more difficult.
But Morgan says the angry masses have it all wrong — it's largely students and campus police who are being attacked by bias and hate.
'Students also traumatized by being called 'white supremacists'"
Morgan (pictured below) on Friday filed a bias and hate incident report with the chancellor and other campus leaders to that end. Morgan's report is reprinted in part below:
Dear Dean Berquam,

I understand that you take incidents of hate and bias very seriously. I would like to report egregious hate and bias at the UW, and also specific threats to murder members of our community.

Over the past several months, someone named "King Shabazz" … has written graffiti on UW buildings calling for the murder of police officers, and using ethnic slurs to refer to people of a certain race as "the devil." He also threatened to kill innocent bystanders. Furthermore, his chosen nickname is shared by a militant Black Panthers leader who has "Kill Whitey" tattooed across his face. The UW student in question has caused untold pain and suffering to the UW community with his racial slurs, death threats, and calls for violence against police officers. Many students feel unsafe, and are afraid that the threats this student has made will be carried out. Students are also traumatized by being called "white supremacists." Please reach out to us in our distress, as we are aggrieved by all of the racial hatred and calls for violence that [the vandal] expressed during the fall and spring semesters.

I would also like to report that my home department, the Department of History, yesterday, on three separate occasions, sent out a message in support of the person who defaced public property, used hateful racial language, threatened to kill innocent bystanders, and called for police officers to be murdered (and also called the members of our law enforcement community, "pigz"). In addition, the History Department allowed the TAA to use the Department's list-serv to incite protests and to offer further support for a person calling for ethnic violence, and violence against the police. Several History Department professors have also indicated publicly their support for this student, and, presumably, his racial hatred, vandalism, and desire to see violence done to various groups based on their ethnicity and/or employment status.

In the past, you have been quick to root out incidents of hate and bias. Please respond to this report at your earliest convenience, as it appears there is a groundswell of support within the History Department for someone charged with some of the worst hate-speech and calls for violence that the UW has witnessed in some time. I am certain that the History Department chair will be interested in getting to the bottom of who, in his Department, is offering support for racial hatred and anti-police violence. I know the History Department chair is also concerned with ensuring that the History Department does not engage in politicking or political bias (as it has so often in the past, including using the Department e-mail list to support events run by the Socialist Party of Wisconsin), and does not support ethnic slurs or calls for violence. I know that he wants to see to it that the TAA can no longer use Department resources to disseminate support for bias and hate. …
In the backdrop of this unrest is the fact that, nearly one year ago, the University of Wisconsin Madison played host to a conference titled "Undercommoning: A workshop on becoming a thief in the university."
'Becoming a thief in the university'
As The College Fix reported in May 2015, the symposium was described as a chance for campus radicals – students and scholars alike – to brainstorm ideas among their "newly formed Undercommoning Collective" on how to influence university resources and advance their socialist agenda and provocative causes.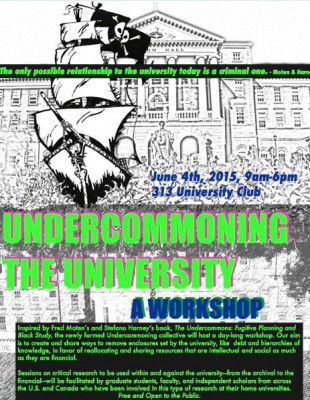 "Their promotional literature – although rife with esoteric jargon, victimization claptrap, and academic gobbledygook – essentially explains that the daylong conference aims to equip participants with ideas on how to attack and exploit the American university from within," the report stated.
It continued:
One of the group's overall goals, according to their website, is to "reveal and challenge the North American university as a site working at the junction of settler-colonialism, neoliberal capitalism, hetero-patriarchy, white supremacy and other systems of domination and exploitation."

"We also diagnose the university as a key institution of power that works in concert with police, prisons, the financial system, the 'lower' education system, punitive state bureaucracies, culture industries and other means of oppression."
With that, the unrest at the University of Wisconsin Madison might not be so surprising.
Moreover, Morgan told The College Fix some faculty doesn't like the tenure policies that were recently put in place, and have been agitating peers over this issue for months. The current uprising may also have ties with that, he said.
As with other campus protests dealing with racial unrest, at the heart of the issue is how the power, money and resources are allocated. Often, the claims of "racism" are red herrings.
RELATED: Univ. of Wisconsin symposium to teach how to become 'a thief in the university'
Like The College Fix on Facebook / Follow us on Twitter