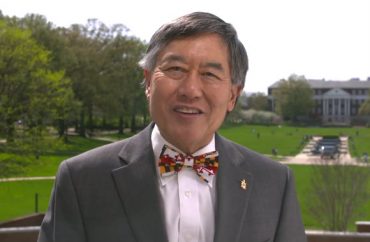 University of Tennessee Law Prof. Glenn Reynolds, aka Instapundit, has argued that the government's domestic response to the September 11 terrorist attacks was largely to fulfill pre-existing bureaucratic wish lists.
Under ordinary circumstances, homeland security officials couldn't get approval for measures that thoroughly eroded civil liberties, the thinking went. So they waited for an opportune moment when the American people were reeling from horror and would accept sweeping curtailments of their freedoms in the name of safety.
I think I see the same thing happening at the University of Maryland.
The community is reeling from a horrifying murder on campus: a black student from nearby Bowie State University who was stabbed, seemingly at random, by a white UMD student suspect.
The suspect was a member of a since-removed Facebook group called Alt-Reich Nation, described as "Controversial humor. Memes." The FBI is investigating the murder as a potential hate crime.
#RichardCollins
-Bowie State Sr.
-Commissioned as 2nd Lt. in U.S. Army.
-Killed at Uni. of Md
-Suspect #SeanUrbanski
"Alt Reich: Nation." pic.twitter.com/1fSYz6gvby

— Shomari Stone (@shomaristone) May 22, 2017
Tantrum-prone Terps were already foaming at the mouth because of a likely noose hoax this spring and "five reported incidents" in six months of "white nationalist posters" found on campus (no word on the results of the police investigation).
And it looks like UMD President Wallace Loh, who has previously grappled with whether fraternity members have First Amendment rights, feebly defended a screening of American Sniper on campus, and expressed the requisite outrage against the purely-theoretical noose, sees the writing on the wall.
MORE: Hoax? Noose allegedly spotted on UMD frat, but no evidence of it
He is creating the mother of all bias response teams, which sounds like it will suppress controversial or subjectively offensive speech so quickly and effectively that UMD will quickly lose its green-light speech rating from the Foundation for Individual Rights in Education.
We must do more to fight hate in our community. I am announcing the following UMD actions effective immediately https://t.co/iFjCCOjbfV

— Wallace D. Loh (@presidentloh) May 25, 2017
Loh reacted like a born-again censor less than a day after The Diamondback published an article that highlighted student criticism of his initial response to the murder and the pressure building on the administration:
In May, ProtectUMD, a coalition of 25 student groups, organized a sit-in at the Main Administration Building and called on the university administration to take action in response to incidents threatening minority students on the campus.
The group called for an immediate response to hate speech from this university, diversity training for all SGA-recognized and Greek organizations and the creation of an external review board to investigate hate bias incidents that happen on the campus.
In a message to the community Wednesday, Loh said he's asked the Office of Diversity & Inclusion to create a "rapid-response team," composed of faculty, staff and students, that will respond to "any hate-bias incident."
Did someone call you a bitch in a bout of anger, and you want revenge? Call the rapid-response team. Maybe its "services" will include summoning the target of your ire for a formal "educational" session with a mid-level bureaucrat who needs to earn his tuition-funded paycheck somehow. I bet the team can also impose a quickie no-contact order that will ruin your class schedule before you can get it overturned in an appeal hearing.
MORE: UMD forces students to pay for their own mandatory Title IX training
That Office of Diversity & Inclusion is also getting a $100,000 infusion "to support diversity and inclusion efforts that educate all members of our community," Loh says. Translation: You will sit through mandatory social justice sessions in addition to the mandatory sexual-assault training you're paying for with a new student fee.
The Office of Civil Rights & Sexual Misconduct will publish an annual report on all "hate-bias incidents" on campus. It sounds like the questionable semi-annual sexual-misconduct reports that Yale publishes, which show little more than Yale is convinced its campus is more dangerous than Detroit.
If you do anything that anyone considers hateful or biased in "any athletic venue," you will now be "immediately" removed from that venue, under Loh's instructions to the Athletic Council.
And in the coup de grâce to UMD's stellar speech rating from FIRE, the university is establishing a "hate-bias" task force that will review "relevant" policies top to bottom, so that "hate is not tolerated" on campus.
Note to this buzzword-loving university president: "Hate" is not illegal. "Hate" is protected by the First Amendment. "True threats" are not. Murder is not.
MORE: UMD's Title IX leader celebrates bias against accused students
President Loh, you are being manipulated by activists who have been waiting for exactly this opportunity to enact their censorious agenda while everyone is fearful and looking for quick fixes. It will make tensions on campus worse, not better.
You briefly nod toward free speech by saying the task force will "engage the entire UMD community on difficult issues at the intersections of free speech, hate speech, and freedom of association," but all that means is free speech will get a hearing as worthless and perfunctory as your average sexual-misconduct hearing for an accused student.
As if your plans weren't ominous enough already, you promise "this is the beginning."
But it's really the end of meaningful individual rights at UMD.
MORE: 'American Sniper' will be screened at UMD after public backlash
Like The College Fix on Facebook / Follow us on Twitter
IMAGE: University of Maryland/YouTube