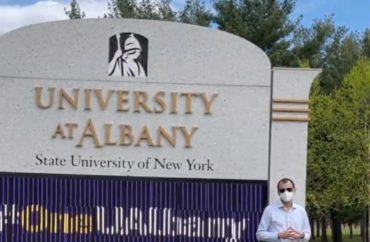 University said students have to prove they have consistently lived their religious belief
The University at Albany has approved 80 percent of religious exemptions, according to data obtained by The College Fix through a public record request.
The Fix filed a New York Freedom of Information Law request with the public university and received a response recently. The data provided is accurate as of early August and is based on an email sent between unidentified employees.
Spokesperson Jordan Carleo-Evangelist said in a September 14 email that "about 2 percent of all students [received medical or religious] exemptions." Carleo-Evangelist said a majority of the requests are religious. "As of yesterday, about 98 percent of our student body is at least partially vaccinated, with about 88 percent fully vaccinated." He said the school has granted 319 religious exemptions.
The FOIL document said that there have been 152 religious exemption requests and 123 approved, while 5 were pending and 24 were denied. Nine medical exemptions were granted, six were pending and four were denied.
"90 percent of all UAlbany students registered for classes this semester have received at least one dose of a COVID-19 vaccine," Carleo-Evangelist told The College Fix on August 24 via email. "About 79 percent were fully vaccinated. Of the 11% who are not considered fully vaccinated, about half have already received all required doses are just in the two-week waiting period following the final dose," Carleo-Evangelist said.
He gave The Fix further information on how religious exemptions are reviewed.
Carleo-Evangelist said:
In our system, which is supported by prevailing case law, the burden is on the applicant to demonstrate by a preponderance of evidence that they are a member of and conform to the practices of an organized religion whose teachings preclude immunization, or that they hold a personal and sincerely held religious belief that would prevent them from taking the vaccine."

We do not prescribe exactly how the student must demonstrate this, but it is not enough to provide, say, boilerplate religious sentiments or general quotations from religious texts. An exemption might be denied if the information is insufficiently specific or unclear, of if the student is not able to demonstrate that they have a history of abiding by their interpretation of the religious tenets they are citing. As I mentioned earlier, each of these requests must be evaluated on a case-by-case basis because we're dealing with things that are individually specific and deeply personal.
"UAlbany is enormously diverse, so it would be impossible to generalize other than to say a relatively small number of students representing several different faiths and belief systems have requested religious exemptions," Carleo-Evangelist said.
He said further:
The overriding public health interest is clear: We need to get as many people on our campus vaccinated as quickly as possible. That is the surest way to prevent people from getting seriously ill, or worse, and to stop the spread of the virus in our community. That said, we're very accustomed to diversity on our campus, and we embrace it. That's why we have a system in place to evaluate exemption requests based on sincerely held religious beliefs. The two are not mutually exclusive – and our extremely high campus vaccination rate is proof of that.
The 80 percent approval is similar to that of fellow New York public university Stony Brook. That college shared with The College Fix data on August 24 that indicated 78 religious exemptions were granted and 98 were made, equaling 80 percent approval. Just over half of medical exemptions, in total 14, were approved of 25 requests.
The University of Buffalo meanwhile has no idea how many students have applied for exemptions, but it told The Fix  that officials "had 57 approved religious or medical or fully remote learner in a non-online only degree program exemptions," as of August 4. Public information officer Carrie Woodrow provided The Fix with the data in an email.
Its portal is not set up to separate data on vaccine proof and exemption requests without opening each submission, Woodrow said.
MORE: UMass official tells Catholic students their objections are illegitimate
IMAGE: Edflight Education/YouTube
Like The College Fix on Facebook / Follow us on Twitter