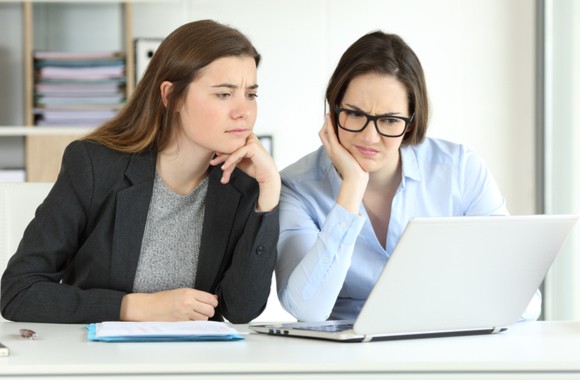 Based on website that is 'coming soon'
Being a woman is apparently not the same as being female, according to a new "Gender Pronoun Education/Awareness Initiative" introduced by the University of California System.
The Office of the President is training its employees in the new initiative through a three-part series in the weekly staff newsletter. It's unclear how many employees are affected, since UCOP has not updated its staff figure since October 2015, when it had nearly 1,700 employees.
UCOP debuted the initiative Sept. 23, laying out its goals. The initiative is "focused on educating staff around how we can support trans, non-binary and gender non-conforming staff by implementing simple changes in how we use pronouns in the workplace."
Pronouns are a major focus because UCOP doesn't want any colleague to feel "uncomfortable and unwelcome" due to someone using an "incorrect pronoun" to describe them.
UCOP staff should realize that referring to a person as "he" or "she" based on the person's "outward appearance" means they are making assumptions about gender, the first article says.
The second article in the series came out on Monday, a day before a spokesperson told The College Fix it would be released. Sarah McBride, media and communications strategist for UCOP, wrote in an email that the third is scheduled to be posted Oct. 22.
One of the listed sources of UCOP's information is a website that is currently described as "coming soon" but existed in a different form years ago, according to archived pages reviewed by The Fix.
"We strive to build a culture where employees feel accepted and individual differences are respected and valued as part of our broader commitment to diversity," McBride told The Daily Californian. 
Definitions don't match the given source – or are missing
UCOP represents about 1 percent of the UC system by full-time employees, according to its undated figures. Its budget is about 2 percent of the system.
The initiative only applies to UCOP staff and not the UC campuses, McBride told The Daily. It's still "in the planning stages," the effort of a coalition that includes the Employee Engagement and Diversity Group, UCOP Pride, the UCOP's Advisory Council on the Status of Women and UCOP's Staff Assembly.
The second article of the series released Monday purports to explain and define gender to UCOP staff, but its explanations may leave some confused.
"When you first heard about the Gender Pronoun Initiative, it may have prompted you to consider your assumptions around what the word 'gender' means," it begins.
It cites "helpful definitions" taken from Trans Student Educational Resources, including for gender identity, "gender expression/presentation," sex assigned at birth, sexual orientation and "romantic/emotional orientation."
The website formerly identified as TSER, Transstudent.org, is not live as of Tuesday night, but an archived page shows it existed as TSER as recently as Sept. 25, two days after UCOP announced the initiative.
MORE: UMinn drops proposal to punish people for not using preferred pronouns
Under gender identity, the UCOP article says the "terms 'female,' 'woman,' 'girl,' 'male' 'man' and 'boy' are not necessarily linked to each other but are common gender identities." McBride did not respond to an email from The Fix Tuesday asking how the terms "female" and "woman" are "not necessarily linked to each other."
Gender expression deals with the "physical manifestation of one's gender identity," but "being genderqueer/diverse or non-binary has nothing to do with looking queer or non-binary."
The article instructs UCOP staff under "sex assigned at birth" to avoid using the word sex as a "standalone word" due to the "vagueness of the definition." It states: "Chromosomes are frequently used to determine sex from prenatal karyotyping (although not as often as genitalia). Chromosomes do not determine genitalia."
Sexual orientation "refers to physical attraction" and romantic/emotional orientation "refers to emotional attraction." Both can come from "a variety of factors including, but not limited to, gender identity, gender expression/presentation and sex assigned at birth."
Although UCOP says it got these definitions from TSER, some of the definitions on the archived Sept. 15 TSER page do not match the definitions in the article. Others aren't there at all: TSER does not define "romantic/emotional orientation," and the UCOP claim that "woman" and "female" are "not necessarily linked" is not found on TSER either.
UCOP concludes the article with The Gender Unicorn, saying that "[s]ome people find it helpful to envision the spectrums of gender and sexuality with a visual resource." The Gender Unicorn was designed by TSER in 2014 and has been marketed to children as well as adults.
'This is not about convening a committee'
The "multi-year endeavor" is being led by Yvette Gullatt, vice provost for diversity and engagement and chief outreach officer, and Thera Kalmijn, executive director of operations, according to the initiative description.
"The work of creating truly inclusive environments takes time and a wholesale commitment to changing culture," Ianna Urquhart, UCOP digital media strategist, said in the debut message:
This is not about convening a committee or running a short-term campaign. Rather, it's about taking serious steps to understand the everyday experiences of all members of the UC community and making real changes so that everyone can be their best. When we can make UC more inclusive, we make it more relevant, more attractive to current and prospective employees and ultimately a more effective organization.
The Daily Californian notes this is not the first gender-inclusive program UC has implemented. President Janet Napolitano announced gender-inclusive facilities and restrooms in 2015, for example.
MORE: The 'Gender Unicorn' is being marketed to children
IMAGE: Antonio Guillem/Shutterstock
Like The College Fix on Facebook / Follow us on Twitter