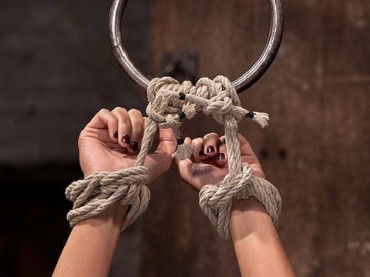 Some University of Chicago students may need to add whips, collars and handcuffs to their back-to-school shopping list.
That's because the elite private college's Risk-Awareness Consensual Kink student club, affectionately known around campus as RACK, has plans to take field trips to the local kinky sex club.
The visits are eyed for Galleria Domain 2, the windy city's "place to explore and satisfy your fetish, kink, leather, and BDSM fantasies," complete with "three rooms of unique, high quality BDSM furniture, two social areas, and a library," the club's website states.
Well, at least it has a library, although I'm not sure how much reading goes on in there.
On May 6, the University of Chicago's Student Government Finance Committee voted 5-0 to approve $300 to help fund trial memberships for students to the club, described at the meeting as "Chicago's biggest dungeon."
It was billed as an "opportunity to connect/engage with the broader Chicago kink community … (and) to engage in BDSM activities that are not suitable/appropriate for spaces that students have access to (i.e., in shared apartments or shared rooms)," according to the meeting's minutes posted online.
They may have a point. Flogging and electrocution might not play so well in the Max Palevsky Residential Commons.
RACK leaders and student members did not respond to repeated requests for comment.
The trial memberships were slated to launch this month, according to emails obtained by The College Fix by a student member of RACK who declined to be identified further.
"Hey kinksters/interested folks! If you're on this email, you've expressed some kind of interest in getting a trial membership to the dungeon GD2, paid for (at least partially) by the university!" a May 16 email from a RACK leader stated.
On Friday, July 25, an email update to the BDSMically inclined read:
Alright, the first day for the first group is approaching! If you want to be part of the first group going, from August 1st to the 22nd … Before next Thursday … go here and fill out the "trial membership" form! Use the code "rack" to apply the discount, for a total of $10.
Asked by The College Fix about the safety and appropriateness of the plans, a University of Chicago spokesman provided the following statement Tuesday, declining to elaborate further:
"This student group has not taken its proposed group outing or spent any of the funds that the Student Government Finance Committee considered for this purpose.

The Office of Campus and Student Life is still reviewing the proposal and working with members of the student group.

The University of Chicago is committed to student health and safety and to that end is continually looking at effective ways to support student organizations and activities."
Is it a stretch to presume that after administrators became more fully aware of this little plan, thanks to a media inquiry, they saw red flags? Perhaps not. Will they allow these trips to unfold? Remains to be seen.
But the reality is these students are legal adults on a campus no stranger to (cough) tough love.
In February, the campus hosted a "Taste of Kink" workshop as part of its annual Sex Week activities that allowed students to explore "the exchanges and sensations that can be generated by floggers, rope, electricity and more," the agenda stated.
The University of Chicago is not alone in its student sexual exploration. Harvard University has a club called MUNCH that caters to students who like "alternative sexuality and kink." So does Columbia University. The University of Michigan recently hosted a BDSM tutorial.
In years past at Yale's Sex Weeks, they have included everything from sadomasochistic porn screenings to sex toy demonstrations to live nudity in the classroom.
(RELATED: The College Fix's list of smutty things funded by student fees)
As for these colleges' Bondage, Dominance, Sadism and Masochism events, they unfold against the backdrop of "50 Shades of Grey," the soft-porn book sensation (and pending Hollywood hit) that helped normalize painful sex.
If behavior modification is the goal, there's a captive audience at universities (pardon the pun).
Jennifer Kabbany is editor of The College Fix. ( Follow Jenn on Twitter: @JenniferKabbany )
Like The College Fix on Facebook / Follow us on Twitter
IMAGES: Internet screenshot