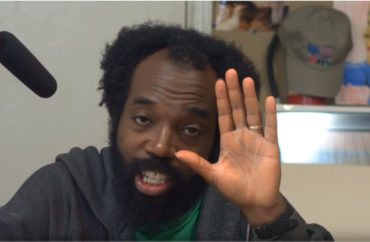 UPDATED
The University of Georgia says it is "vigorously exploring all available legal options" against a teaching assistant who last week posted a Facebook message saying "some White people may have to die for Black communities to be made whole in this struggle to advance to freedom."
Irami Osei-Frimpong, a Ph.D. philosophy candidate, added that "To pretend that's not the case is ahistorical and dangerously naïve."
Initially, administrators dismissed student complaints about Osei-Frimpong's previous statements, claiming they were simply made "in his capacity as a private citizen on his personal social media accounts."
"At this point, we are unaware of any allegation of racially hostile or discriminatory conduct in the course of his professional duties or any statements falling outside of First Amendment protections," the university tweeted from its official account on Jan. 18.
However, after numerous reports surfaced last week of Osei-Frimpong's now-deleted Facebook comment, campus leaders altered the university's position that it was solely personal free speech and launched the probe.
Last week, former UGA political science student Andrew Lawrence posted video on his personal Facebook account of a confrontation he had with Osei-Frimpong at a meeting of the UGA Young Democrats in September 2018, which sparked renewed interest in the TA's public statements.
In an e-mail to The College Fix, Lawrence called the university's latest statement "far more reassuring" than their previous answers.
"Their tone has changed, and if they are truly doing what they say they are doing…then I think progress can be made," he said.
On Lawrence's video, Osei-Frimpong begins discussing how we "need stereotypes if you're going to talk about justice as a group," and how it is permissible to use "generalities that have been accepted." Lawrence then pressed the TA to explain some of his past statements deriding white people.
"It's a strategy to pretend all people are individuals," Osei-Frimpong says on the video. Lawrence counters that as a member of the LGBT community, his experience as a Jewish white male is very different than that of other white males.
In the past, Osei-Frimpong, who posts YouTube videos as "The Funky Academic," has referred to white people as "autistic," "sociopaths," and "Chick fil-A employees." In a recent Twitter post, Osei-Frimpong explained that "fighting White people is a skill," ending with a quote from Dr. Bobby Wright in which he said, "Blacks kill Blacks because they have never been trained to kill Whites."
In another tweet, Osei-Frimpong posted a picture of a guillotine with the caption "the French erect guillotines. They are not confused about their enemy." On gender issues, Osei-Frimpong tweeted "Masculinity is a form of Whiteness," and that "the aspiration for manhood reinforces White supremacy."
Osei-Frimpong did not respond to requests for comment by The College Fix. On January 26, Osei-Frimpong said he has been banned from Facebook for 30 days for his  "White people may have to die" comment.
Osei-Frimpong's controversial teachings have also caught the attention of the campus' conservative newspaper, which has expressed concern about the unequal treatment of racism on campus.
"A university is entitled to set the rules for permissible speech among its staff and student body when they are representing the school," wrote the Arch Conservative this week. "However, when these rules are not applied equally, they cease to mean anything. If UGA wishes to retain a sense of moral credibility on the issues of race in America, they need to start acting with some consistency when approaching these types of cases."
It was only after Lawrence sent a letter to other alumni urging them to reconsider their financial support of the university that the school revisited the issue.
"Racism has no place on our campus, and we condemn the advocacy or the suggestion of violence in any form," administrators said on Sunday. "We are seeking guidance from the Office of the Attorney General as to what actions we can legally consider in accordance with the First Amendment," the school said via Twitter.
Lawrence said, however, he will continue to urge alumni to withhold donations as long as the University of Georgia continues to "defend militant racism." He points to a case last year when baseball player Adam Sasser was immediately thrown off the team for racist remarks, and adds that "UGA's double-standards are very obvious."
After the Osei-Frimpong's Facebook comment was flagged and removed by moderators at the Overheard at UGA Facebook page, Campus Reform reported some large donors to the university were threatening to withhold funds as long as Georgia continued to allow Osei-Frimpong on campus.
UPDATE: On Friday, January 25, the Foundation for Individual Rights in Education (FIRE) wrote a letter to the University of Georgia president urging no action be taken against Osei-Frimpong, arguing his statements are protected free expression. According to the letter, "the First Amendment prevents the institution from taking any further steps. Instead, UGA must immediately abandon its investigation into protected expression." On Monday, the story was updated to include Osei-Frimpong's online statement about being banned from Facebook for 30 days.
MORE: University clears professor who wrote on Facebook about hating white people
IMAGE: YouTube screenshot
Like The College Fix on Facebook / Follow us on Twitter