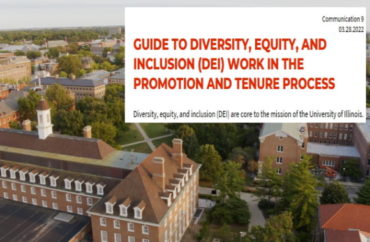 ANALYSIS: U. Illinois to mandate DEI activism from all faculty to earn tenure or a promotion, which effectively institutionalizes coerced speech
Universities have long evaluated professors for promotion and tenure based upon their record of excellence in research, teaching and service, but the flagship public university in Illinois will soon evaluate professors based on their commitment to forwarding a particular political ideology as well.
The University of Illinois Urbana-Champaign has approved a policy that will require faculty to contribute to Diversity, Equity and Inclusion efforts to earn tenure or a promotion. For now, it's optional. In a few years, it's a requirement, according to a policy dated March 26.
"The statement on Diversity, Equity, and Inclusion activities will be optional for candidates through Academic Year 2024-2025, after which the Provost will move to make it a requirement," it read.
For further insight, The College Fix attempted to reach out to several members of the committee that developed UIUC's new DEI requirement via email, but did not receive a response.
Nonetheless, their digital footprint offers some insights into the minds that brought this policy on board.
Meet the DEI or else team
Eva Marie Pomerantz is a professor in the Department of Psychology at the University of Illinois Urbana-Champaign.
One of her current research projects aims to "address inequities in preparation for STEM careers among K-12 students, with an effort to identify how to optimize preparation among Black and Latinx students."
Electrical and Computer Engineering Professor Lynford Goddard assumed his position as the Associate Dean for Diversity, Equity, and Inclusion at the Grainger College of Engineering at UIUC in August 2021.
According to a September 2021 announcement on his department's website, in his capacity as associate dean for DEI, Goddard "will work with the dean and other college leaders to identify and implement best practices for advancing DEI efforts in organizational culture, teaching, and public engagement."
Professor and Head of the Department of Dance at UIUC, Jan Erkert, in April 2021, took time away from what her faculty page describes as "advocat[ing] for creative approaches to living" to pen an op-ed comparing the training required to transform oneself into an elite dancer to the transformational work necessary to undo the racism that resides in white bodies.
Chemical and Biomolecular Engineering Professor Brendan Harley may not find DEI as central to his work as Pomerantz, Goddard, or Erkert, given that he is merely a researcher of cell and tissue engineering, but he compensates for this by placing a rainbow flag sticker on his office door.
There is a DEI slogan on each stripe: "LOVE IS LOVE," "BLACK LIVES MATTER," "IMMIGRANTS MAKE AMERICA GREAT." A picture of it is on his Twitter page, as he uses it as his background photo.
Carla Cáceres, director of UIUC's School of Integrative Biology, who does research on the community ecology of disease in aquatic ecosystems, has similar slogans on an illustrated poster on her lab's webpage, with the playful addition of "Plankton are cool."
Together, these individuals, along with several others, were charged with addressing issues in UIUC's promotion and tenure system regarding, among other things, diversity, equity and inclusion.
'Definitely biased towards getting a certain kind of result'
Last month, UIUC released its revised guidelines for tenure and promotion, also known as "Communication 9," making it official that faculty must soon submit "a personal statement detailing their specific individual and/or collaborative activities aimed at supporting diversity, equity, and inclusion."
One STEM professor at UIUC spoke to The College Fix on the condition of anonymity, concerned that publicly questioning the new requirement could negatively impact his future prospects of promotion and tenure.
"I think they [the committee members] were definitely biased towards getting a certain kind of result" given that many of them are already either active professionally or personally involved in the promotion of DEI, he said.
The STEM professor also stated he was distraught that the process through which these guidelines were developed was rather opaque. After George Floyd's death in May 2020, he said, he heard about a committee working "to update promotion and tenure [policy] along the lines of 'quote unquote' engagement and the DEI initiatives."
After that, this STEM professor explained, it wasn't until last spring that he heard about it again through one of the university's standard news and updates communications. This particular communication, he said, contained a section on "getting ready for promotion under the new guidelines," which, he said, were treated as "pretty much complete."
He stated that he suspects UIUC deliberately attempted to avoid providing too many details on the coming DEI requirement until it was finalized.
'An anthropologist brings together scholars studying the storytelling practices of indigenous people'
Inside one of Communication 9's supplementary documents, "Guide To Diversity, Equity, and Inclusion (DEI) Work in the Promotion and Tenure Process," there is a table containing examples of how faculty of different disciplines can incorporate DEI into their research, teaching and service.
Some are incredibly specific and reward professors who explicitly do research on putatively marginalized groups or that benefits such a community: "Several mathematics professors analyze historical grade data and run focus groups with women students to investigate gender equity concerns."
Some appear to explicitly reward professors for having DEI-centered hobbies or engaging in political activism in their free time: "An English professor organizes an annual summer workshop on the work of transgender authors."
Another suggestion: "A group of faculty works with the local refugee welcome center to establish a project with an effort to support recently arrived refugees learn to start businesses in the community."
Many suggestions appear to provide an easy means for professors to check a box with little effort by simply attending a workshop, joining a discussion group, or by claiming to have shown favoritism to members of a marginalized group in some manner:
➤ "A classics professor participates in an anti-racist curriculum discussion group"

➤ "A medical school professor attends a workshop on culturally responsive approaches to recruit groups underrepresented in medical research"

➤ "A group of biology professors applies for and implements a grant for hiring and supporting STEM faculty from groups historically marginalized and/or underrepresented in STEM"
Several seem to reward professors for working to further spread and institutionalize the cause.
➤ "A political scientist embeds DEI in their professional organization's mission, programming, and fundraising"

➤ "Faculty from across campus create University-wide guidelines to help instructors create an inclusive and equitable classroom environment"

➤ "Several master instructors design a workshop for faculty from across campus to enhance their teaching practices around DEI"
'Bureaucratic box-checking'
Yet, whether the fulfillment of the new DEI requirement for promotion and tenure at UIUC ultimately becomes little more than an exercise in bureaucratic box-checking or is one day placed on equal footing as expectations regarding research, teaching, and service remains to be seen.
The supplementary documents explained that DEI efforts do not have to be a "central part of every faculty member's activities to merit promotion." However, the provision encourages faculty to "plan their DEI activities as early in their careers as possible."
Even if DEI need not be central to a faculty member's activities, fulfilling the requirement still may turn out to be more than a matter of attending a workshop and checking a box, which raises questions about what happens to faculty who are critical of DEI or wish to remain neutral on the matter.
Illana Redstone, an associate professor of sociology at UIUC, although not a member of the committee for the requirement, was willing to provide some insight on the matter.
Redstone told The College Fix in an email: "[W]hether and to what extent the requirement becomes a barrier or impediment depends on a few factors. For instance, one factor might be how much weight a given department or college puts on the DEI statement when looking at a candidate's portfolio. Another factor might be how the individual department…decides what they consider to be a 'good' DEI statement."
"The requirement also arguably creates a set of incentives for people to simply say what they think the committee wants to hear, which can become its own problem," Redstone added.
The anonymous STEM professor who spoke to The College Fix reiterated some of Redstone's points, saying he already knows people to write diversity statements that say what committees want to hear.
"I would read their diversity statements," he said. "[The diversity statements] would say all these things and they [the people who wrote them] would come to me and say I don't believe this stuff. The whole thing is not hard to figure out. A child could write this sort of thing."
Yet, beyond people gaming the system, this STEM professor also suggested that these types of requirements institutionalize an element of coerced speech.
"Let's imagine you're an assistant professor and you're conservative," he said. "You now have to write a statement and you're going to have to use all those words like diversity, equity, inclusion, marginalization, just to make sure you pass the bar."
MORE: Mandatory diversity statements are incompatible with viewpoint diversity, higher ed 'blueprint' says
Like The College Fix on Facebook / Follow us on Twitter