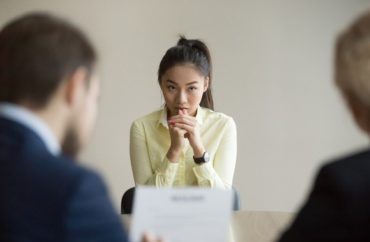 Expect resistance to reforms from 'a very vocal minority of the academic community'
Colleges have to get rid of mandatory diversity statements if they want to foster viewpoint diversity, according to a "blueprint for reform" devised by a right-learning academic freedom group.
The Martin Center for Academic Renewal also recommends that colleges create first-year orientation programs featuring "a robust defense of free speech, free expression, diversity of thought, and constructive dialogue."
Administrators should "repeatedly and publicly stress the need for students to voice their opinion, without fear or peer-pressure in classes," as well.
The blueprint is getting praise from a professor who faced harassment on campus for publicizing his research on the lopsided ratio of liberal-to-conservative college administrators nationwide.
"It is a great blueprint. It is really important because it is a very fair statement," political scientist Samuel Abrams of Sarah Lawrence College told The College Fix in a phone call. It is "hugely important" that the report doesn't take "an ideological position on content whatsoever" but simply lays out "how we can promote more viewpoint diversity" in and out of the classroom.
MORE: Abrams attacked for saying liberal admins outnumber conservative ones
A section for "policymakers" seeks to go over the heads of administrators and faculty. It recommends requiring public institutions to report annually on the actions they took to "promote and ensure intellectual diversity" and incidents that "impeded" this, as well as how much money they spent on "student organizations and invited campus speakers."
Martin Center President Jenna Robinson (left) told The Fix she doesn't expect the group's recommendations to be adopted without a fight.
"There will definitely be resistance to some of our reforms. There is a significant and very vocal minority of the academic community that prefers a leftist political orthodoxy to viewpoint diversity and open inquiry," she wrote in an email.
Former Harvard Medical School Dean Jeffrey Flier, who has also denounced mandatory diversity statements, and the viewpoint diversity academic group Heterodox Academy did not respond to Fix queries for their thoughts on the blueprint.
'Viewpoint orthodoxy' has turned some fields into 'ideological echo chambers'
"In the past three decades, university faculty and administrators have become overwhelmingly liberal," the report begins. "This orthodoxy of opinion is bad for academic research, students learning, and for universities' respect and support in the eyes of the public."
The disparity cannot be attributed solely to "self-selection" among who seeks an academic career: "overt discrimination against conservatives is also to blame." The Martin Center cited 2014 research that nearly a third of sociology faculty members said they would oppose hiring Republican faculty.
"The more openly liberal the faculty or department is, the more viewpoint discrimination occurs," the report says, citing a 2012 study in the journal Perspectives on Psychological Science.
"The effects of this viewpoint orthodoxy are pernicious," with activism increasingly replacing academics: "Some disciplines—especially area, ethnic, and gender studies—are merely ideological echo chambers."
The blueprint cites a Knight-Gallup survey that found "the political climate on campuses stifles diverse viewpoints," with most students believing "their campus climate deters free speech." Students fear how faculty and peers "will respond to their political speech," with self-censorship especially prominent among conservative students, and "students have little knowledge of free speech and First Amendment rights."
Students often have "divisive stereotypes about those with opposing viewpoints," and a "substantial minority" won't "engage with political opponents for any reason," the survey found.
MORE: Look at what Arizona State requires from job applicants now
To fight this imbalance and assure the community that minority viewpoints are welcome, universities should host "public policy debates and external speakers representing views from across the ideological spectrum," the blueprint says.
They should adopt freedom of expression statements "modeled on the declarations by the University of Chicago and the University of Oxford."
The top recommendation to universities is discontinuing "the use of diversity statements in employment, admissions, and funding," and it cites the "contributions to diversity" statement now required by the University of California-San Diego for all faculty jobs.
"Any university that takes its commitment to academic freedom seriously should not be using diversity statements," Robinson told The Fix. "Professors and administrators who care about academic freedom and viewpoint diversity should speak up and say so."
"Some institutions have completely abandoned the principles of inquiry, viewpoint diversity, and academic freedom," said Abrams (below), who is also a visiting fellow at the American Enterprise Institute. "Those schools may be impossible to save. But there are still a large number of devoted academics who are about this issue and will work for reform."
MORE: Hundreds of students tell Abrams they're afraid to defend him
'It's getting worse every week'
The Martin Center encourages universities to tell students they have the right to "fair and impartial evaluation of their academic performance" and add questions about "classroom free expression issues" into course evaluations, but it also wants lawmakers to get involved.
The blueprint advocates statutory bans on "discrimination against students and student organizations based on the content or viewpoint of their expressive activity" and interference in their belief and conduct requirements for leaders and members.
It asks lawmakers to order public institutions to make their syllabi public. They should also tie state funding "to actions safeguarding viewpoint diversity, perhaps through performance funding mechanisms."
Asked about the feasibility of the recommendations, Abrams told The Fix that "implementing the blueprint is going to be very difficult." But he added that "most of these things are quite appropriate if you take a look at them – things need to be transparent," such as making syllabi public.
"I think the real issue is how do we ensure fairness and real debate discourse outside of the classroom," Abrams continued:
And we have seen over the last few years this is becoming increasingly difficult with college administrators that have huge ideological agendas. And it's getting worse every week, with more and more people being cancelled, shut down and threatened.
Some reforms "will be easier to implement than others," Robinson added, citing "some momentum behind the Chicago Principles. I expect that faculty senates will continue to adopt them." Legislatures and trustees are the target for other proposals, she said.
"The blueprint itself is phenomenal and should be incontrovertible," because it's simply asking each university "to live up to its values of letting people speak, hearing alternative ideas and not shutting them down," Abrams emphasized. "It is a shame they need to put this out."
MORE: Students like free speech until asked about being offended
IMAGES: fizkes/Shutterstock
Like The College Fix on Facebook / Follow us on Twitter