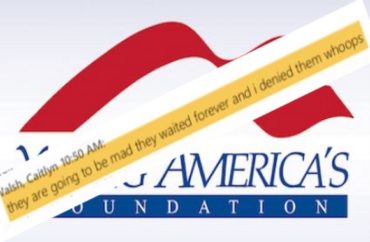 YAF club finally approved, students demand apology
A recently published series of emails shows administrators conspiring against and mocking students attempting to get approval for a Young Americans for Freedom chapter at the University of Kentucky.
Students working to get the approval had done so over the course of the last year to no avail. The conservative chapter was approved, however, after Young America's Foundation sent in a public records act request seeking to better understand why the club was rejected, according to YAF spokesman Spencer Brown.
"UK quickly approved the chapter once YAF made our public records request," Brown told The College Fix on Wednesday. Last week, YAF published the findings of its records request, which showed two campus officials had expressed joy in denying the club official recognition.
A campus spokesman said officials are sorry for the behavior of its employees.
In an email statement to The College Fix, UK spokesman Jay Blanton said that the student organizations office "worked closely with the Young America's Foundation and soon after the appropriate documentation was finalized — documentation required of all student organizations — YAF was registered and approved as a registered student organization at the University of Kentucky."
"At the same time, though, we want to apologize for some of the conversations that occurred around this process. We have taken steps to ensure that it does not occur again," Blanton added. "We are reinforcing with all of our staff the importance of using appropriate language that does not inadvertently create any misperceptions regarding the work we are doing and the seriousness with which all of our staff members do it."
In a statement posted Aug. 15 on Twitter, the student group demanded an apology from campus leaders.
"Activities continually dealt with us in bad faith, lying repeatedly about why we had not yet been approved," the statement reads. " … The messages sent show the personal bias that goes into the work of UK's Office of Student Organizations and Activities."
The public records request revealed that several employees in the office had discussed deliberately stonewalling the club.
The emails revealed that the assistant director of student organizations, Caitlyn Walsh, had called the organization "sticky" and that she was "struggling" with approving them.
Walsh mocked the foundation's pro-small government and free markets Sharon Statement, which outlines the ideological parameters of membership in the organization as well as the organization's description, and another university staffer, Meghan Jennings responded by saying "oh jesus tap dancing christ."
Later, Walsh said that the students attempting to form the club "are going to be mad they waited forever and I denied them whoops." In another statement she promised "hehe" she did not intentionally deny the club. "Riiiiiiiight," Jennings replied.
Walsh also circulated a link in an email about how a student government at Santa Clara University had denied YAF approval there. At one point they discussed how they could work on getting UK's student government to deny YAF like what happened at Santa Clara.
The Fix spoke to Jennings on the phone on Wednesday, but she declined to comment and referred the matter back to the university spokesman.
In a news release put out prior to UK's statement, YAF's Brown said that "campus leftists 'like' the power they wield to keep conservatives from freely organizing and sharing their ideas," and that the situation at the University of Kentucky was not an anomaly, with "censorious administrators … relying on their largely unaccountable positions to allow wanton discrimination against their ideological opponents."
"When light is shed on their actions and words, a troubling picture emerges. Staffers at the University of Kentucky ought to be held accountable for their actions, and conservative students ought to know just how contemptible administrators find them," Brown said.
MORE: As YAF president, Scott Walker vows to 'open the eyes of the next generation'
Like The College Fix on Facebook / Follow us on Twitter