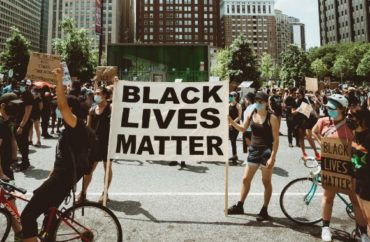 The Anti-Black Racism initiative is intended to 'amplify the new anti-Black racism minor' that UMD will offer in fall 2023
An ongoing "Anti-Black Racism Initiative," funded by the University of Maryland, will also work to boost a new "Anti-Black racism" minor that will start this fall.
The grant is part of a broader research program by the Big Ten university to "fund initiatives designed to impact enduring and emerging societal issues, such as climate change, social injustice, global health, education disparities, poverty, and threats to our democracy." The racism initiative has been around since 2020.
Team Project Grants are available for up to $500,000 per year for three years, according to the university's announcement. There are a total of 50 different projects that could receive part of the $30 million grant fund.
This specific initiative will "develop faculty-student cross departmental anti-Black racism focused research projects," create "anti-Black racism teach-in workshops for faculty, staff, students, and community member" and disseminate this research to the "wider campus and local community."
The research will also "amplify the new anti-Black racism (ABR) minor."
The College Fix reached out to Professor Jeanette Snider, one of the leaders of this initiative, to ask specifically how large the grant is, some potential research topics and for more information on the new minor.
Professor Snider responded on Feb. 28 and asked for a copy of this reporter's past articles for The Fix. She has not responded any further to the questions in the past two weeks.
A spokeswoman for the university also did not directly answer questions about the size of the grant and said that the new minor is not directly part of this funding request, but ties into it.
"The minor you referenced in your inquiry is separate from the research project that received grant funding through our Grand Challenges program, though the research and coursework may connect in the future," Sara Gavin told The Fix via email. "We're in the very beginning of the process so courses and research symposia have not been fully planned, but the project generally will focus on research, workshops and dissemination of research-based knowledge."
MORE: University of Chicago student group hosts 'Black Graduation'
She directed The Fix back to the grant page for more information.
A Kennesaw State University professor who has been critical of DEI on college campuses criticized the initiative.
"Taxpayer dollars would be better spent on providing education to students in something worthwhile and productive to society," Professor David Bray told The Fix. "And until state legislators (who control the money) and university administrators show the necessary leadership, we will receive more nonsense from the racialized-Marxists on campuses everywhere."
He said that these researchers "must keep 'anti-black racism' alive to stay employed."
"The left-wing activists (e.g. DEI employees) control the narrative at our 'used-to-be' apolitical universities," he wrote. "The highest number of hate crimes against Asians in this country are committed by black Americans. I doubt if this group of activists will study this."
"I love when I hear someone say 'racism of any kind is unacceptable.' Students at every campus should hold their administrators to this statement when any race of students (including white) is mistreated," he said. "Please feel free to contact me personally if you want to remain anonymous, but highlight any violation of this statement by your school."
The College Fix asked Professor Bray why DEI programs such as the University of Maryland initiative remain popular on college campuses. He referenced a white man killed at the hands of Dallas police officers in 2016.
"The reason these programs have increased significantly is because the political left capitalized on the death of George Floyd," Professor Bray said. "Why doesn't the country know about Tony Timpa? Because he was white, that's why."
MORE: Florida higher ed bill would outlaw DEI
IMAGE: Chris Henry/Unsplash
Like The College Fix on Facebook / Follow us on Twitter