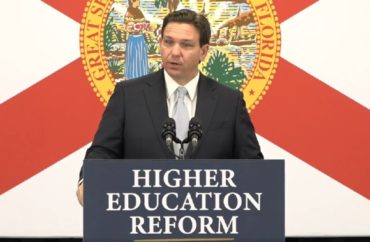 Sweeping proposal comes as Gov. Ron DeSantis prioritizes higher education reform
A recently filed bill in Florida would ban spending on diversity, equity and inclusion programs and enact post-tenure review of professors, a sweeping proposal that has drawn criticism and concerns from all sides of the political spectrum.
The bill, H.B. 999, was filed by Rep. Alex Andrade as Republican Gov. Ron DeSantis continues to work to curb what he calls "woke" ideology within higher education.
Separate bills also filed in the Florida legislature recently, S.B. 958 and H.B. 931, seek to outlaw mandatory diversity, equity and inclusion statements in hiring and tenure and develop offices on campuses dedicated to creating spaces for debates and civil discourse on hot-button topics.
H.B. 999, as proposed, would codify the power to directly hire and fire faculty to boards of trustees and campus presidents, one of the most contentious aspects of the bill. It would also give power to trustees to require tenured faculty undergo extensive post-tenure reviews every five years. The policies would apply to the state's public institutions.
"As a rule, faculty committees control new appointments. This ability of professors to choose their own colleagues is often cited as a bulwark of academic freedom," wrote Stanley Kurtz, a senior fellow at the Ethics and Public Policy Center, in National Review.
However, he added that regulation of tenured professors may be a good thing in light of historical abuse of the tenure system, writing "the best way to break the campus monopoly and restore a marketplace of ideas may be to hand power back to boards of trustees and presidents not enslaved to current campus orthodoxies."
Another notable part of the bill is its emphasis on requiring universities to provide education on America's founding.
The proposal also seeks to empower the Board of Governors to require universities to remove majors or minors that study critical race theory, gender studies, intersectionality, or any derivative of these belief systems.
Inside Higher Ed's Josh Moody reported that "some have questioned what enacting the legislation would mean for federal grant programs with DEI components, suggesting that research universities stand to lose millions of dollars."
The bill also would give committees appointed by the chair of the State Board of Education and the chair of the Board of Governors power to review and submit recommendations for the removal, addition or realignment of general education core courses; one such requirement is that courses cannot distort significant historical events or include identity politics like critical race theory.
Adam Steinbaugh at FIRE wrote that "the most vague restriction in H.B. 999 is its prohibition on the inclusion of 'unproven, theoretical, or exploratory content' in general education courses,'" calling it far too broad.
Steinbaugh also argued the bill would prohibit any services or use of any funds to support programs or activities that support diversity, equity, and inclusion or critical race theory rhetoric.
H.B. 999 has prompted controversy and criticism, with some arguing it goes too far and, as proposed, would stifle freedom of ideas and discourse within higher education.
The University of Florida Faculty Senate released a statement on Twitter condemning the bill, writing the proposed legislation "will upend this successful model [of cooperation between academics, policymakers, and business leaders]" and "unnecessarily removes the ability of our academic experts to work successfully with the state to continue our system's excellence."
Statement from @UF Florida Faculty Senate Chair @Dr_Phalin re HB 999. ⬇️#HB999 #Florida #academicfreedom #AcademicTwitter #AcademicChatter #AcademicFreedom #GoGators #Gators #GatorNation pic.twitter.com/JDUChSHLKA

— UF Faculty Senate (@UFFacultySenate) February 26, 2023
When asked for comment by The College Fix, both UF and Florida State University declined to comment on the pending legislation.
The Office of Communications and Marketing at the New College of Florida also had no comment on the bill, but told The Fix via email its officials would "continue to monitor the process and determine the impacts on New College and higher education policy in Florida."
Meanwhile, the American Association of University Professors, the American Federation of Teachers, and the National Coalition Against Censorship released a joint statement denouncing H.B. 999, arguing it would erode academic freedom and university independence.
They wrote "the bill would place control of core curricula and institutional mission statements entirely in the hands of political appointees," claiming it "would make Florida's colleges and universities into an arm of the DeSantis political operation."
The Washington Post reported that groups like PEN America, which advocates for free speech, have also spoken out against the bill.
And it cited the Foundation for Individual Rights and Expression describing the bills as "laden with unconstitutional provisions hostile to freedom of expression and academic freedom," the Post reported.
But Adam Kissel, a visiting fellow at the Heritage Foundation, told The New York Times H.B. 999 "has some constitutional infirmities, especially viewpoint interventions that are likely to fail in court. The unconstitutional provisions can easily be reworded or omitted, leaving several excellent features intact."
The regular session of the Florida Legislature began March 7. Since H.B. 999 was filed early, people must wait to see how the legislation evolves concerning the bill.
Inside Higher Ed reported that Andrew Gothard, president of the United Faculty of Florida, warned that the organization will act against the bill with lobbying and other means if it gains momentum.
Protests in recent weeks have also taken place against DeSantis's anti-DEI efforts by students at various universities across the state.
MORE: Florida bill would ban mandatory DEI statements for hiring, tenure in higher ed
IMAGE: Facebook screenshot
Like The College Fix on Facebook / Follow us on Twitter