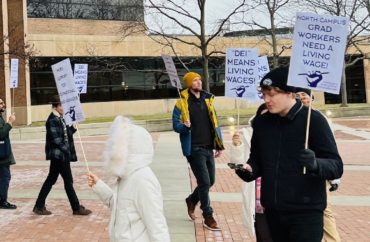 Negotiations between campus officials and GEO set to continue through April
A University of Michigan graduate employees union wants to see the campus police abolished and a fund set up to provide for abortions and transgender drugs and surgeries.
The demands are part of the process of drafting a new three-year labor contract before the current one expires on April 30.
The Graduate Employees' Organization however has lost so far in its demand to replace the campus police department with a "community-led, non-police, unarmed emergency response" program. University officials also rejected the proposal to bar federal immigration authorities from entering campus to carry out warrants.
The College Fix reached out to the labor union multiple times via email and Twitter in the past weeks about its demands but the group did not respond. It represents graduate student instructors and staff assistants.
The university also rejected a demand for a $10,000 abortion fund and time off for abortions, according to notes from the January 27 bargaining session. "People who can conceive are still at risk for losing legal access to abortion in Michigan," the union wrote in its "Platform Proposals."
We showed up to support our disabled, trans, and BIPOC coworkers. How can UM have DEI and the 'spirit' of Dr. King if it doesn't pay its Black – or Latinx or indigenous- grad workers living wages? If it continues to extract our labor and profit off our backs? pic.twitter.com/pvHk2xWcrF

— Graduate Employees' Organization at U-Michigan (@geo3550) January 23, 2023
Another session occurred last Friday, February 3, but no minutes have been posted yet.
One demand included "Transgender Healthcare" because the union wanted to make it easier for its members to receive "gender affirming care," such as Hormone Replacement Therapy, by eliminating the requirement for patients to have their gender dysphoria verified by a mental health care provider.
Furthermore, the platform called for another full-time staff member for the Comprehensive Gender Services Program to reduce wait times for people looking to access "gender affirming care" through Michigan Medicine.
The union efforts have the support of the campus socialist group.
The UMich Young Democratic Socialists of America chapter regularly shares social media content supportive of the union's demands.
We're hosting the teach-in!!! RSVP and keep an eye out for details 🤩🌹✨ https://t.co/AeOOwVijZo

— YDSA🌹 @ U〽️ich (@YDSAUMich) January 31, 2023
A member of GEO also spoke at a recent YDSA meeting, according to an Instagram post.
However, not all University of Michigan students are sympathetic to the union. In a message to The Fix, Charles Hilu, the chairman of the Young Americans for Freedom chapter criticized the union as a vehicle for left-wing politics. Hilu also writes for The College Fix and is editor-in-chief of The Michigan Review.
"The problem with many of GEO's demands is that, in their current form, they serve as a vehicle for a left-wing political agenda that goes far beyond demanding better pay and working conditions," Hilu told The Fix. "The union delegitimizes itself by asking for free gender transitions and disarming campus security."
MORE: Dartmouth student union demands $27/hr to make coffee at night
IMAGE: GEO 3550/Twitter
Like The College Fix on Facebook / Follow us on Twitter