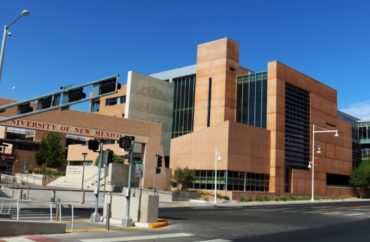 The University of New Mexico is considering whether to build a large border wall around its perimeter to protect the campus community from criminal activity.
The proposed "10-foot-tall, wrought-iron fence with sharp points at the top" would be used "as a security barrier between New Mexico's largest public university and the rest of the city," reports the Albuquerque Journal.
The university has faced everything from homeless people on campus to drug users locking themselves in the bathroom stalls to get high to hundreds of car thefts — and even rapes — the newspaper reported.
Consultants paid to help drum up ideas on how to keep the campus safe had suggested the 13,000 feet of fencing, but a campus spokesman told the Journal that there "are no imminent decisions about perimeter security and any strategy involves multiple things to consider before moving forward."
UNM considering fence around Main Campus https://t.co/2kC7hPy67Q pic.twitter.com/6udwQtBr9r

— Albuquerque Journal (@ABQJournal) June 2, 2019
According to the university's most recent report on criminal activity on campus, in 2017 there were 18 rapes, 12 cases of fondling, seven robberies, 15 aggravated assaults, 211 motor vehicle thefts, four arson cases, 39 burglaries, 16 liquor law arrests, eight drug arrests, and one illegal weapons arrest.
"Unlike many large state universities, UNM is in the 'urban center' of Albuquerque, where crime, notably car theft, and violence are ongoing concerns. The campus' southern border is along Central Avenue, a high-crime corridor with a large number of panhandlers and transients," the Journal reports, adding that others simply visit campus to jog or enjoy various theater performances.
MORE: Students Threatened For Supporting Border Wall 
IMAGE: Rory Eye / Shutterstock
Like The College Fix on Facebook / Follow us on Twitter