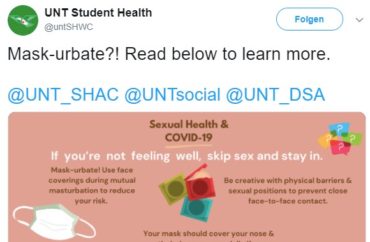 Similar tweets remain live, however
Earlier this month, the Student Health and Wellness Center at the University of North Texas posted a series of tweets on sexual health and COVID-19.
One of them told students at the taxpayer-funded university to "Mask-urbate" – wear masks during "mutual masturbation" sessions.
It also gave graphic explanations of why specific prophylatics are needed in various sexual activities, and encouraged students to choose sexual positions that avoid "close face-to-face contact." They must always wear a mask during any sexual activity, according to the SHWC.
That Jan. 14 tweet (below) has since disappeared, and neither the university nor the SHWC has explained why. It's the only missing tweet in the daily series that started Jan. 11 and ended Jan. 15.
The opening tweet was nearly as graphic, warning students about sexual activities that "expose you to fecal matter" and claiming that the novel coronavirus has been found in semen. It warned them against kissing sexual partners and other activities that involve "spit."
The second tweet told students not to have sex with "anybody outside of your household," but if they do, use the same prophylactics mentioned in the removed tweet, wear a mask and pick a "large, well-ventilated space."
The third tweet warned students against sex even if they have already recovered from COVID-19, because "[w]e don't know how strong the protection is or how long it lasts." (The CDC says reinfections are "rare.")
The fifth tweet provides a list of resources for COVID-19 but no sexual advice.
MORE: Harvard docs tell people to wear face masks during sex
This week we will be discussing Sexual Health and COVID-19. Comment below or message us your questions! @UNTsocial @UNT_SHAC @UNT_DSA pic.twitter.com/et6Tl3Cvv5

— UNT Student Health (@untSHWC) January 11, 2021
Let's keep the conversation going about Sexual Health & COVID-19… @UNTsocial @UNT_SHAC @UNT_DSA pic.twitter.com/vVZTncm9cw

— UNT Student Health (@untSHWC) January 12, 2021
Already had COVID-19?
You should still take precautions. @UNTsocial @UNT_SHAC @UNT_DSA pic.twitter.com/rTLRIrUan7

— UNT Student Health (@untSHWC) January 13, 2021
The removed tweet was live for at least four days when Campus Reform found the series, but it was gone by the time the conservative activist group published its article.
Even by telling students how to have sex, the university appears to be contradicting its own COVID-19 restrictions, which ban in-person sexual activity by its very nature. As Campus Reform notes, the guidelines order individuals to remain six feet apart from each other "wherever possible" and incorporate "distance between participants" if virtual meetings aren't "possible."
The university bluntly tells community members: "[F]ace coverings are not a substitute for appropriate social distancing."
The College Fix asked UNT media relations and the SWHC Thursday night why the tweet was removed, and who made the decision to remove it; whether its advice violates the university's COVID-19 restrictions; and whether students are not allowed to have sex because it violates social distancing without justification.
Neither has responded as of Friday afternoon.
Read the Campus Reform report.
MORE: Harvard ignores COVID violations if you claim to see sexual harassment
IMAGE: UNT Student Health/Twitter
Like The College Fix on Facebook / Follow us on Twitter