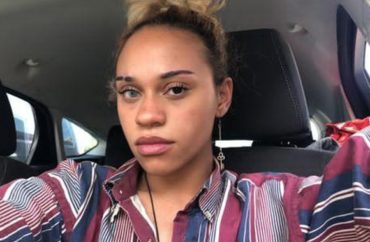 She said the DEI office never returned her phone calls
A former University of Oklahoma student criticized her campus "diversity, equity and inclusion" office for not helping her when she said she was the victim of a racist vandalism attack at her house.
Furthermore, she only found that the investigation into the January vandalism had been closed when The College Fix contacted her to ask for comment this month.
"I'm guessing they never found out who did it, if I'm honest I don't believe Norman police truly tried," Kiley Ellis told The Fix via email. "I had spoken to officers maybe twice about the situation, the day of the incident and [the] following day after."
"If I'm being honest, the people in power in Norman showed me they didn't care," Ellis (pictured) said in an email last week.
"The University of Oklahoma office of DEI (diversity, equity, and inclusion) reached out to me; however, when I tried to get back with them (multiple times) they never answered or responded to my calls," Ellis told The Fix.
The Fix emailed DEI officials Belinda Hyppolite, Teara Flander and media representative Tyler Figueroa for comment on April 17 and asked for comment on Ellis' situation and what kind of support it typically offers students in situations like this. None responded.
The Norman Police Department told The Fix at the end of March the investigation had been closed. "Unfortunately, at this time no suspects have been identified and no charges have been submitted," spokesman Brent Barbour wrote in an email.
A police report obtained by The Fix through a public records request shows that "hate speech" was "spray painted in black, across the garage door."
A video posted by a local news station appears to show that "I hate [n-word]" was written on the garage. Other homes were also vandalized that night.
Another document obtained by The Fix report there were "10 victims and 2 possible suspects identified" and "property damage" was reported but no injuries. Due to a clerical error, the report lists the data as Dec. 30, but the police department said it should be January 6, 2023.
Ellis said she is "disappointed" by the conclusion of the investigation.
"My overall thoughts? Disappointed but not surprised. Expected if I'm honest," she said.
Ellis has since moved out of Oklahoma and she said she plans to take a gap year before looking for other options in California.
"I've dealt with a lot of racism. I've dealt with people driving by calling me the N-word. I was told that someone was going to lynch me, and turn me into a Christmas ornament," she told KTUL.com in January. "I've gotten this treatment since I've gotten here, since I've started my freshman year. It was just the extremity of this time that really pushed me to get out."
MORE: Despite massive DEI efforts, UMich students feel worse about themselves
IMAGE: Courtesy of Kiley Ellis
Like The College Fix on Facebook / Follow us on Twitter