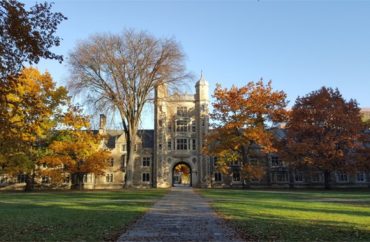 'A politicized climate on campus … makes them feel unhappy,' student said
After implementing one of the largest DEI programs among U.S. higher institutions, the University of Michigan found in multiyear campus climate surveys that students felt less fairly and equitably treated than since the start of the initiative.
The number of students agreeing that they were treated fairly and equitably decreased by about 3 percent since 2016, according to the full results of the survey released by the university in January.
Student satisfaction with the overall campus climate notably dropped by almost 11 percent over five years, with respondents also feeling slightly less valued or that they belong on campus.
"I have heard from many friends who complain about a politicized climate on campus that makes them feel unhappy. It is one that is irrationally focused on immutable characteristics such as race, gender, and sexual orientation," said Charles Hilu, editor-in-chief of The Michigan Review, in a Jan. 24 email to The College Fix.
"This philosophical underpinning is made even worse when it is put into practice by the largest DEI bureaucracy in the country," he said.
The university began an expansive program titled DEI 1.0 in 2016. According to a July 2021 report by the Heritage Foundation, the University of Michigan had "the largest DEI staff on multiple measures."
DEI administrative staff reportedly quadrupled between 2002 and 2021. More recently, the university employed five new faculty members as part of an anti-racism hiring initiative, which will eventually add up to 21 tenure and tenure-track faculty members.
A recent analysis of the University of Michigan found 142 employees at the school dealing with diversity, equity and inclusion in some way, with a total compensation estimated at $18 million.
@UMich now employs 142 "diversicrats" at an annual cost of $18M (total compensation) = in-state tuition for 1,075 students. Highest paid diversicrat is Tabbye Sellers @$380K+fringe benefits. Avg. = $97K and 44 make > $100K + fringe benefits. 10 years ago, UM diversicrats<20. pic.twitter.com/xU1PISR8Br

— Mark J. Perry (@Mark_J_Perry) January 5, 2023
"Considering that the University's DEI staff grew exponentially during the period between the two surveys, the results are devastating," stated a National Review piece by Hilu, who also wrote about the campus survey results for The Michigan Review.
Hilu told The Fix: "Michigan's results are not indicative of all DEI bureaucracies across the country, but they are proof that no matter how much DEI staff universities have, they are useless or even detrimental to student happiness and belonging if they do not have the correct philosophical backing."
One example of DEI practices at the university is the inclusive teaching resources on the College of Literature, Science and the Arts website, highlighted by junior Alex Stamell in a recent piece for The Michigan Review.
"Students are taught that good habits such as academic integrity are tools of white supremacy. Furthermore, they are encouraged to characterize themselves as either unjustly disadvantaged or unfairly advantaged, which can lead to a sense of despondency or guilt. Even when they take steps to be more inclusive, such as partaking in activist icebreakers, they are told they need to walk on eggshells lest they exclude others," Stamell wrote.
Hilu said in his Jan. 24 email that "Students are often told to contemplate parts of their background that are not within their control. That can be helpful to an extent, but when official university resources encourage administrators to run activities that single out students for the blessings they've received or not received, they lead students who have been advantaged to feel guilty and students who have not been so lucky to feel despondent."
University spokesperson Kim Broekhuizen told The College Fix in a Jan. 25 email that "the two survey samples did not come from the same individuals, as the surveys were given during the two different years to provide a comparison of campus members' climate perceptions."
"It's important to note the comparisons between the two survey results provide one important indicator of the university's progress, coupled with other forms of observable data and community feedback," Broekhuizen said.
She added the University of Michigan "is also considering ways the broader societal context may have contributed to community responses and why some climate experiences were reported less positively in 2021."
The university is currently in a transition phase between DEI 1.0 and an upcoming program called DEI 2.0, which will run from October 2023 to 2025.
"In its transition to DEI 2.0, the university must abandon programs that focus on immutable characteristics and stop making students feel guilty or despondent over their upbringing. The future needs to be dependent on students' sense of duty to make their fellow Wolverines feel welcome, and we need to encourage them to befriend and learn from each other," said Hilu in his Jan. 24 email.
Editor's note: Hilu is a contributor to The College Fix.
MORE: U. Michigan on track to hire 20 new 'anti-racism' faculty
Like The College Fix on Facebook / Follow us on Twitter