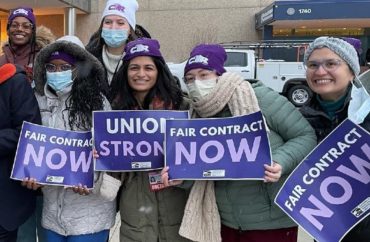 Right-to-work group warns that a union can restrict employee freedom
Resident and fellow physicians at the University of Pennsylvania Health System want their employer to recognize a new union they are creating under the Service Employees International Union umbrella.
The Committee of Interns and Residents have an ongoing campaign to unionize medical residents to combat "low pay, the rising costs of living and a national culture of overwork that often leads to burnout, depression and even suicide," according to a news release.
The news release does not list any concrete demands. The College Fix emailed the worker organization's listed media contact asked for an update on the efforts but no response has been received in the past three weeks.
The Fix emailed Holly Auer, the media relations director for Penn Medicine, and asked for comment on the union demands. She has not responded to an email sent in the past two weeks.
Organizers want to see higher wages, according to the campus newspaper.
"The residency program salaries at Penn Med currently range from $61,000 to $70,000, and resident physicians often work up to 80 hours per week — which amounts to a maximum hourly wage of $16.50 for a first-year resident," The Daily Pennsylvanian reported. "In addition to living expenses, residents have an average of $200,000 of medical school debt to pay off."
An unnamed Penn spokesperson told the campus newspaper that resident salaries are set to increase already this summer.
The media representative "pointed to efforts to improve resident life and wellness, such as a raise to resident salaries effective in July 2023 that will increase first-year salaries by nearly 7%, with subsequent increases ranging from 7% to 11% as residents move through the program," the student newspaper reported.
MORE: Dartmouth student union demands $27 per hour for late night barista jobs
While Penn students seek unionization, a right-to-work group told The Fix that a union may cause other problems.
Patrick Semmens with the National Right to Work Legal Defense Foundation told The Fix in an emailed statement that "[o]nce a union gains power in a workplace, we've seen many healthcare workers quickly realize that union control is not right for them."
Semmens said workers realize this "only to find out too late that the process for removing a union is largely rigged against independent-minded employees."
"Crucially, in the healthcare sector, union officials can issue strike orders during times when many healthcare professionals would prefer not to abandon their patients," Semmens said. "In just the past couple years, Foundation staff attorneys have seen a marked increase in requests from healthcare workers for legal assistance in getting votes to decertify unions and remove them from their workplace, but the [National Labor Relations Board] rules often make it difficult just to hold such a vote."
"These healthcare professionals often cite divisive union-ordered strikes and union officials' prioritizing of politics over patients as reasons for why they want to end union officials' so-called 'representation,'" he said.
Other locations are also seeing union efforts by medical residents and interns.
The Committee of Interns and Residents added two chapters of unionizing resident physicians at teaching hospitals in 2021 and five chapters in 2022. It currently represents over 24,000 residents, interns and fellows (pictured, activists at the University of Illinois-Chicago).
MORE: University of Michigan union makes bizarre and extreme demands
IMAGE: Committee of Interns and Residents/Facebook
Like The College Fix on Facebook / Follow us on Twitter