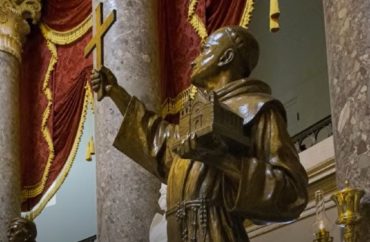 No clear plans for return
St. Junipero Serra's statue will be missing from campus at the University of San Diego for the third school year in a row.
The Catholic university hid the statue during the summer of 2020 after other statues of the saint were vandalized.
Critics have taken issue with Serra's conversion of Native Americans to Catholicism.
The university won't provide concrete details on what it will take to return the statue.
"The St. Junipero Serra statue remains in university storage," the university told The College Fix via email on July 11. "While the leadership team has not made any decisions at this time, the building name is Saints Tekakwitha and Serra Hall, so any new installation of statues in the future will likely represent both saints."
The university renamed Serra Hall to include St. Kateri Tekakwitha, a Native American saint.
The university told The Fix in January 2021 that there were "several construction projects going on at this time on campus" that delayed finding a new place for the statue.
The executive director of a Catholic organization in California defended Serra's legacy.
"Junipero Serra was a saint and a hero," Maggie Gallagher, the executive director of the Benedict XVI Institute, told The Fix via email. The saint "[left] behind a cushy job as a philosopher to travel across an ocean and walk 1000 miles on a lame leg to serve and educate the California Indians with a goal of making them equal to all other Spanish citizens."
The institute recently produced a documentary to defend the saint's legacy.
Gallagher told The Fix that Serra worked to better the lives of the Native Americans.
"He fought constantly with the Spanish soldiers to protect them from mistreatment, especially the women," she wrote in her email. "When the Spanish withdrew and the Mexican government kicked out the Franciscans and confiscated the land intended for the California Indians, the plight of the indigenous peoples was intensified."
"Every account says the people who knew him, Indians and Mexicans and Europeans alike, revered and admired him," she said. "We look small tearing down his statues in comparison."
Gallagher noted that the Benedict XVI Institute "commissioned two new works of art honoring him, a new painting 'St. Junipero Serra and the American Saints' and a new Mass setting by our composer Frank La Rocca, the Missa Sancti Juniperi Serra."
The Mass was "celebrated for the first time July 1 in the mission he founded Mission Dolores, which was also the founding of the city of San Francisco," Gallagher said.
Archbishop Salvatore Cordileone of San Francisco celebrated the Mass.
MORE: University of San Diego pays for abortions, transgender surgeries
IMAGE: Wall Street Journal/Youtube
Like The College Fix on Facebook / Follow us on Twitter