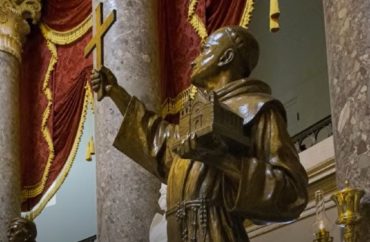 University won't give a specific timeline
Last summer, the University of San Diego removed its statue of St. Junípero Serra from campus.
The archbishop of Los Angeles, José Gómez, published a letter in the summer, warning about further threats of violence toward statues of the California missionary. The University of San Diego does not fall under the jurisdiction of Archbishop Gómez. However, the university cited the letter and several acts of vandalism against other Serra statues in its decision to move the statue to storage last summer.
The Catholic university said it plans to publicly display the statue once construction projects on campus are finished.
"[T]he plan is to leave the statue in temporary storage until such time we have a permanent solution, as we have several construction projects going on at this time on campus," Lisette Martinez, a media relations director for the university, told The College Fix in an email."[T]herefore due to such projects, we will integrate it back at the appropriate time."
Martinez said the university did not have a specific timeline in response to a follow-up question seeking more details.
"We don't have a timeline on the projects as it relates to the statue, but it is safe to say we intend to display the statue in the future," Martinez told The Fix.
She also shared a statement that she had sent The Fix previously noting that Catholic leadership had defended Serra's legacy.
"In the past year, the University of San Diego has addressed some of the issues surrounding the recognition of injustice to Native Americans and in the mission era," Martinez told The Fix in September. "In response, Serra Hall was renamed to Saints Kateri Tekawitha and Junípero Serra Hall."
"It is hoped that by placing these two Catholic saints together, we will recognize that indigenous peoples preceded the Catholic missionaries who settled here," university President James Harris wrote in a statement in April 2019. "It is also meant to encourage continued dialogue on the important topics of colonialization, the spread of the Catholic faith and the impact both had on Native American populations."
Some activists have accused Serra of cruelty toward indigenous people as part of his efforts to convert them to Catholicism. A coalition of students at University of San Diego wanted the school to condemn Serra and his "colonialist legacy" in 2015.
Gómez acknowledged Serra's errors in his summer 2020 letter, but also defended the saint.
"The facts matter, distinctions need to be made, and the truth counts," the archbishop said. "We cannot learn history's lessons or heal old wounds unless we understand what really happened, how it happened, and why."
Serra "lived and worked alongside native peoples and spent his whole career defending their humanity and protesting crimes and indignities committed against them," Gómez said. "Among the injustices he struggled against, we find heartbreaking passages in his letters where he decries the daily sexual abuse of indigenous women by colonial soldiers."
MORE: Brown student government narrowly rejects effort to remove Roman statues
IMAGE: Wall Street Journal/Youtube
Like The College Fix on Facebook / Follow us on Twitter