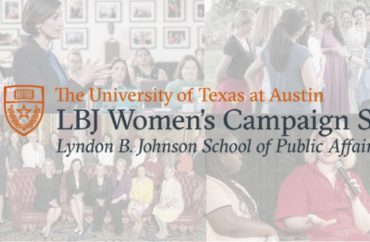 UPDATED
Limited to 'mid-career professional women'
Mark Perry's scrutiny of college programs that discriminate against men on their face has not flagged during the coronavirus outbreak.
The University of Michigan-Flint economist fired a digital shot across the bow at the University of Texas for its new "Women's Campaign School," a summer program announced when the news cycle was starting to exclude non-coronavirus topics.
Run out of the Lyndon B. Johnson School of Public Affairs, the five-day June program will give "mid-career professional women" training in how to run for office or manage political campaigns, covering media training, public speaking and fundraising among other topics.
The program is timed to coincide with the 100th anniversary of the 19th Amendment, which gave women the right to vote, and the 50th anniversary of the LBJ School. Nothing in its description or FAQs suggests that men can participate.
"By supporting women in politics we are continuing the work of training leaders and building an American democracy that is more just and more equal," Dean Angela Evans said in the announcement. "The launch of the LBJ Women's Campaign School during the 50th anniversary year of the School pays tribute to the power of President Johnson's legacy, as well as to the promise of the extraordinary students the School attracts."
Perry tweeted about the program this week, calling it an unambiguous violation of Title IX. "Memo to self: File Title IX Complaint w/Office for Civil Rights," he wrote, alluding to his frequent practice when encountering single-sex programs at any education level.
The economist has noted that such programs on their face also exclude gender minorities such as "gender nonbinary, gender nonconforming, gender fluid or transgender" applicants.
@UTAustin's @TheLBJSchool launches inaugural single-sex, female-only "Women's Campaign School" in Violation of Title IX's prohibition of sex discrimination @UTAustin https://t.co/zRbsmnZD54 @CollegeFix @gregpiper Memo to self: File Title IX Complaint w/Office for Civil Rights

— Mark J. Perry (@Mark_J_Perry) March 17, 2020
Perry actually filed that OCR complaint before he reminded himself on Twitter, according to a March 14 email he shared with The College Fix Wednesday.
The complaint to OCR's Dallas office notes that the program explicitly says it "trains" and "inspire[s]" women and aims to "increase the number of women" in office and senior campaign positions:
In violation of Title IX, the University's single-sex, female-only, no males allowed campaign school described above does discriminate against men based on their sex, it does exclude males from participating based on their sex, and it does deny men from the benefits of this program based on their sex. Further, there is no equivalent single-sex, male-only program (e.g., LBJ Men's Campaign School") that would fairly, equitably and legally accommodate men with the same opportunities as their female counterparts.
He asks OCR Dallas to either compel the university to convert the program into "a legitimate all-gender program that removes any specific references to females or women," or introduce a "Men's Campaign School" that runs alongside the women's school.
Read the announcement and FAQs. (We have archived them in case the university covertly changes them.)
UPDATE: Perry shared the complaint he filed with OCR after this post was published. It has been incorporated.
MORE: Ohio State opens women-only programs to men after Perry complaint
IMAGE: University of Texas
Like The College Fix on Facebook / Follow us on Twitter