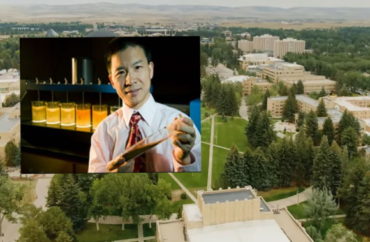 Extensive federally funded research undertaken at the University of Wyoming faces allegations of falsification and animal abuse conducted by a former employee who has since returned to China.
Jun Ren (pictured), the former employee, published a substantial amount of papers now accused of issues such as fabrication, falsification and plagiarization, according to a Stop Animal Exploitation Now complaint recently filed with the feds.
The complaint, filed in late April with the Office of Research Integrity with the U.S. Department of Health and Human Services, argues "there must be consequences for these heinous acts."
University of Wyoming's media relations division did not respond to a request this week seeking comment.
Kimberly Seigfreid, a spokesperson for the Office of Research Integrity, told The College Fix via email Thursday that the office is not able to confirm or deny the existence of any potential pending cases.
Michael Budkie, co-founder of Stop Animal Exploitation Now, said in a news release the University of Wyoming case is especially egregious.
"The sheep and mice who died for these fraudulent experiments, whose hearts were literally cut out, died to produce falsified data," he stated. "The Office of Research Integrity should throw the book at Jun Ren and his colleagues who were involved in this Research Misconduct."
The complaint states that "University of Wyoming is calling for a total of 33 retractions. This is a huge case of Research Misconduct/Fraud, and it must be dealt with swiftly."
Ren is no longer employed in the United States and likely works in China for the Shanghai Institute of Cardiovascular Diseases at Zhongshan Hospital of Fudan University, according to the SAEN group as well as Retraction Watch, which has followed this issue and "provided invaluable information to SAEN for [its] legal filing."
The University of Wyoming in past years has already investigated Ren and sought retractions for some of his work, Retraction Watch reported.
"Between 2002 and 2014, [Ren] was a principal investigator on NIH grants totaling more than $22 million, according to the NIH RePORTER database," it reported.
"Jun Ren, who studies the heart and diabetes, left Wyoming sometime in 2019 or 2020, according to a press release noting his citation achievements, after serving at different times as director of the NIH-funded INBRE program as well as associate dean," Retraction Watch reported.
"But following an investigation of his work between 2013 and 2015 that Ren says found 'reckless mistakes' and 'no intention to obtain specific results,' he was removed as director of what he says was a multi-million dollar research program and lost 'administrative, editorial, grant review and advisor positions.'"
SAEN's complaint included requests that all research related to the fraud charges and Ren be removed from journals and the wider public sphere.
"This falsified experimentation must be removed from the public record," the complaint states.
MORE: PETA demands UGA replace its live dog mascot, calls breed inhumane
Like The College Fix on Facebook / Follow us on Twitter