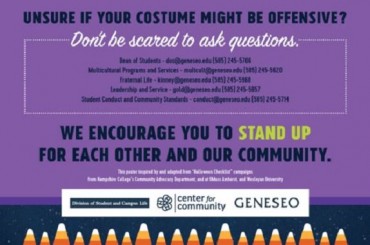 Think your Halloween costume might be culturally insensitive?
If you're a student at State University of New York at Geneseo, all you'd have to do is email or call the no less than FIVE campus officials whose phone numbers and email addresses have been hung around campus on posters titled "Halloween checklist: Is Your Costume Offensive? Check yourself and check your friends."
"Unsure if your costume might be offensive," the poster asks. "Don't be scared to ask questions."
Students can call for approval of their Halloween costumes, fulfilling their social justice quota for the day, before they go out and get so drunk that not a single person will either remember or care whether or not their "Pochahottie"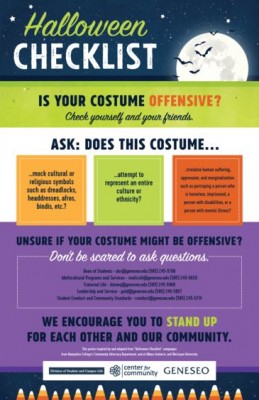 getup furthered the systemic marginalization of Native Americans.
The campus seems keen on grooming Orwellian 1984-style Thought Police informants, ready to sell out their friends for a feel-good confession to Big Brother.
Not to be outdone, Wesleyan University has offered to tell students if their Halloween costume is offensive by putting out its own poster, this one with no less than SIX official campus contacts, advising students not to wear a costume which "mock[s] cultural or religious symbols such as dreadlocks …" The university is apparently gravely concerned that a white student might have some fun dressed as a Rastafarian.
I wonder if there is equal concern over a non-Catholic student's donning the priestly collar? Or, for that matter, a student following in the footsteps of that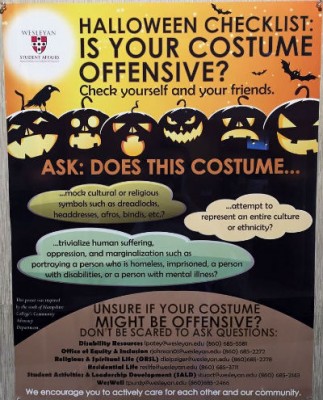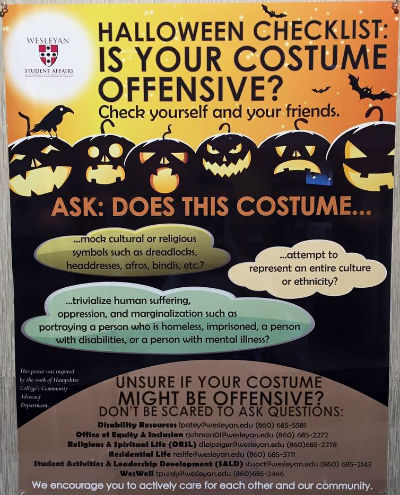 oh-so venerable (read: shrill and shallow) cultural icon Lena Dunham, who has announced that her next skeevy move (after "sexually experimenting" with her younger sister and writing proudly about it in her memoir) is to dress up as a "sexy" abortionist—because dressing as a child murderer is, ahem, "cool," I'm told.
I'm not holding my breath.
Another big no-no this year is dressing up like Kanye West or Kim Kardashian. Yes, the most famously parodied and mocked couple in America is off-limits for Halloween, if one considers that at UCLA, after a frat hosted a "Kanye Western"-themed party, they were accused of committing secular sacrilege: cultural appropriation of the Black community, complete with oversized sweatshirts and gold chains.
Never mind that Kanye never phoned in expressing his stern disapproval.
And those pop-up Halloween stores featuring "Call Me Caitlyn" outfits? Don't even think about it, you fun-loving fiend, you.
One wonders just how deep and how severe the cognitive dissonance goes among those on the the political Left, who are 100 percent fine with manly-man decathlete Bruce Jenner ingesting some hormones, donning a dress, growing out his hair, and playacting as a woman—and we are all to smile at and applaud this charade!—but some college freshman can't, on the one day of the year when it is totally acceptable to dress as a person or thing that one manifestly is not, dress up as Caitlyn Jenner.
My fellow millennials, a piece of advice, if I may: Take a chill pill, and just enjoy life. Sometimes, a costume is just a costume.
Like The College Fix on Facebook / Follow us on Twitter