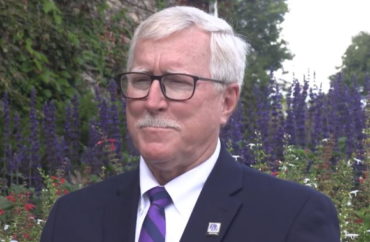 University of Wisconsin System delays survey until fall 2022 as free speech remains controversial in higher ed
University of Wisconsin Whitewater's interim President James Henderson resigned earlier this month after the University of Wisconsin System announced that it would offer students a campus free speech survey.
Henderson cited a lack of support from the UW system in his decision.
"I felt like I could not encourage candidates to apply for the chancellor job because of what I consider to be a lack of support from UW System leadership," he told the Wisconsin State Journal. "I thought chancellors had a role and a collaborative process in making decisions with the System, and I feel that was not honored."
The survey, now postponed until fall 2022, "aims to measure and analyze undergraduate students' perception of free speech and freedom of expression at their universities," according to a news release on the survey.
Today, the survey was supposed to be released to all students. But the survey has now been delayed — the third time the survey's plans have shifted course. pic.twitter.com/idLpR8cwT7

— Erin Gretzinger (@GretzingerErin) April 7, 2022
It is being facilitated by UW Stout's Menard Center for the Study of Institutes and Innovation, a Republican-supported campus program which aims to "promote the study and discussion of civil liberties and related institutions and innovations through scholarly inquiry, educational activities and community outreach," its website states.
The system states that the survey will attempt to answer various questions, such as whether students support viewpoint diversity and free speech, if there are free speech and viewpoint diversity problems on campus, whether they self-censor, and if they have witnessed or experienced formal sanctions or punishment for constitutionally protected expression.
A preliminary estimate of the cost of the systemwide survey sits at $100,000, according to Menard Center Director Tim Schiell.
UW System interim President Michael Falbo was initially wary of offering the survey after some campus leaders raised concerns that the survey was being offered without their prior consultation on the matter, Wisconsin news outlets reported.
Falbo was reportedly swayed in his decision to move ahead with the survey after an email from Schiell, who highlighted that it would be crucial in addressing future concerns about campus speech.
"As these [free speech] issues flare up, groups representing myriad viewpoints have made often outlandish claims about the system's failures in this area. They have accused us of stifling conservative speech and encouraging racist speech, and they have voiced a cornucopia of other hyperbolic statements based on idiosyncratic events on a few campuses," Shiell wrote in the email. "Without this survey, the System will continue to be forced to address future free speech controversies from a purely post hoc and anecdotal perspective."
It was this reversal that led Henderson to his decision to resign, citing a lack of support from the system.
Representatives of the UW System and UW Whitewater did not respond to a request for comment from The College Fix.
A representative from UW Madison media affairs said that campus leaders will stand by the system's decision to offer the survey.
"UW-Madison strongly supports academic freedom and the First Amendment expression of our students, faculty and staff. UW-Madison will comply with the UW System request to make this survey available to our students whenever that should take place," the representative told The Fix.
Speaking at the University of Wisconsin this month, former state Gov. Scott Walker encouraged attendees to complete the survey.
"I would encourage you, and anyone you know … let them know that this survey is out, talk about your experiences and answer the survey truthfully," Walker said.
Free speech campus issues stretch beyond Wisconsin
Free speech is a hot button issue across higher education as politics continue to interfere with the classroom.
A lawsuit on a similar free speech survey in Florida is currently pending in federal court. A state law led a federal judge to recently rule to allow Florida to distribute an anonymous online survey of the state of intellectual freedom and viewpoint diversity at each institution. Plaintiffs in the case included a faculty union.
Some argue that free speech is used to justify hate messages.
For example, on his course syllabus for "Current Issues in Anthropology," Princeton Professor Sindre Bangstad wrote that right-of-center activists often use this right to commit hate speech.
"In the U.S. and Europe, far right activists use 'free speech' to justify hate speech," his course syllabus reads. "We theorize intersections of racism, liberalism, speech from scholars of post-colonialism, anti-black racism, and feminist theory."
The course, which focuses on "Liberalism, Racism and Free Speech," is offered by Princeton's Anthropology Department, of which Bangstad is a visiting professor.
Neither Bangstad nor Princeton University media affairs responded to repeated requests from The College Fix via email as to whether or not the university has verified Bangstad's claims.
MORE: Musk's free speech plan for Twitter 'is the dream of every dictator': UC Berkeley professor
IMAGE: YouTube screenshot
Like The College Fix on Facebook / Follow us on Twitter