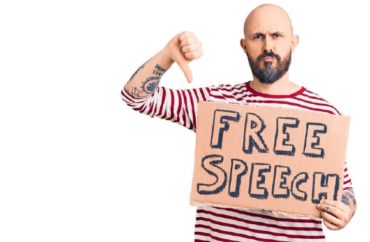 The results of a recent survey conducted by North Dakota State University sheds more light on the problem on college campuses
A pair of North Dakota State University researchers are concerned about the state of free-speech and "viewpoint diversity" on college campuses, after a recent survey revealed some troubling results.
Liberal-leaning students were more likely to say that they thought their professors generated an atmosphere that allows unpopular opinions to be openly expressed in class.
When asked if their professors "create[d] a classroom climate where people with unpopular views would feel comfortable sharing their opinions," 72 percent of liberal students responded in the affirmative. However, only 46 percent of conservative students agreed that they could share their views.
The results come from the latest "2021 American College Student Freedom, Progress and Flourishing Survey" at the public university's Challey Institute for Global Innovation and Growth.
The College Fix spoke with Challey researchers, including its director John Bitzan, and Professor Clay Routledge.
"We think the results on free speech and viewpoint diversity are pretty consistent with previous findings," the scholars told The Fix, when asked if it was expected that conservative students thought professors promoted their own political beliefs more so than liberal/independent students thought this.
MORE: Yale student survey finds conservative views 'unwelcome'
"Our results raise concerns that universities/colleges may not be as open to viewpoint diversity as they should be," Bitzan and Routledge said in an email.
Another query on the survey asked participants if they felt comfortable sharing opinions on controversial or sensitive topics in class.
The survey found that 66 percent of liberal students felt confident they could share such opinions, while only 42 percent of conservative students said they could.
Nearly 80 percent of students agreed that "professors encourage students to explore a wide variety of viewpoints and perspectives." However, only 58 percent of students agreed with that sentiment.
And while liberal students were more likely to say professors encourage students to be open-minded, they were more likely to find it acceptable to report their instructor for sharing "offensive" views.
A super-majority of liberal students, 85 percent, agreed that a "professor [should] be reported to the university" if they say something "offensive."
Only 41 percent of conservative students would support snitching on a professor.
Students disagree on what capitalism and socialism represent
One reason that there might be problems with discussion on campus is that liberal and conservative students are not even in agreement on what terms like capitalism and socialism mean.
"Conservative students are much more likely to define capitalism as a free market system, while liberal students are more likely to select the definition aligned with cronyism," the report said.
Similarly, 69 percent of liberal students and 59 percent of independent students "define socialism as an economic system of redistribution." But, 64 percent of conservative students associate it with "central planning."
When asked whether these varying definitions would damage dialogue and a common understanding between political groups, the scholars said it did seem problematic.
"Yes – we definitely think this is a problem," Bitzan and Routledge told The Fix. "In order to intelligently discuss the merits of various economic systems, it is essential that we have a common understanding of what they are."
MORE: Survey finds students reluctant to share beliefs on controversial topics
IMAGE: Krakenimages.com/Shutterstock.com
Like The College Fix on Facebook / Follow us on Twitter