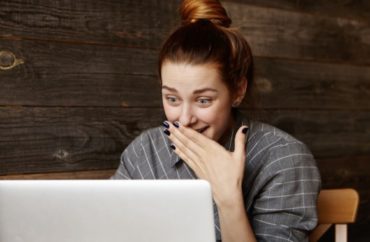 UPDATED
Academic freedom groups decline to defend him
An instructor resigned after the University of Miami said it had investigated him for "inappropriate behavior or sexual harassment."
What did John Peng Zhang do? Accidentally reveal a browser bookmark titled "busty college girl" to his business analytics class online.
His students didn't actually see a busty college girl in Zhang's browser, but simply noticed the bookmark on Zhang's shared screen. Pictures and videos blew up all over social media, fed by a short video of Zhang's screen on TikTok (screenshot below).
Zhang has not responded to calls or emails from The College Fix. The university confirmed in an email that Zhang is no longer employed by the university.
But a UMiami spokesperson declined to provide much detail or transparency into the investigation, including the basis for determining that a visible bookmark to a lewd page – not the page itself – might constitute "sexual harassment."
MORE: Triangles on syllabus get prof investigated for sexual harassment
The Faculty Senate did not respond to Fix queries on whether the investigation is a threat to academic freedom, particularly when all faculty are teaching remotely and anything on their screen potentially unrelated to class could get them in trouble under the Zhang precedent.
The Fix also asked if the investigation could be considered punishment for Zhang's extramural expression – his inadvertent sharing of his web preferences.
The American Association of University Professors insists that professors have the right to "address the larger community with regard to any … interest without institutional discipline or restraint." A professor's expression must "clearly" show his "unfitness to serve" if a university uses it as the basis to fire him.
An AAUP spokesperson told The Fix that Zhang has not contacted the academic freedom group, which is typically one of the steps in "evaluating whether a faculty member's rights have been violated by the actions of his university."
The Foundation for Individual Rights in Education declined to comment on Zhang's investigation. The civil liberties group previously sponsored a lawsuit on behalf of a professor who was fired for "sexual harassment": using profanity and making sex jokes in class.
'One of my only professors who seemed to care'
Zhang was teaching his class on Zoom March 26 when a student, who had left his microphone on, pointed out that the instructor had a bookmark titled "Busty college girl fu…," with the rest of the title not visible. Zhang didn't seem to notice even as the whole class started taking photos and videos of the screen, The Miami Hurricane reported.
An eight-second TikTok video racked up more than 800,000 views, showing Zhang as he talked and then flashing over to the "busty college girl" bookmark. The browser address includes "miamiedu," identifying it as an online UMiami course.
"I had friends sharing it with me from other schools who saw it," said freshman Ethan Hartz, who was in Zhang's class when the incident happened. (The administration asked the person who posted the TikTok video to delete it, according to the student newspaper, and The Fix could not find the original. It has been incorporated into other videos, however, such as this one.)
During the next class session, Zhang brought up the situation. "I don't know how it happened," he said: "I didn't see it, I'm pretty sure everybody else did…My apologies to the class." Soon after he emailed students that he was "investigating" the situation and asked them not to spread around images of the bookmark.
MORE: Prof fired for cussing sues LSU for saying she sexually harassed students
At a subsequent online class session, Zhang did not appear. Students received an email about 20 minutes into the session from Robert Plant, chair of the business analytics department, saying class was canceled but not explaining Zhang's absence. That led students to fear he had fallen ill with COVID-19 or that something worse had happened.
A day later, the university changed the instructors for Zhang's classes, who switched from Zoom to Blackboard Ultra and uploaded new syllabi "with little notice" to students, according to the Hurricane.
The university quickly deleted all traces of Zhang from its system, removing his profile from the website, deactivating his UMiami email and expunging his name from next semester's course catalog.
Jade Johnson, one of Zhang's students, told the newspaper: "I think firing him is a little extreme…He didn't do anything illegal." She said he was "one of my only professors who seemed to care" when she shared personal problems with him.
Roommates, I need your thoughts on this one. A professor at the University of Miami was allegedly fired after a viral TikTok video made by one of his students pointed out a pornography bookmark on his computer. #coronavirus #screenshotsaturday #Terremoto #zoombombing #COVID__19 pic.twitter.com/flIiDZsKzH

— Dominique Jackson (@Hoodplugcomedy0) May 2, 2020
'The incident was investigated' by three offices. But when did he resign?
Other female students said the nature of the bookmark – for a lewd page with a "college girl" like them – would make them feel uncomfortable in Zhang's presence, even if he only saw them virtually.
The administration seems to agree with them. In the only known statement it has released, including to The Fix, the university said it "aggressively investigates all complaints of inappropriate behavior or sexual harassment. After receiving a complaint through the University's ethics hotline, the incident was investigated by the Office of the Provost, Title IX investigator and Miami Herbert Business School."
(The statement was included in the Hurricane's original report, which said Zhang had been "fired." Two days later the university added that he had resigned, without saying whether he had been presented with the investigation findings before he resigned.)
Megan Ondrizek, executive director of communications and public relations, did not answer Fix questions about the timing of Zhang's resignation in relation to the university investigation for sexual harassment.
The Fix also ask what specific policy he allegedly violated, and what provision in his faculty contract allows the university to investigate instructors for having an unrelated bookmark, but not web page, visible during a class session. Ondrizek did not elaborate on how Zhang's situation qualifies as "sexual harassment" or how the word "inappropriate" is defined under university policy.
In an email to The Fix, AAUP Communications Strategist Rachel Larris declined to comment on Zhang's situation. She said it does not fall under the group's purview "unless the university violated a right of academic freedom, tenure or governance as laid out in our policies."
FIRE's lawsuit against Louisiana State University on behalf of a fired professor failed. Two years ago, a federal judge found that Teresa Buchanan's crude comments in class did not constitute "a matter of public concern" and was not "part of her overall pedagogical strategy," as FIRE argued.
UPDATE: Because of unknown disagreement over the meaning of common journalism terms regarding attribution, the original article included an interview that was not intended to be attributed. The interview has been removed.
MORE: Professor fired for cussing in front of students loses lawsuit against LSU
IMAGE: WAYHOME studio/Shutterstock
Like The College Fix on Facebook / Follow us on Twitter