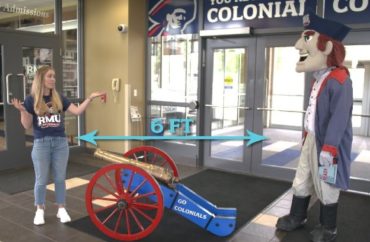 'Poorly named form of identification' makes them feel 'dehumanized'
A private university named after a founding father has changed the name of student identification cards following a petition that said their nomenclature was harmful to minority students.
A spokesperson for Robert Morris University disputes, however, that the two-week-old Change.org petition was the impetus for the change from "Freedom Card" to "RMU ID Card."
Student Melanie Hall created the petition, which claims racial minorities are 24 percent of the student population at the Pittsburgh school. Like many names on campus, the Freedom Card refers to the American Revolution.
"This poorly named form of identification has made minority students (black students in particular) feel like we are being dehumanized," the petition reads: "Gifting us with IDs that grant us our 'freedom' is of extremely poor taste."
It drew just 130 signatures before Hall, a rising senior, posted an update Tuesday morning that said Dean of Students John Michalenko told her both the card name and design would be changed.
"I thought you'd like to see the message I received from our Business Affairs Department," Michalenko wrote in the Tuesday morning email to Hall (left), obtained by The College Fix. The message reads, in original italics:
I am pleased to announce the Freedom Card is changing its name. The Robert Morris University ID is now the RMU ID Card.
In addition to having a new design, we are upgrading the technology used as well. The new RMU ID Cards will also come equipped with RFID chips allowing for "tap" use without the need to swipe wherever the new readers are installed on campus.
Michalenko concluded: "Success! Tell your mom." It's not clear from the email whether Hall and the dean were already communicating, and had discussed her mother, before he emailed her Tuesday with the news.
President Chris Howard didn't mention the renaming and redesign of the student ID cards when he announced the creation of an "anti-racism task force" Monday. Vice President for Public Relations and Marketing Jonathan Potts did not answer a question from The Fix about why it was left out.
University doesn't acknowledge namesake's slave ownership
While Hall's petition says the name of the student IDs is inherently offensive to nonwhite students, it is "[e]specially" so at RMU, which is "named after a slave owner."
Robert Morris did own slaves but it's not highlighted in short overviews of his life, according to a review of online sources by The Fix. For example, NPR described Morris as "the nation's founding capitalist and the financier of its revolution" in a 2010 interview with a Morris biographer, but it didn't mention his slave holdings.
The university itself doesn't tie Morris to slavery in the biography of its namesake. It calls him a "friend" of George Washington who beat a congressional investigation into "war profiteering" and is depicted in the fresco that adorns the U.S. Capitol dome, known as "The Apotheosis of Washington."
The use of "Freedom" on the ID cards "is unacceptable" because it "make[s] light of the emancipation of an entire demographic that was and still is feeling the effects of slavery,"Hall's petition claims:
Minority students should not have to be reminded of that every time they pick up their IDs. With that being said, we would like to rename our Freedom Cards to something that is not insensitive.

If Robert Morris University is the welcoming place that the other 76% of students know and love; we ask that these changes be made so that minority students can also feel that same pride in being a Colonial.
In a report on the petition last week, independent campus newspaper The Moon Mythbuster noted that references to the American Revolution are inescapable on campus.
RMU's sports teams are known as the Colonials, and "at least eight" buildings are named after founding fathers who owned slaves "at some point," including Washington, Thomas Jefferson and Alexander Hamilton. One is named for the freed slave Peter Hall.
MORE: RMU claims it could get sued because of new 'Mythbuster' paper
#HappyFathersDay to our stellar Colonial dads! 👏 #ColonialPrideBlue | 🔵⚪🔴 pic.twitter.com/d2vMJKm6uk

— RMU Athletics (@RMUAthletics) June 21, 2020
That legacy bothers critics of the "Freedom" name. "Everything that I do at RMU affects my race," Hall told the newspaper, claiming she was offended by the cards as a freshmen but was roused to action by the death of George Floyd at the hands of Minneapolis police.
She wants the university to "simply acknowledge the racist history of Robert Morris" but also says it would only be a "good start." Hall cited the layoffs of nonwhite faculty last year that stemmed from budget cuts to Multicultural Student Services: "The lack of representation that Black students have across all departments is disheartening."
Another petition supporter, Jay Olu-Wehuje, told the Mythbuster that he would like a building-size "safe space" for nonwhite students, in contrast to "a tiny room" – the Multicultural Student Services' location.
Spokesperson says card redesign was already in the works
Monday's announcement about the anti-racism task force does not even hint at an ID card redesign, and it makes no overt reference to building names.
President Howard explained the task force as specifically intended to "advance racial equity for Black students, faculty, and staff, and all those impacted by anti-Black racism," and "grounded in an understanding of the lived experiences" of those black community members.
Its four pillars are student "well-being reflected in enrollment, retention, and post-graduation success"; communication to "promote an anti-racist campus culture" across the community; "[s]afety and belongingness" through "events and programming"; and "diverse hiring practices and retention and promotion of a diverse workforce."
Asked to confirm the pending change to the ID cards, the impetus for it, the constituencies consulted and the timeline, as well as the reason the cards weren't mentioned in Howard's announcement, the university spokesperson said little.
"We had already been planning to redesign and rename our student, faculty, and staff identification cards to make them more widely recognized on campus and more easily communicate their purpose," Potts wrote in an email Tuesday afternoon.
"While this change had been in the works before the petition was circulated, we nonetheless thought the time was right to communicate it to the students for whom it was a concern," he said.
Potts did not answer a followup query asking why the administration waited two weeks after Hall posted the petition to announce the change, and why it considers the word "freedom" problematic.
MORE: Duke to incorporate 'anti-racism' throughout curriculum
MORE: GWU silent after students vote to dump 'Colonials'
IMAGES: Robert Morris University/YouTube, Robert Morris University
Like The College Fix on Facebook / Follow us on Twitter