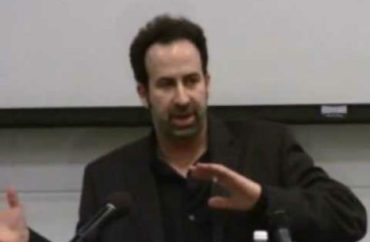 This year's course description is far less inflammatory 
Thomas Abowd was so upset by The College Fix asking for an interview about his Tufts University course "Colonizing Palestine" that the professor threatened to call the police.
A year later, the university has renewed the course and it's "causing controversy even before classes begin," Jewish News Syndicate reports.
"Colonizing Palestine," offered under colonialism studies, says it will "explore the histories and cultures of Palestine and Israel in relation to one another," examining debates on colonialism and decolonization. Students will explore "themes of nationalism and national identity, gender and sexuality, the intersections of race and class, cultural hybridity, and colonial knowledge production."
The description, at least in the colonialism studies fall schedule, has been significantly toned down from last fall's version: It no longer says Israel "illegally occupies Palestine" or explicitly paints Palestine as a victim of Israel.
Last fall's version also identified the authors students would be reading, including several with a history of demonizing Israel and advocating for Palestine. This fall's course does not identify anyone.
But the course is controversial just as much because of Abowd's reputation as because of its content. A dossier on him, created by a shadowy pro-Israel group, lays out his anti-Israel activities and associations at length, including his claim that both Tufts and Boston are home to "apartheid."
MORE: 'Do not contact me again or I will call the police'
He told Jewish News Syndicate reporter Jackson Richman, a former College Fix writer, that the Race, Colonialism and Diaspora Studies Department was "compelled" to offer the course again this fall "due to its huge success" last year.
It overcame opposition to "pretty retrograde anti-Arab and anti-Muslim forces among the administration and the faculty" because "Zionist forces on campus are losing pretty badly these days," Abowd said. But he declined to give Richman student evaluations of last year's course, or comment further.
Pro-Israel groups are not happy with Tufts for validating Abowd and his course.
"Abowd has consistently rejected pro-Israel voices as illegitimate and xenophobic in an attempt to silence his critics and legitimize his classroom advocacy," said Susan Price, head of the Tufts chapter of Alums for Campus Fairness.
"The course will clearly bolster intersectionality, underscoring 'universal Palestinian victimhood' using the settler-colonial argument to posit that Zionism was an imperial tool of the British, and that Jews are an alien population placed in Palestine to usurp the land and displace the people," said Asaf Romirowsky, executive director of Scholars for Peace in the Middle East. "All this is, of course, a farce and can be disapproved [sic]."
University spokesperson Patrick Collins said Abowd's course is balanced by others, including a spring course called "Visions of Peace in Israel/Palestine." Calling the Jewish community "an indispensable pillar of campus life," Collins said the university was committed to offering "a welcoming and safe home for Jewish students here at Tufts."
MORE: Tufts 'disorientation guide' calls Israel 'white supremacist state'
MORE: Elizabeth Warren compares Israel in Gaza to Holocaust at Tufts
IMAGE: Arabic Hour/YouTube
Like The College Fix on Facebook / Follow us on Twitter