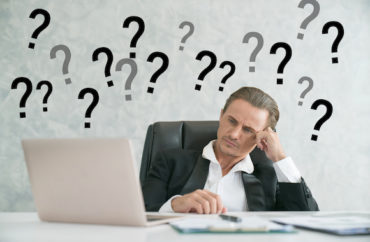 UPDATED
Event listings wiped from site with no explanation 
Listings for a series of whites-only events at the University of North Carolina at Charlotte, meant to promote "white consciousness" among faculty and staff there, were wiped from the school's website after a College Fix report, with a campus spokeswoman later telling The Fix that the school is revising the events to clarify that they are "not exclusive to white individuals."
That report, which ran on Wednesday of this week, linked to several listings of a program at the university called "White Consciousness Conversations." Those events were advertised for white faculty, staff and students "who are interested in engaging in conversations to assist in their understanding of Whiteness."
By Thursday morning, those links—for both the staff and student events—lead to dead pages on the university's website, with no explanation for their absence.
What's more, the upcoming "White Consciousness Conversations" listed on a calendar on the school's website have all been scrubbed .
The College Fix reached out to Rachael Forester, who was previously listed as the contact on the events. The Fix's email was passed along to campus spokeswoman Buffie Stephens, who told The Fix in a phone interview that the university "looked at the wording of how that event was described and we determined that we were not clear and precise in that language. What we have done is removed it so that we can clarify that it is not exclusive to white individuals." 
Stephens provided The Fix with a statement from campus spokesman Stephen Ward, who said that the events "will not be exclusive to white individuals. We expect a diverse group of participants to converse about topics including the reality of racism and discrimination in the lives of individuals of color."
Screenshots taken by The College Fix show how the event listings looked prior to their being removed from the site: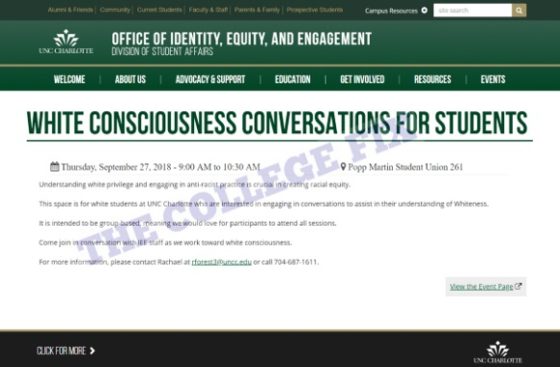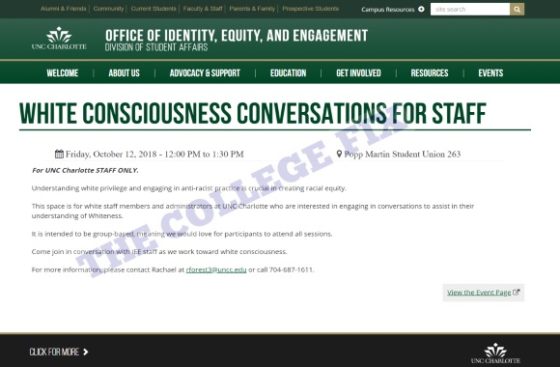 As of 3:30 PM on Thursday, the university's Office of Identity, Equity and Engagement still touted the program on its website: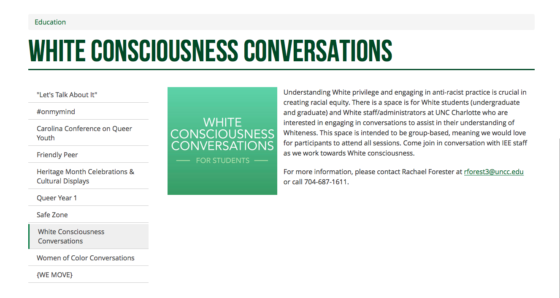 A link from a Google search to a "White Consciousness Conversations for Students" page has the event's content behind a "NinerNET" login. NinerNET is the account system used by university students.
Read The College Fix's original report here.
UPDATED: This article has been updated to include, and factor in, a statement from a campus spokeswoman, who told The Fix that the events are being revised by the university to include individuals other than white people.
MORE: College changes queer housing policy after College Fix inquiry
IMAGE: lOvE lOvE / Shutterstock.com
Like The College Fix on Facebook / Follow us on Twitter