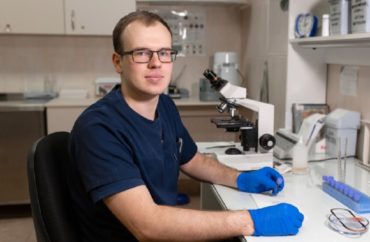 Revised program has more legal violations, professor says
The U.S. Department of Education continues to allow the University of Cincinnati to discriminate against white and Asian males in its newly worded "Undergraduates Pursuing Research and Science Program," according to a longtime economics scholar.
Mark Perry, professor emeritus of economics at the University of Michigan-Flint, told The College Fix that the university responded to a federal inquiry into its discrimination against male applicants by making the program discriminatory against white and Asian male students instead.
The public university in Ohio did this by changing the language of a STEM program to advertise it as open to applicants "from under-represented groups pursuing degrees and careers in STEM fields." Previously, UC advertised it as a "Research Experience for Women Undergraduates."
The Department of Education's Office for Civil Rights first opened an inquiry in November 2020. In May 2022, OCR informed Perry that it had closed its investigation into the university's Women in Science and Engineering program because it is no longer limited by sex.
This resolution did not satisfy Perry, who said the change makes the situation worse, not better. He said he has filed a new complaint (below) against the program.
"It's a well-known and accepted statistical fact that the two main groups who do not qualify as being 'under-represented in STEM fields' are (a) White males and (b) Asian males," Perry told The Fix.
Therefore, the university continues to discriminate not only based on gender but also race, he said.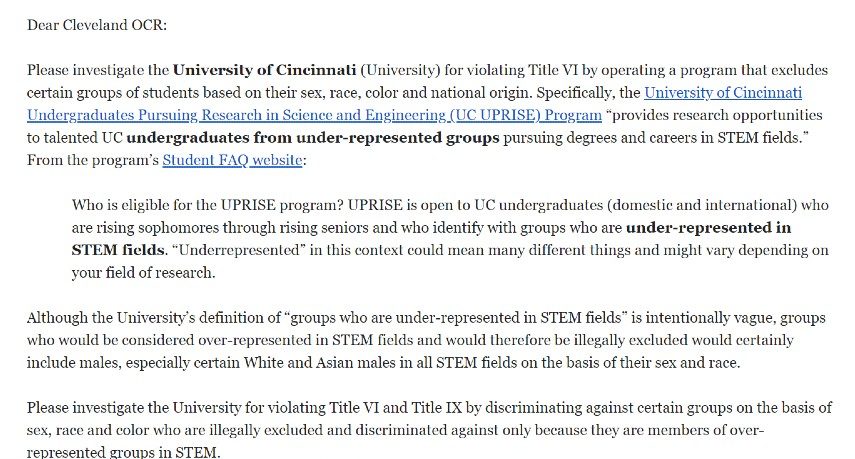 The Fix contacted OCR attorney Nathaniel McDonald, the listed counsel on the dismissal, to ask for comment on the changed program and Perry's assertions. His out-of-office email said to contact Brian Gnandt, who did not respond to questions on Friday.
Perry, who frequently files Title IX sex and Title VI race discrimination complaints, said this has never happened to him before.
"This outcome at UC – replacing a program that violates Title IX with a new program that violates both Title IX and Title VI — is unique and unprecedented and has never happened," he said.
Rather than replace one "discriminatory program with [a] new discriminatory," universities normally open the programs to all regardless of race or gender, Perry said.
MORE: Minnesota college cancels no-whites allowed luncheon after College Fix report
"Instead of equitably opening the program to all students including male students (which I guess was anathema and abhorrent), they renamed and repackaged the summer research program," Perry said.
"It seems obvious that the University will continue to illegally exclude White males and Asian males from the UPRISE program just as they were excluded previously from the REWU program," Perry told The Fix.
However, the university might not be held accountable due to its "vague and amorphous" definition of "underrepresented," according to Perry.
"'Underrepresented' in this context could mean many different things and might vary depending on your field of research," the FAQ section for the new UPRISE program states.
Perry said the new definitions do not change his concerns.
"UPRISE program will illegally discriminate against White males and Asian males because they would never be able to claim that they 'identify with groups who are under-represented in STEM fields,' and would therefore be illegally excluded and discriminated against on the basis of sex and race," he told The College Fix.
The Fix emailed the University of Cincinnati three times for comment in the past week but it has not responded to questions about the changes to its STEM program.
MORE: White males now allowed into to two MBA programs after federal investigation
IMAGES: Try_My_Best/Shutterstock; Mark Perry
Like The College Fix on Facebook / Follow us on Twitter