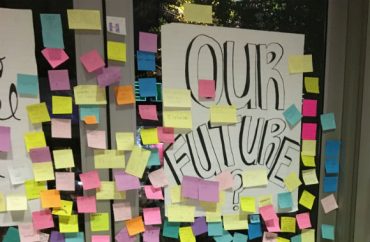 Sticky-note argument over whether Trump is an 'Anti-Semite'
When University of Texas-Austin students wanted to protest the state's new campus-carry law, they marched with dildos to question lawmakers' priorities.
But they had a more sober response to the election of Republican Donald Trump, which has provoked existential fear on campus.
The student government created a "Therapy Wall" in the Student Activity Center Wednesday for students to properly express themselves in a therapeutic manner.
Many of those expressions posted on the wall when The College Fix visited it Thursday consisted of profanity. A spokesperson for the administration said it is "not taking any of them down."
We have set up a Therapy Wall on the first floor of the SAC — write your thoughts down on a sticky note, post it on the Therapy Wall, pic.twitter.com/On4orxUPdl

— UT Student Gov't (@UT_SG) November 16, 2016
'LOL'
The Therapy Wall follows other post-election therapeutic services offered by elite universities and faculty: a "Cry In" at Cornell, puppies and coloring books at the University of Pennsylvania and exams that were postponed or made optional so students could talk through their anxieties.
Yet in a Monday message to the UT community, President Greg Fenves did not refer to the planned wall as intended for "therapy."
He simply said that Vice President for Student Affairs Soncia Reagins-Lilly was working with student leaders and faculty to set up "a wall" where anyone "can share their emotions by posting notes." Reagins-Lilly herself referred to it as a "Therapy Wall," though.
The @UT_SG Therapy Wall is a active space for expression and conversation #OurFuture pic.twitter.com/MMyBuHC57W

— Soncia Reagins-Lilly (@SonciaRLilly) November 16, 2016
"Longhorns are feeling wide range of emotions after the presidential election," the UT student government tweeted: "Some celebrating, some grieving, & others somewhere in between."
Students were encouraged to "write your thoughts on a sticky note" about "our future," post it on the wall and share a picture on social media, using the hashtag #OurFuture.
MORE: Students carry dildos (again) to protest new campus-carry law
Though most appeared to be single-note statements, some postings used multiple notes to make more visually emphatic statements about the election results, such as "Scared but Determined" and "Fuck Trump."
One of the more elaborate multi-note displays read: "A White Nationalist Anti-Semite Is In Charge of The White House." Apparently a different student wrote a rejoinder on the "Anti-Semite" note, noting Trump's family includes Jews, while another note mocked the multi-note statement with "LOL."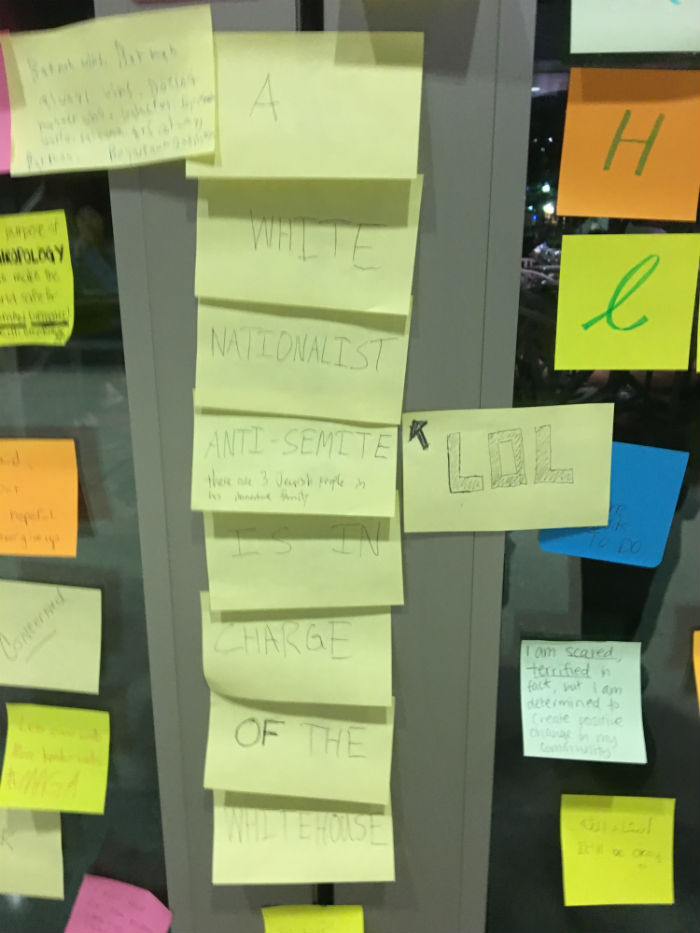 Other notes remarked that students felt "betrayed," "concerned," "terrified," and even "scared shitless." Apparently referring to a popular Android app, one said "Fuck Donal Dump."
One note read "scared as a women" about Trump's victory, while another pledged to "put myself back in the closet." (Trump has actually shown support for the LGBT community by posing with a rainbow flag.)
Inspirational quotes from famous figures made an appearance. One note quotes Eleanor Roosevelt: "The future belongs to those who believe in the beauty of their dreams."
Albus Dumbledore, the headmaster from the Harry Potter series, is also cited: "Happiness can be found even in the darkest of time, if one remember to turn on the light."
Others were forward-looking and positive as well, suggesting that "hate could be overcome" and encouraging each other to "love more hate less."
MORE: Cornell students hold 'Cry In' over Trump victory
"Make America Kind Again," stated another. Despite feeling "terrified … I am determined to create positive change in my community," a note read.
Post-election Post-it note therapy – an inexpensive way to help people grieve and cope with trauma – has been practiced across the country, not just at UT. Wellness magazine Self found therapy walls in New York and San Francisco transit stations among other places.
'Fuck Trump' signs drew complaints
The administration spokesperson elaborated on several points of President Fenves's Monday message, including reports of "allegedly threatening signs and comments" after the election.
The Campus Climate Response Team has received 25 complaints but only eight relate to the election – five of those with "identifiable information" that can't be disclosed and three anonymous, the spokesperson told The Fix in an email.
MORE: Ivy League school gives student puppies to cuddle after election
For the latter, two complained about "Fuck Trump" scrawlings on a sign and in a classroom, while the third was reported against students "chanting about deporting immigrants and building a wall."
Most reports concerned "similar forms of verbal harassment (oral or written)," he said, but none were "verified threats." The team offers resources such as counseling when requested, but will pass along disciplinary issues to another office and criminal reports to police.
The spokesperson emphasized that Fenves's message asked for "respect" for all ideas, including those espoused by students who "supported a candidate who is unpopular with others on campus."
MORE: Professors let their students waste the day after the election
MORE: Everyone will take 'sick pleasure in watching us deconstruct this moment'
Like The College Fix on Facebook / Follow us on Twitter
IMAGES: Brian Bensimon