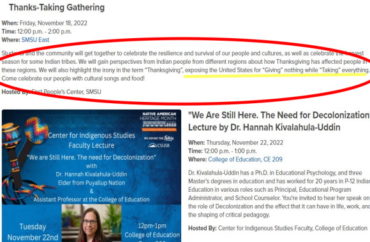 "Reclaiming Indigenous roots behind 'Thanksgiving' history. Everyone calls it 'Thanksgiving.' We call it Thanks-taking."
That's how a recent event at Cal State University San Bernardino was billed by organizers on the campus calendar.
The Nov. 18 event took place in the Santos Manuel Student Union, described by the university as a campus "focal point" and "social hub."
"Students and the community will get together to celebrate the resilience and survival of our people and cultures, as well as celebrate the harvest season for some Indian tribes," its online description states.
"We will gain perspectives from Indian people from different regions about how Thanksgiving has affected people in these regions," it adds. "We will also highlight the irony in the term 'Thanksgiving,' exposing the United States for 'Giving' nothing while 'Taking' everything. Come celebrate our people with cultural songs and food!"
Among the event's festivities, students and employees converged "to watch performers demonstrate Native American traditions—including danza Azteca dance ceremonies and bird singing, a rhythmic musical style native to the American Southwest," Inside Higher Ed reported, adding:
Attendees also dined on soft, warm frybread, a kind of traditional Native American fried dough. Some took to the event's open mike to share their own cultural histories and stories of how Thanksgiving—the holiday that has helped propagate inaccurate portrayals of Native Americans and colonization—has affected them.

It was the university's inaugural "Thankstaking" gathering, one of several celebrations the university put on this month to uplift Native American culture and history. The term, which refers to the idea that European colonizers took resources and land from the Native Americans and gave nothing in return, has emerged in Indigenous communities to replace the name Thanksgiving, according to Carlos "Two Bears" Gonzales, who leads CSUSB's First Peoples Center.
The "Thanks-Taking" event was one of 13 different events Cal State San Bernardino is scheduled to help host this month as it marks Native American Heritage Month.
Additional CSUSB events throughout November include several academic lectures focused on Native American topics, such as one titled "We Are Still Here. The Need for Decolonization." Other events include a basket weaving workshop, an "Indigenous Healing Circle," a Truth and Healing Commission meeting, and a closing ceremony, the university's website states.
MORE: Professor instructs students on 'decolonizing your Thanksgiving'
Like The College Fix on Facebook / Follow us on Twitter