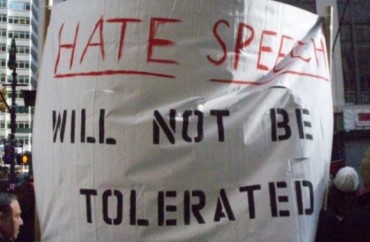 UPDATED
Not defined – or even mentioned – in student handbook
Student protesters at Rensselaer Polytechnic Institute won't be punished for their activities, provided they adhere to "civil discourse" and avoid "hate speech," according to the administration.
What those terms mean in practice is anyone's guess.
The private university in New York has drawn multiple warnings from civil-liberties groups for suppressing students' freedom of expression as they fight for the autonomy of their 127-year-old student union, which is funded by students and responsible for student activities.
While administrators belatedly dropped charges against students for a Homecoming Weekend protest against the university's alleged moves against the union, a spokesperson declined to specify for The College Fix how students can avoid future investigations for undefined violations.
'We deserve transparency'
Student protests against the administration go back two years.
The director of the Rensselaer Union suddenly resigned under "mysterious circumstances" in January 2016, with no explanation to the union's executive board, according to a timeline by protest group Save the Union.
In the 18 months after a job posting surfaced that suggested a new official outside the union would oversee the student-run entity, students twice sought permission to hold "peaceful" protests during major events, which were denied.
The administration also started restricting campus media coverage of meetings where the controversy was discussed, and twice removed Save the Union signs, including on the day when newly accepted students were on campus, according to Save the Union.
MORE: College president falsely says 'Hate speech isn't free speech'
Given how concerned @travisapgar has been about #SavetheUnion supporters running a business, you'd think he'd be upset about the pop-up of an actual business posing competition to the bookstore. But we guess he only cares if the "business" opposes the Jackson Administration. #RPI pic.twitter.com/f55ewtpa4s

— Save the Union (@save_rpis_union) December 18, 2017
After the board of trustees confirmed in September the student union would indeed be ruled from outside going forward, students again sought permission to protest and were again denied.
They protested anyway during Homecoming Weekend, outside an event for the university's capital campaign, inviting students to demonstrate "the overwhelming majority of the RPI community wants the Rensselaer Union restored to a student-run entity."
They chanted phrases such as "We deserve transparency" and "our Union, our voice," according to official school newspaper The Polytechnic.
Save the Union took pains to emphasize before the Oct. 13 protest they would "act with integrity, respect, and moral fortitude," and would not "encourage or condone any violence, property damage, or chaos":
This is a peaceful demonstration. We simply wish to raise awareness and open a dialog with alumni donors, who by potentially donating would be encouraging the administrative agenda that fears the truth entering the capital campaign launch.
More photos from tonight's protest! Credit to @rpiYDSA #RPIgamechanger #RPIRHC pic.twitter.com/kVDEWwyTSg

— Save the Union (@save_rpis_union) October 13, 2017
Political advocacy is an illegal business?
Unlike after the spring 2016 protest outside the president's town hall meeting, the university charged some participants with trespassing. It told News 10 they "breached security barriers as part of an unauthorized demonstration."
After some received formal charge letters and others received informal summons to discuss the protest, Save the Union blasted Dean of Students Travis Apgar for going back on his word that "there would be no issues" if the Oct. 13 participants were "peaceful," followed "instructions of event personnel" and obeyed school policies.
The group said the administration issued similar threats weeks earlier when it informally "interrogated" students who had distributed Save the Union information to peers, claiming they violated a campus policy "prohibiting operating businesses on campus."
Accusing President Shirley Ann Jackson of creating a "culture of fear" for the past two decades, Save the Union said the charge letters were "just another in a series of maneuvers aimed at trampling students' rights and censoring the student voice by wielding fear as an effective weapon."
MORE: Fat Cats: Highest-Paid Private University Presidents Earn Millions
Is the @rpi community getting a good return on investment from the incredible $1.4 million (2015 numbers) in compensation for their president? The poor fiscal state of #RPI and its crackdown on #FreeSpeech indicate otherwise. #SaveTheUnion https://t.co/qwde4l3cVX

— Wade Abbott (@WadeAbbott) December 13, 2017
Just before Christmas, and after a month of unfavorable media attention, Save the Union said Dean Apgar had "quietly dismissed" the charges on the grounds that a "preponderance of the evidence does not support a finding of responsibility."
Save the Union told The Fix in an email Friday night that the situation hasn't "improved or evolved," and there are no plans to challenge further, because the process of hiring a director for the union "has reached an impasse."
The protest group said its activism in response to "the repeated poster violations" in 2016 wound up failing because "the process was mired in red tape."
But Save the Union remains optimistic, saying it will continue to campaign and share its "message through protests and distributing information on campus."
We'll threaten your accreditation
The Foundation for Individual Rights in Education and the ACLU's New York chapter have stepped in to demand answers from the university.
In a quick trio of warning letters starting in October, FIRE said the unpermitted spring 2016 protest caused "no substantial disruption to campus activities" as feared, and subsequent rejections of "peaceful demonstrations" violated the "promises [RPI] makes to its students" on freedom of expression.
The group called out the school for removing "posters critical of RPI" that followed Student Handbook posting guidelines, citing a video where a staff member is caught tearing down Save the Union signs.
FIRE launched a formal pressure campaign against RPI after the charges were filed, saying those who were charged had "appeared in television interviews criticizing the institution."
"Rensselaer promises to respect freedom of expression [in its handbook], but in reality is suppressing dissent on campus," wrote Adam Steinbaugh, senior program officer:
If Rensselaer does not do a quick about-face and abandon its course of conduct, the institute should have to explain, to its accreditor, the disparity between its promises and its conduct.
MORE: Protesters shut down UCLA event on 'civil discourse' and 'hate speech'
In a one-page response letter Nov. 28, General Counsel Craig Cook told FIRE to butt out of its "dialog" with students.
But he also defended the fairness of its adjudication process, saying any charges are brought before a panel of the student's own peers. And a student won't be punished for "expressing an opinion, provided it is within the realm of civil discourse (e.g., not hate speech or threatening)," Cook wrote.
The Student Handbook doesn't include the terms "hate speech" or "civil discourse," meaning administrators "could interpose their own subjective views and values in lieu of written, objective policies," Steinbaugh wrote in a post after charges were dropped.
"Asserting that students won't be punished for expressing an opinion if it's within an administrator's definition of what constitutes 'civil discourse' is not reassuring," he said.
The only relevant reference to civility in the handbook is a generic section that says "students are expected to conduct themselves in a civil, respectful and lawful manner" whether on or off campus.
Thank you @AndrewWTEN for taking the time to interview #SavetheUnion supporters facing disciplinary action and @WTEN for the continued coverage of our movement! #RPI #News10ABC pic.twitter.com/EtLrF184pX

— Save the Union (@save_rpis_union) November 16, 2017
'No guarantee false charges couldn't be filed again'
After learning the charges had been dropped, the New York Civil Liberties Union sent a letter to Dean Apgar expressing its "grave concerns about credible reports" of RPI ignoring its policies on both free expression and due process "in a very serious and disingenuous manner."
The group claims RPI invented policies out of thin air to punish students who distributed flyers in residence halls and chill future free expression, "and then resort[ed] to such absurdities as claiming it falls under the policy on Operating a Business."
Even with the charges pulled, "there was no apology, and there is no guarantee that false charges like this couldn't be filed again in the future," the NYCLU wrote, asking for "an opportunity to meet with you":
[W]e are still concerned that situations like this may arise again in the future, and we would like to work with the Institute to keep that from happening.
MORE: Student sit-in demands ban on 'hate speech,' free tampons
The Fix sent multiple emails to the media relations department last week, and another on Tuesday. After receiving no response, The Fix called the department and spoke to Executive Assistant Dana Yamashita, who promised a response from its top spokesperson.
In an email, Vice President for Strategic Communications Richie Hunter did not directly respond to Fix requests to define "civil discourse" and "hate speech" for the purpose of disciplining students or restricting what they can say, and did not explain how students can be charged for violations not mentioned in the handbook.
"We are supportive of freedom of expression, and are always in ongoing discussion with students about matters of concern they may have," Hunter wrote Thursday:
Our policies on discrimination and harassment are set forth in various Institute documents including the Rensselaer Student Handbook; and as to sexual harassment, the Rensselaer Sexual Misconduct Policy. You can find these documents online.
University shut down College Republicans website for being 'untrue'
Save the Union's clash with the administration isn't the first for a campus student group when it comes to free expression.
In 2008, following criticism from the College Republicans chapter, the university pulled an exhibit featuring the video game "Virtual Jihadi," in which players can hunt down then-President George W. Bush. It said the game "derived from the product of a terrorist organization" and "suggests the killing of the president of the United States."
The university then temporarily shut down the school-hosted College Republicans website as well, accusing the group of violating RPI's "Electronic Citizenship Policy" in a blog post that called the arts department "a haven for terrorists." (The video game creator was an artist-in-residence at RPI.)
The dean of students, Mark Smith, said the blog post was "slanderous, blatantly untrue, and can be construed to endanger the health, safety and welfare of members of the Rensselaer community," according to FIRE.
The College Republicans did not respond to Fix queries last week and this week to comment on their experiences with the administration since the "Virtual Jihadi" incident.
UPDATE: Save the Union responded to requests for comment the evening after this article published. Its comments have been added.
MORE: Student who shut down president's speech panic after charged
IMAGE: Ashley Marinaccio/Flickr
Like The College Fix on Facebook / Follow us on Twitter