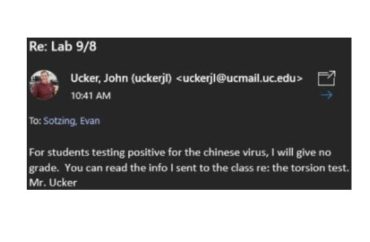 He told a student not to worry about missing class due to COVID
A public university will not renew its contract with a long-time engineering instructor after he used the term "Chinese virus" in an email to a student.
"The University of Cincinnati did not renew a contract with a professor accused of calling COVID-19 'the Chinese Virus,'" The Enquirer reported, based on a statement from a university spokesperson.
University officials placed John Ucker on administrative leave on September 18 from his position as an engineering instructor, pending a review by the school's equal access office.
Ucker had been teaching at the university since 1996.
A student, Evan Sotzing, posted a screenshot of a message from Ucker, after Sotzing informed him of an absence from class due to being exposed to COVID.
"For students testing positive for the chinese virus [sic], I will give no grade," Ucker told Sotzing in September 2020.
Student falsely claimed that he was going to be punished for missing class
Sotzing interpreted this to mean, without verification from Ucker, that he would receive a zero for this assignment. It turned out not to be true.
"My girlfriend tested positive for COVID and the University of Cincinnati's Health Department instructed me to not attend my in-person lab," Sotzing wrote on Twitter in September. "Not only did my professor give me a zero for not going, but this was his response."
He later told the Enquirer that he was not sure if he was going to receive a zero for the assignment or if the email meant that assignment would not be included in his grades.
The local paper reported in September:
Sotzing said he is not clear whether Ucker's message meant he was getting a zero grade or if the professor is merely not grading the assignment. He says he was offended by what he called "racist language" from Ucker in the email, and the notion that Ucker might punish a student for adhering to national, state and local health guidelines.
At the time, Sotzing did not respond to requests for comment from The College Fix, nor did the university.
The Fix followed up with campus officials in December to ask for an update, but those emails were ignored. Spokesperson John Bach did not respond to emails from The Fix asking for a copy of any investigation report into Ucker as well as information on if Ucker would return in the spring.
John Weidner, the dean of the engineering school, did not respond to similar requests for comment. Even though Sotzing did not receive a zero for the assignment, the university still found Ucker guilty of not respecting the medical accommodation rights of students.
The Enquirer reported in November that Ucker remained on leave throughout the fall 2020 semester.
MORE: University of San Diego investigates professor for blog post critical of China
IMAGE: Evan Sotzing / Twitter
Like The College Fix on Facebook / Follow us on Twitter