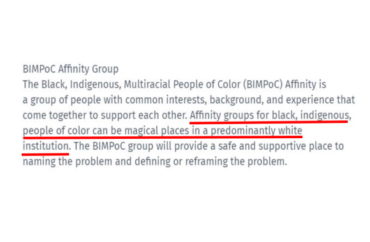 University of Tennessee-Knoxville's College of Social Work will host racially segregated workshops this month as part of its inclusivity and anti-racism programming.
Campus officials describe the whites-only group as a place where students can learn about their "privilege" and "interrupt internalized dominance."
It's been dubbed the White Accountability Group, or WAG, reports Young America's Foundation.
Campus leaders state online that the white caucus group "provides individuals with an environment and intention to authentically and critically engage in whiteness, white privilege, and hold each other accountable for change."
"Participants explore how to recognize whiteness and white privilege, identify and interrupt internalized dominance, and collectively develop strategies for liberation and change."
Meanwhile, the "affinity" group for "Black, Indigenous, Multiracial People of Color," or BIMPoC, can be "magical places in a predominantly white institution," university officials state.
The university, on its website, describes the members of the people of color group as those with "common interests, background, and experience that come together to support each other."
"Affinity groups for black, indigenous, people of color can be magical places in a predominantly white institution," the website states. "The BIMPoC group will provide a safe and supportive place to naming the problem and defining or reframing the problem."
The racially segregated groups are part the College of Social Work's effort to achieve "inclusive excellence," officials state online.
"To do that work, we also must address those internal barriers that inhibit us from completely engaging and move forward to reimagining our personal role in the effort to build a more inclusive/equitable workplace," the university's website states.
The racially segregated workshops this month will "begin the individual and interpersonal work that will strengthen our efforts toward anti-racism and social justice," it states.
Young America's Foundation, in reporting on the racially segregated workshops, argued they represent "another instance of the pervasive Critical Race Theory craze that has taken academia by storm."
"The goal of segregating their events is to convince people that race is their defining attribute and they are either inherently good or bad as a result," YAF stated.
MORE: UW-Madison to host 'Welcome BBQ' intended only for students of color
Like The College Fix on Facebook / Follow us on Twitter