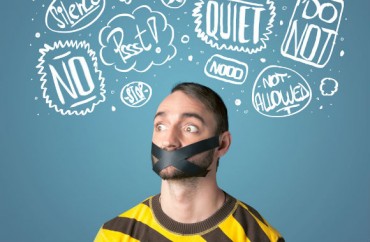 A newly rolled out social media policy at the University of New Hampshire aims to crack down on rude and hostile posts students may share online, an effort that includes the proviso that "students may not use social media to … intentionally inflict emotional distress on others."
Students found guilty of this violation or others will face "educational sanctions" that can include "educational conversations with faculty or staff" and "attendance at events or classes intended to promote educational outcomes," according to the policy.
The new rules, embedded into the "Student Rights, Rules, and Responsibilities" codes of conduct, were publicly introduced this month as part of a campuswide effort to address complaints of racism and cultural appropriation.
Officials at the public university insist they will respect the First Amendment rights of students when adjudicating social media complaints.
"The University recognizes that social media behavior is entitled to extensive protections under the First Amendment. The University guarantees and protects the speech rights of students. This policy will be interpreted with those protections in mind," it states.
The policy also forbids "discriminatory harassment," "messages that threaten another," and ones that "incite imminent lawless action."
The policy also includes guidelines that encourage students to be "respectful, careful, responsible … gracious and compassionate" when they use social media; these suggestions are not included under the punitive part of the actual new policy.
The new social media policy came at the behest of students complaining of racism and cultural appropriation at the school, and in particular a rowdy Cinco de Mayo party last year that caused an uproar, with a flurry of cultural appropriation accusations — think sombreros, fake mustaches and ponchos — from students who banded together and called themselves "All Eyes on UNH."
"We demand a social media clause be added to the Student Code of Conduct by the beginning of the next academic year (Fall 2017) stating that students caught posting racially insensitive content will be removed from the University," according to one of the group's demands.
(New Hampshire Public Radio reports racial tension on campus has been ongoing.)
Interestingly, the chair of the Faculty Senate, Professor Dan Innis, is on record against the social media policy in a statement he made as it was drafted.
"I'm opposed to a social media policy. I'm not opposed to social media suggestions, but I am opposed to a social media policy. It's overregulation," Innis told the campus newspaper in October 2017. "It's not enforceable, and secondly, we have no business in that area. To me, it's speech, and it's protected by the First Amendment."
But the Presidential Task Force on Campus Climate this month proudly reported that it had addressed the students' social media demand with the new policy in place. Additional diversity efforts taken by the task force and campus community over the last year included extensive staff and university police diversity trainings.
Last October, ahead of Halloween, the University of New Hampshire also hosted a cultural appropriation "teach in" that didn't just stick to Halloween but also included Cinco de Mayo and Dia de los Muertos.
The university also made national headlines in 2015 after its online "Bias-Free Language Guide" said the term "American" was "problematic" went viral. The online guide was subsequently taken down.
MORE: CINCO DE MAYO: Top 5 Most Ridiculous Examples of Campus 'Latino' Outrage
IMAGE: Shutterstock
Like The College Fix on Facebook / Follow us on Twitter